Community members invited to wear orange and attend learning events on September 30
Orange Shirt Day raises awareness about residential schools and honours survivors
September 23, 2022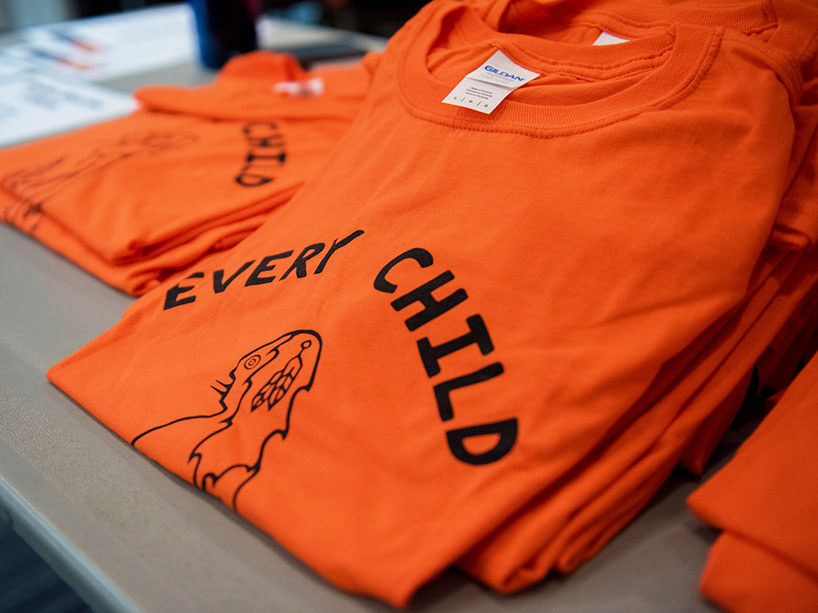 On September 30, community members are invited to wear orange in honour of Orange Shirt Day, a global day of recognition and awareness-raising about the Residential School System.
This is the sixth annual Orange Shirt Day at TMU, taking place in-person this year, where community members can gather in the spirit of truth-telling, reconciliation and to provide space for conversations on the impact of residential schools and the legacy left behind in our community. For survivors of residential schools, Orange Shirt Day reaffirms that their lived experience matters and recognizes the multiple generations of trauma left as a result.
September 30 also marks the National Day for Truth and Reconciliation as legislated by federal parliament in 2021.
Activities and events at TMU
To honour and acknowledge Orange Shirt Day, a number of events will be taking place on campus. In addition, on September 29 and 30 lights along Gould Street and Victoria Street will be turned orange.
Welcoming remarks
Time: 10:00am - 10:30am
Location: POD250
Joanne Dallaire, Elder (Ke Shay Hayo) and senior advisor, Indigenous Relations and Reconciliation, and Chair of the Aboriginal Education Council will lead a blessing and provide remarks for the day.
Remarks will also be provided by Mohamed Lachemi, president and vice-chancellor, Jennifer Simpson, provost and vice-president, academic, and Monica Mckay, director, Aboriginal Initiatives. Attendees can join in person or remotely (external link) .
Children's storytime and mural making
Time: 10:30am - 11:30am
Location: POD250
Meaningful reconciliation engages young people in learning about Indigenous history and culture. The Early Learning Centre and the EarlyON program will read The Orange Shirt Story (external link) by Phyllis Webstad and reflect on what it means to matter for all of us. The group will then be invited to express their thoughts and feelings through a collaborative art project - a mural created by everyone.
All are welcome - big kids too!
Button making
Time: 11:30am - 1:00pm
Location: POD250
This activity brings out the creative side of all who participate. Everyone is welcome to come and make their own buttons for Orange Shirt Day. Keep the buttons for yourself, or donate them back to the Toronto Metropolitan community.
Lunch
Time: 12:00pm - 1:30pm
Location: POD250
Join us for some soup, community and conversation – there will be opportunities to get creative too. You are invited to contribute to the Orange Shirt Day mural and create a flag, button or pennant to bring with you on the silent meditation walk. All community members are welcome and food will be served on a first-come, first-serve basis.
Silent meditation walk
Time: 1:30pm - 2:30pm
Location: Meet in the Jorgenson Hall main entrance by the Starblanket
Join us for a calm, meditative walk around campus wearing your orange shirts and with your flags, pins or pennants, which we'll plant in the ground at the Normal school façade and end with a moment of silence at 2:15pm to commemorate the 215 Indigenous children discovered in unmarked graves in Kamloops, British Columbia in 2021.
As you walk in silence, we invite you to think about what it would be like to attend an institution like TMU and be unable to speak your own language, practice your spirituality or religion or go home to see your family and friends. Think about the state forces that would keep you on the institution grounds and prevent your family from coming to visit you. Think about what this experience would feel like to a child as young as 4 to 5 years old.
When you arrive at the Normal School façade, place your Orange Shirt Day pennant at your desired spot in the soil. This spot was chosen as the gathering place as a reminder that there were different "educational" institutions for non-Indigenous and Indigenous students and very different experiences between the two groups.
Please note a clean-up team will be on hand to recycle these items at an appropriate time afterward.
Virtual tour of Woodland Cultural Centre (formerly the Mohawk Institute Residential School)
Time: 2:30pm - 3:30pm
Location: POD250
Learn more about the history of the Mohawk Institute Residential School through a virtual tour presented by the Woodland Culture Centre (external link) . During the tour, viewers will learn more about the institution's 140-year history, as well as hear interviews from survivors.

Formerly the Mohawk Institute Residential School, Woodland Culture Centre has since turned into a museum, library and gallery and serves to preserve, promote and strengthen Indigenous language, culture, art and history; bringing the story of the Hodinohsho:ni people of the Eastern Woodlands to life through innovative exhibitions and programs. With over 50,000 artifacts in the museum collection, the centre is one of the largest facilities in Canada managed and administered by First Nations.
How and where to get an orange shirt

There are several ways to show your support and order your shirt for Orange Shirt Day events. It is recommended that community members purchase orange shirts from retailers, particularly from Indigenous-owned businesses, that give a significant percentage of proceeds to Indigenous charities and organizations.
There are several ways to show your support and order your shirt for Orange Shirt Day events. It is recommended that community members purchase orange shirts from retailers, particularly from Indigenous-owned businesses, that give a significant percentage of proceeds to Indigenous charities and organizations.
This year, TMU's Campus Store created orange shirts in partnership with Aboriginal Initiatives that are for sale in the Campus Store. 100 per cent of profits are donated to the Orange Shirt Society (external link) . TMU alumna Lucia Laford (Anishinaabe/Irish) provided the Woodland design featured on the orange shirt.
Orange shirts can also be purchased from the official Orange Shirt Day merchandise website (external link) or the Woodland Cultural Centre (external link) .
Additional ways to get involved in Truth and Reconciliation at TMU
TMU community members are also encouraged to familiarize themselves with the university's (PDF file) Truth and Reconciliation Community Consultation report which outlines the community's foundation for next steps towards reconciliation.
Additionally, read the (PDF file) Standing Strong (Mash Koh Wee Kah Pooh Win) Task Force's final report which outlines 22 recommendations on how the university can move forward and write the next chapter in our history. Visit the next chapter website for more information on the progress of these recommendations.
Community members are also encouraged to learn Indigenous languages and support grassroots Indigenous-led initiatives, such as the Native Canadian Centre of Toronto (external link) .
Support for Indigenous students at TMU
Aboriginal Student Services provides a culturally supportive environment to promote academic excellence and serves as a place to balance academic learning with traditional teachings and culture. Aboriginal Student Services provides culturally supportive programs and services for students, including Peer Support Groups and Indigenous Traditional Counselling. Follow the team on Twitter (external link) to stay up to date on their weekly events.
Good2Talk (external link) is a free confidential and anonymous service for post-secondary students for 24/7 professional counselling. Good2Talk also provides mental health information and referrals for mental health, addictions and well-being. Access their services immediately by calling 1-866-925-5454 or text "GOOD2TALKON" to 686868.
Support for Indigenous staff and faculty at TMU
We recognize that annual Orange Shirt Day events may affect members of our community. To support Indigenous community members during this time, Workplace Wellbeing and Aboriginal Initiatives will hold a virtual trauma circle for Indigenous staff, faculty and students with Lloyd Hawkeye Robertson, a Métis trauma counsellor and psychologist, on Tuesday, October 11 at 3:30pm. To attend, (google form) register here (external link) .
For other self-care opportunities you are encouraged to reach out to Cher Trudeau (administrative assistant, Aboriginal Initiatives and coordinator, Aboriginal Education Council) at cktrudeau@torontomu.ca.

How you can engage in Truth and Reconciliation through self-education
To continue to actively participate and engage with Truth and Reconciliation, we recommend resources for self-education from Indigenous authors to help you along your journey.
Books for children
Books for youth
Resources for adults
A collective of Indigenous and non-Indigenous TMU staff members have come together to organize Orange Shirt Day on September 30, 2022. The organizing committee is represented by the following TMU units:
Aboriginal Initiatives, Office of the Vice-President, Equity and Community Inclusion
Aboriginal Student Services
Aboriginal Education Council, Office of the Provost and Vice-President, Academic
Central Communications
Early Childhood Studies
Office of the Provost and Vice-President, Academic
Student Affairs
The Centre for Excellence in Learning and Teaching
Toronto Metropolitan University Library
If you would like to get involved with this group and contribute to next year's events, reach out to Amy Desjarlais, Office of Aboriginal Initiatives staff member, and Rebirthed Teachings lead.