University looks forward to full return to campus in September
The majority of classes and student services will be available in person
August 19, 2022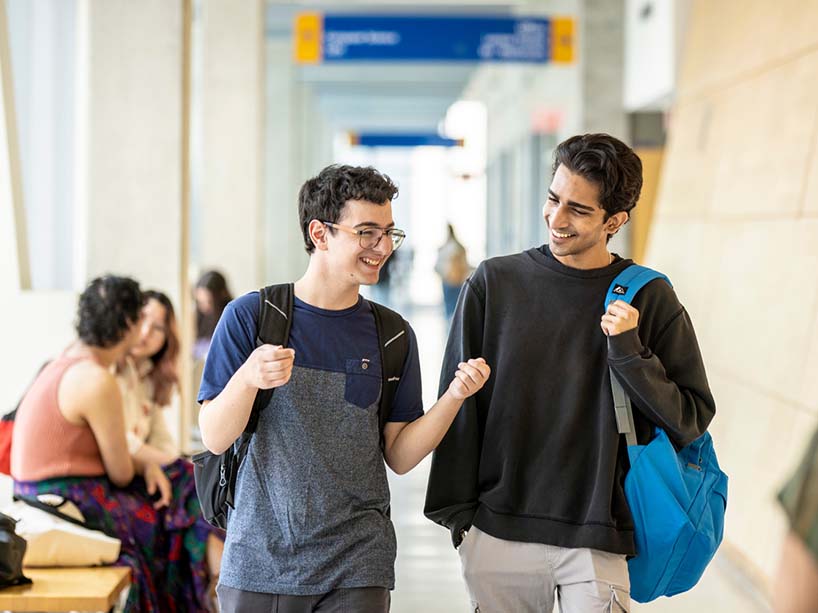 Our fall semester is fast approaching and the Toronto Metropolitan University community is looking forward to a full return to in-person learning and teaching this September. In planning for the fall semester the university is actively monitoring the impact of COVID-19 in our city and province and continues to be nimble in responding to changes, and in planning for the future.
Vaccination and masking policies remain on pause
As was shared earlier this summer, the university's vaccination and mask policies are currently on pause and will remain so for the fall semester. This applies to all community members and visitors, including our students living in residence. Daily health screening submitted through the TMUSafe app is also no longer required.
The university may need to reinstate these requirements, should public health indicators change. Any changes will be communicated broadly.
Full return to learning and teaching
The majority of classes will take place on campus; online delivery for a small number of courses will be available. Students or faculty with questions about course delivery should contact their departments.
All student-facing services and supports will be available in-person, on-campus. Some services and supports will also continue to offer virtual options where feasible in order to meet student needs.
Coming to campus this fall
In order to limit the spread of COVID-19 on our campus, we continue to ask all community members to assess their health and monitor their symptoms before coming to campus. If you are ill, please stay home.
For the 2022/23 school year campus buildings will continue to require a OneCard for access.
While the university's mask policy is currently on pause, we do recommend that community members wear a well-fitted mask while indoors, particularly when sharing small enclosed spaces with others where physical distance cannot be maintained, such as elevators and small meeting rooms.


The university's Future of Work program continues to support leaders to design flexible work arrangements for their teams wherever possible.
Importance of continued health and safety practices
As always, the university remains committed to the health of our community. Continued individual vigilance is critical in controlling the spread of COVID-19. We encourage all community members to be fully vaccinated and remain up-to-date with current public health vaccination recommendations (including booster shots), maintain physical distance wherever feasible, stay home if you are ill, and practice good hand and respiratory hygiene.
For further questions on the university's response to COVID-19 please visit our COVID-19 website.