Provide input on the shortlisted options for TMU mascot and team name
Here's how you can participate in the process
July 12, 2022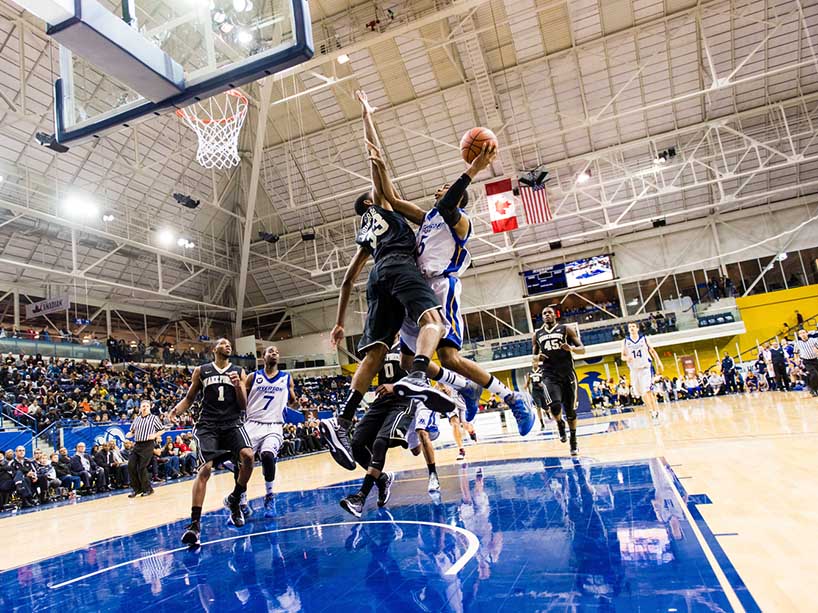 Over the past six weeks, the Mascot and Team Name Committee has reviewed ideas and input from the first phase of community engagement, which ran from May 19 - 30. As shared in the June 16 community update, the committee used community input to establish a set of parameters by which hundreds of ideas were considered. The committee removed ideas from consideration if they were not legally ownable, not sufficiently unique in the sector or city, or if they raised concerns regarding alignment with the university's values and aspirations. The committee has now shortlisted team names and mascot ideas and invites all community members to provide input during the second phase of community engagement.

Community Engagement Phase 2
Phase 2 seeks further input on the shortlisted ideas to help guide the committee's recommendation by understanding the opportunities and challenges that exist with each of the options. It is important to note that this is not a vote on the shortlisted options.
While the shortlists reflect the strongest options that have been identified, the committee recognizes that there may be other options that have not yet been put forward or explored. New ideas will be reviewed and considered at this time as well and the outcome of this project is not limited to the shortlisted ideas.
The shortlists
Team Names
1 . The Bold/TMU Bold
Every legacy begins with a bold decision to start something novel, meaningful and lasting. We are a university that takes risks and strives for excellence. We are confident and courageous - standing out from the rest as athletes, scholars and community members. You won't find many other teams named this way – and that's the point.

2. The Meteors/TMU Meteors/Met Meteors
A meteor rides the galaxy collecting ice and particles as it careens towards its destination, crashing down with authority in an explosion that overwhelms the opposition on the court or playing field. When we love and support them, they are streaks of light, shooting stars. When positioned against our opponents, they are harbingers of havoc.
3. The Towers/TMU Towers/Metropolitan Towers
Big city teams deserve big city names. Let us tower above the competition with an unabashed declaration of our urban status. There is power in our location, our deep foundations and the grit that defines our metropolitan spirit.
Mascots
1. Bee
With over 350 native species of bees in Toronto, bees exhibit a wide range of behaviours, personalities and lifestyles.
Bees play a critical role in our ecosystem and each bee has a specific role/job, either working as part of a team or living as a solitary creature.
Native bees come in a rainbow of colours including blue and yellow - TMU's colours!
2. Caribou
Caribou, also known as reindeer, are native to Ontario, though primarily in the northern region of the province.
Caribou hold importance across many cultures and symbolize strength and resilience.
Caribou are the only deer where both males and females have antlers.
3. Meteor
Meteors, also known as shooting stars, light up the night sky with their brilliance.
Meteors are believed to represent change and good fortune.
Their speed is both celebrated and feared.
4. Moose
Moose are iconic creatures, known for their striking appearance and towering size.
They symbolize strength, confidence, elegance, individualism and attraction.
They readily defend themselves against predators with their strength, speed and strategy.
5. Squirrel
Squirrels are fast, nimble and dive into things head first with ease.
While the North American Grey Squirrel is typically grey, black or reddish, Toronto has long celebrated the sightings of white squirrels in different areas of the city.
Squirrels play an important role in tree regeneration by burying seeds across different areas.
6. Tower
Tower as a verb means to 'rise high'.
Toronto has an iconic skyline and it's expected to get even better!
Towers are designed to bend and sway to withstand the wind and natural elements.
How you can share your input on the shortlists
Until Tuesday, July 19, 2022, at 11:59 am, we invite all community members to share ideas for a new mascot, mascot name and athletic team name to represent the university.
The easiest way for most people to participate is through an online survey (external link) , however, you are welcome to email the committee at mascot@torontomu.ca or share your thoughts on social media using the hashtag #TorontoMetMascot.