Creating culturally relevant mental health support for students
How counselling initiatives made a safe space for Black and racialized students
July 21, 2022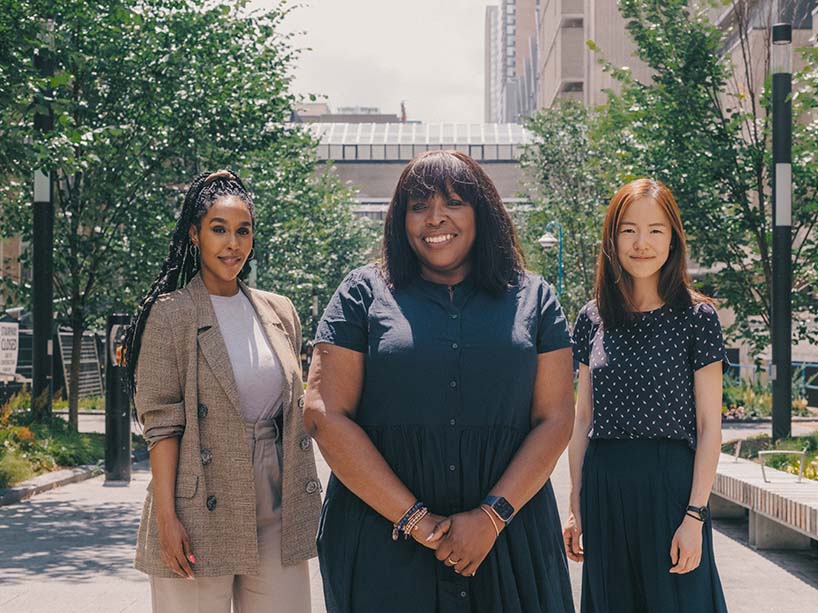 The mental health and wellbeing of TMU students is a top priority for the Student Wellbeing (SW) team. So when staff at the SW Equity, Community and Inclusion Working Group began noticing that Black and other racialized students were facing barriers to accessing mental health supports, they had to find a way to reach them.
"The lack of representation was something that we were hearing that was a barrier," says Krystal Warner, a counsellor at the Centre for Student Development and Counselling, and registered social worker. "Students [were] feeling isolated across campus, not having a lot of spaces where they can go to talk about their mental health with other students that look like them."
Taking action
Warner and Eden Abraham, along with other counsellors at the centre, were galvanized by the collective trauma faced by Black students after the murder of George Floyd, and a desire to address the experiences that students shared in the Anti-Black Racism Campus Climate Report (published by the Office of the Vice-President, Equity and Community Inclusion) released around the same time. They began developing new ways to make their services more accessible to racialized students. Their plan? Create culturally relevant care for those students in a timely manner and in a way that helps them feel safer coming in.
Now, when a student reaches out to the front desk at the counselling centre, they're asked at this first point of contact if they identify as being from an equity-deserving community and what they might require in terms of counsellor matching. Students are also asked about their matching needs for their ongoing counsellor, and are matched where possible. Initial consultation and ongoing counselling appointments for Black-identifying students who request to work with a Black-identified counsellor are expedited to ensure timely access to care.
This matching process helps pair students with counsellors of similar or shared identity, whose lived experiences can help the student safely address some of the culturally nuanced aspects of their care.
A safe space for Black students
In the fall of 2020 Abraham and Warner created a group for Black-identified students titled 'all about love,' which was inspired by author and activist bell hooks' seminal text.
"Krystal and I were the only Black staff at the CSDC at that time. We were glad that we were able to extend our support to many Black-identified students," says Abraham. "And this was during the height of the pandemic, when everybody was at home but not everybody was safe at home, and collectively struggling with disconnection, feeling isolated, feeling removed from community."
The pair set out to create a group that was centred on making connections, and on the experience of what it means to be a Black person growing up in Black families. They brought in writing by Black thinkers, used meditations by Black practitioners, and let the students facilitate and support each other.
They haven't been able to host a follow-up due to the need to balance various parts of their roles as frontline staff, but based on the positive feedback from the first offering, Abraham and Warner are committed to running the group again in the fall.
What's next?
As for a department-level project, the SW ECI Working Group is currently holding focus groups to gather feedback from students in the coming months.
"We're really interested in creating programs and services and initiatives that are fueled by what students are telling us that they need, [and] what their experience is," says Abraham, who co-chairs the working group alongside counsellor Jean Tsai.
Tsai, Abraham and Warner spoke about the many barriers that students from marginalized communities face when seeking support. Tsai notes that all aspects of a student's experience of care are important, including access, cultural relevance, and whether counselling/therapy is helping to address the issues that a student presents with.
"We want to be able to provide care that better meets students' needs, and sometimes this does not always look like traditional, Western ways of thinking about therapy," says Tsai. The focus groups will conclude this summer, and findings from the project will be used to inform program planning and service delivery in the upcoming school year and beyond.
And if the team needed any proof that their efforts have been effective, it's the palpable sense of relief from students who feel, finally, like they can bring their full selves into their therapy sessions.
"You can just see it on their faces, the smiles, the ease in terms of their body language, knowing that there's a sense of safety that they feel," says Warner.
"The therapy space is so sacred, and to be able to bring their full selves has been, I think, transformational for a lot of students."
And not only has the work of the SW team translated into healthy experiences for the students, but the team says this period has been transformative for them as counsellors as well.
"It has had such a big impact on us. We have been dazzled by Black students, we have been enlivened by Black students, [and] we have been inspired by Black students," says Abraham.
"It has been the biggest honor of our professional careers to do this work and we really want to show up for them because they so deserve that."