A guide to National Indigenous Peoples Day at TMU
Events and activities to celebrate Indigenous culture and history on campus this month
June 14, 2022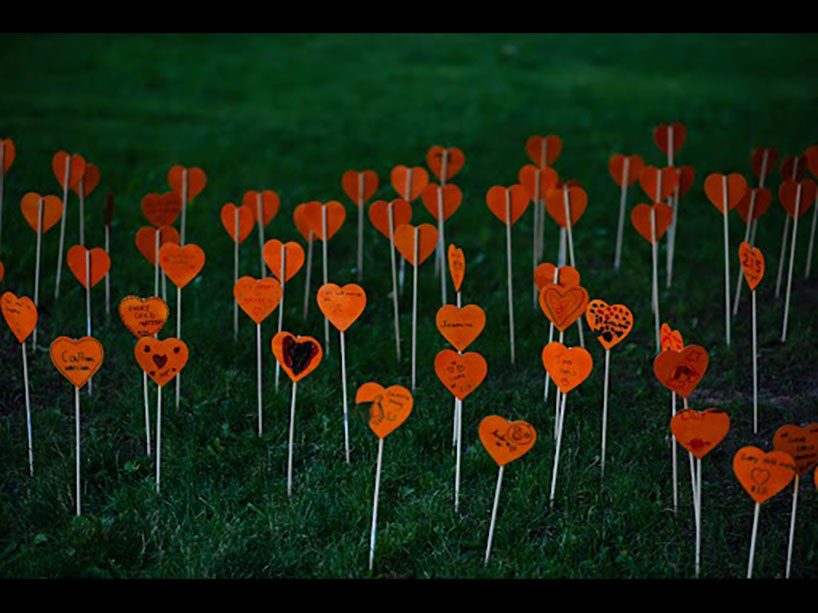 The month of June is Indigenous History Month, and June 21 is National Indigenous Peoples Day, a day for all Canadians to both recognize and celebrate the heritage, diverse cultures and outstanding contributions of First Nations, Inuit, and Métis peoples. Every nation and community, as well as each individual connected to them, has their own complex histories and stories that challenge the misconception of a monolithic Indigenous identity.
This day also presents an opportunity to reflect and reaffirm our commitment — as a community and as individuals — to actively participate in truth and reconciliation every day.
Welcome & Social Gathering — in person and virtual
Time: 10:00- 11:00 a.m.
Location: POD250
Attend via Zoom (external link)
On June 21, 2022, the university community will come together, virtually and in-person, to celebrate and acknowledge National Indigenous Peoples Day. The event begins at 10:00 a.m. in POD250 for a social gathering, with a welcome from Joanne Okimawininew Dallaire, Elder (Ke Shay Hayo) and Senior Advisor, Indigenous Relations and Reconciliation at 10:30 a.m.
Event App and Schedule
Check out the events happening on campus and online on June 21 below.
Live captioning and ASL will be provided for the welcome session and allyship panel. Additional accommodations will be provided upon request by contacting accessibility@torontomu.ca.
Virtual heart garden: Honouring Memories, Planting Dreams
The TMU community is invited to submit messages (external link) to a virtual heart garden that will honour residential school survivors and their families that can be viewed online throughout the month (external link) , and will be projected in the Library at the Research Help Space on June 21.
Button making
Time: 10:00 - 12:00 p.m.
Location: POD250
This activity brings out the creative side of all who participate. Everyone is welcome to come and make their own buttons for National Indigenous Peoples Day. Keep the buttons for yourself, or donate them back to the Toronto Metropolitan Student community
Children's Indigenous storytime — in person, open to all
Location: Quad, in case of rain, POD250
Time: 10:00- 10:45 a.m.
Meaningful reconciliation engages young people in learning about Indigenous culture. Come join the Early Learning Centre, the Library and the School of Early Childhood Studies for storytime! We will be reading a selection of stories that celebrate Indigeneity and activities to engage our young community members.

Panel discussion: How to be a good ally – In person and virtual
Location: POD250
Time: 11:00- 12:00 p.m.
Attend via Zoom (external link)

A hybrid event featuring six TMU panelists who will share their stories and experiences learning and working together with the Indigenous community. This panel is a great resource for non-Indigenous colleagues to learn how to engage with Indigenous colleagues respectfully and appropriately.

Panelists include:

Fenella Amarasinghe, senior manager, Education Planning and Development, Faculty of Engineering and Architectural Science (FEAS), Decolonizing Community of Practice
Justine Woods, Penetanguishene Aabitaawikwe contract lecturer, The Creative School
Anna Romanovska - contract lecturer, School of Fashion, The Creative School
Matthew Scerni - Engineers without Borders (EWB), Toronto Metropolitan University Chapter
Luzalen Marcos - Engineers without Borders (EWB), Toronto Metropolitan University Chapter
Michael Mihalicz - assistant professor, Entrepreneurship & Strategy, Indigenous advisor, Ted Rogers School of Management

Tour of the Indigenous Medicine Garden at the Daphne Cockwell Health Sciences Complex
In 2021, TMU opened a second rooftop farm at the Daphne Cockwell Health Sciences Complex (DCC). This space includes a community gathering space, a green house and garden plots dedicated to growing culturally significant crops and medicines. On June 21, community members are invited to tour the Indigenous Medicine Garden in small groups, and visit the display table on the DCC rooftop.

Two tours are being held. Registration is required — space is limited.
Register for Tour #1 at 1:00 p.m. (external link)
Register for Tour #2 at 3:00 p.m. (external link)

Wampum belts woven through Anishinaabe history – in person
Location: POD250
Time: 1:30- 4:00 p.m.

Join Brian Charles, an Indigenous liaison for the provincial and federal government for over 20 years, for an in-person presentation about how wampum was used to record relationships and treaties between the First Peoples of the Eastern Woodland, as well as with settler societies in Canada. Brian is an off-reserve band member of the Chippewas of Georgina Island who has worked collaboratively with a small group of knowledge keepers to research and assemble a physical repository of wampum belts connected to Ojibwa history.

Indigenous Education
The Centre for Excellence in Learning and Teaching has highlighted a series of Indigenous teachings related to the month of June on their Indigenous Education page. Learn about the significance of strawberries and the strawberry moon, water, buffalo, cedar tea and more.

Off-Campus Celebrations
Festivals, Ceremonies and Pow Wows in Toronto
A variety of in-person and hybrid events will be taking place across the city throughout the month of June, such as the Indigenous Arts Festival at Fort York (external link) and Na-Me-Res Pow Wow (external link) on June 18th, as well as the Tkaronto Music Festival (external link) , and sunrise ceremony at Nathan Phillips Square (external link) on June 21.

How to be a respectful attendee to Indigenous events
When someone from a marginalized community* invites you to an event, go — be there to listen, learn and show your support. An 'ally' is someone who has privilege, but chooses to stand for and with marginalized communities by taking tangible, ongoing actions to dismantle systems of oppression. As an ally your role is ongoing and requires commitment. You're also encouraged to speak up and intervene when someone is targeted, learn from your mistakes and stay engaged.

*'Marginalized communities' are those who are targeted by oppression, including but not limited to: First Nations, Inuit and Métis peoples, racialized people, Jewish people, the Muslim community, immigrants, refugees, LGBTQ2S+ people, women and people with disabilities.

Organizing Committee for Indigenous History Month and National Indigenous Peoples Day 2022
A collective of Indigenous and non-Indigenous TMU staff members have come together to help celebrate Indigenous History Month throughout the month of June, and National Indigenous Peoples Day on June 21, 2022. The organizing committee is co-chaired by Amy Desjarlais Waabishka Kakaki Zhaawshko Shkeezhgokwe (White Raven Woman with Turquoise Eyes), Office of Aboriginal Initiatives, and Jane Schmidt, Toronto Metropolitan University Library.

The organizing committee is represented by the following TMU units:
Central Communications
The Centre for Excellence in Learning and Teaching
Early Childhood Studies
Aboriginal Initiatives, Office of the Vice-President, Equity and Community Inclusion
The Office of the Provost and Vice-President, Academic
Ryerson Aboriginal Student Services
Student Affairs
The Toronto Metropolitan University Library