Celebrating those who give back
G. Raymond Chang Outstanding Volunteer Awards recognize generous contributions of time and talent to the university
May 10, 2022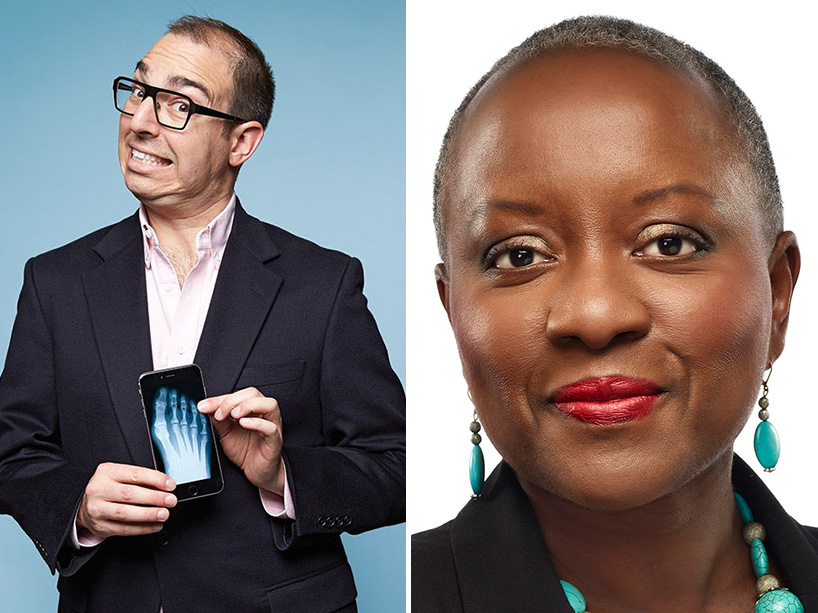 This year's G. Raymond Chang Outstanding Volunteer Awards is the event's fifth anniversary (and we hope the last time it will need to be held virtually.) With 36 alumni and friends being recognized for the generosity of their volunteerism, this edition brings the number of those honoured to 239.
Among the 2022 recipients are Amorell Saunders N'Daw, a School of Journalism alumna, and Joshua Landy, critical care physician, co-founder and chief medical officer of Figure1, external link, and the clinician-in-residence at the university's Biomedical Zone (BMZ).
Dr. Landy quips, "I didn't realize what I was doing was volunteering until I was told I was receiving an award for it. When I started my company, I received excellent guidance through the DMZ, and I wanted to give back in the same way. It's fun and rewarding in so many ways," he adds, "that at least part of it I consider self-serving. I always tell people, 'don't look to volunteer. Find stuff you like and help people do it.'"
Dr. Landy has devoted hundreds of hours to advising new biomedical ventures, giving seminars on clinical engagement, and helping vet new teams for the BMZ. His creative and enthusiastic approach to solving biomedical problems has empowered countless students and startups to overcome both business and clinical challenges, ensuring they are well equipped to make a meaningful impact on the health-care sector.
"There is a well-known ethos in the startup community," explains Dr. Landy. "It's about this cycle of people starting companies, getting advice from established entrepreneurs, making your own errors along the way and then helping emerging founders and aspiring entrepreneurs save time and money by sharing your experience and keeping them from making the same mistakes you made. I'm proud to be a part of that."
For Amorell Saunders N'Daw, community engagement and involvement are foundational to who she is. "I had such a wonderful experience at the university for which I am so grateful. My education served me well during my over 30-year career and I felt it was important to give back."
Over the years, Saunders N'Daw has been a member of the Ryerson Journalism Alumni Association, a member of the Blue and Gold Society for the university's most generous and loyal donors, and has served as a mentor to students in The Creative School. In 2021, she was appointed to the Standing Strong Task Force (SSTF) by President Lachemi. With the other members of the SSTF, she oversaw historical research and community engagement, while working to shape a report and recommendations, and establish guiding principles for commemoration at the university.
Saunder N'Daw describes the work on the SSTF as "life and career changing. I learned so much and did a lot of unlearning. I believe the experience made me a better person." This feeling encapsulates Saunders N'Daw's overall view on giving back, echoing the sentiments of Dr. Landy. "The benefits you accrue from volunteering are symbiotic. It's not something that 'takes up your time' – it is something that helps you grow. It's an act of citizenship and an act of kindness."
The live stream, external link of this year's G. Raymond Chang Outstanding Volunteer Awards ceremony kicks off at 5:00 p.m. EST on Thursday, May 19 on YouTube. Join us to celebrate our university's exceptional volunteers. Everyone is welcome.