Mask requirements and policy to continue until further notice
Decision based on guidance from province's Chief Medical Officer of Health
April 21, 2022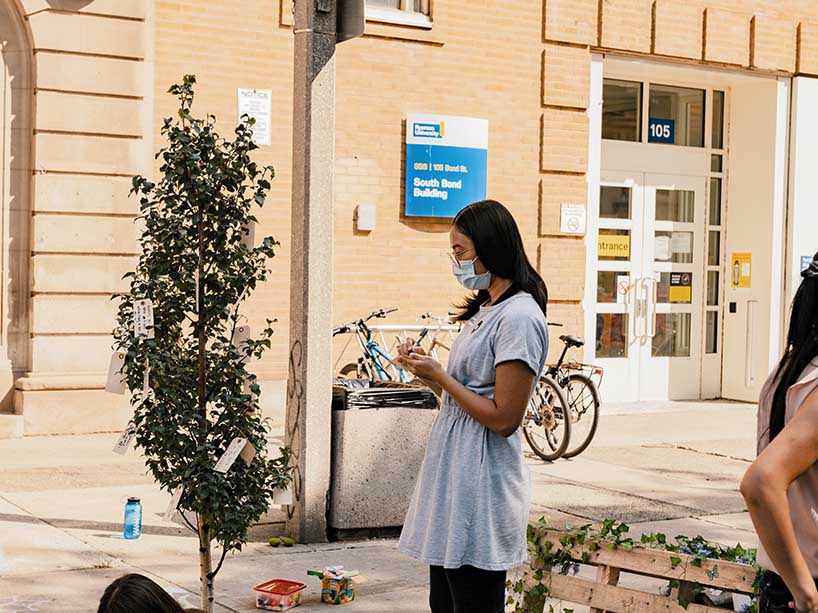 On March 28, the university announced its decision to suspend its vaccination and mask policies starting May 1, 2022. After monitoring the continued impact of COVID-19 in the city and province, the university has determined that the face mask policy will remain in place until further notice. This decision is based on guidance from the province's Chief Medical Officer of Health who has strongly recommended the continued use of masks.
Vaccination
This change does not impact the COVID-19 vaccination policy which will be suspended as planned on May 1, 2022. The university will continue to be nimble in responding to changes and may need to reinstate requirements for vaccinations in indoor settings should public health indicators change.
While COVID-19 vaccination is no longer required in order to access campus, community members are asked to keep their vaccination status in the RyersonSafe app up to date.
Health screening and self-monitoring
Similarly, the university will no longer require daily health screening for those coming to campus, effective May 1. However, community members should continue to monitor their health for any COVID-19 symptoms and not come to campus if they are feeling unwell.
Should you test positive for COVID-19, please do not come to campus until your recommended self-isolation period has ended and follow the Reporting Cases on Campus information outlined on the COVID-19 site.
Reminder on mask requirements while on campus
This infographic provides an overview of mask guidelines on campus.
A Mask or Face Covering must be worn by every person at all times while indoors in a manner that covers their mouth, nose, and chin.
Ryerson faculty and staff may remove their Masks or Face Coverings when they are working in enclosed areas (e.g. an office) designated for their individual use that are not open to the public. However, if another person enters the space, both parties must wear a mask or face covering. Please note that individuals working in open spaces or cubicles must wear their mask at all times.
Students must wear a mask or face covering at all times while indoors in public spaces, including in individual study spaces.
Visitors, contractors, or members of the general public, will have to wear a mask at all times in all indoor spaces.
All persons on campus must wear a mask while outdoors when they cannot maintain a physical distance of 2-metres from others.
Masks or face coverings may be temporarily removed when eating or drinking in an area designated for dining. For staff, this includes a designated break space. For students, this includes campus dining areas such as the dining halls.
For information on mask use and other information, please visit the Masks and Personal Protective Equipment (PPE) information online.
Planning for fall 2022
The university is continuing to plan for the fall semester, including health and safety practices while on campus and will share more information in the weeks ahead.