A new name for our institution
'Toronto Metropolitan University' honours place, community and values
Category:
From the president
April 26, 2022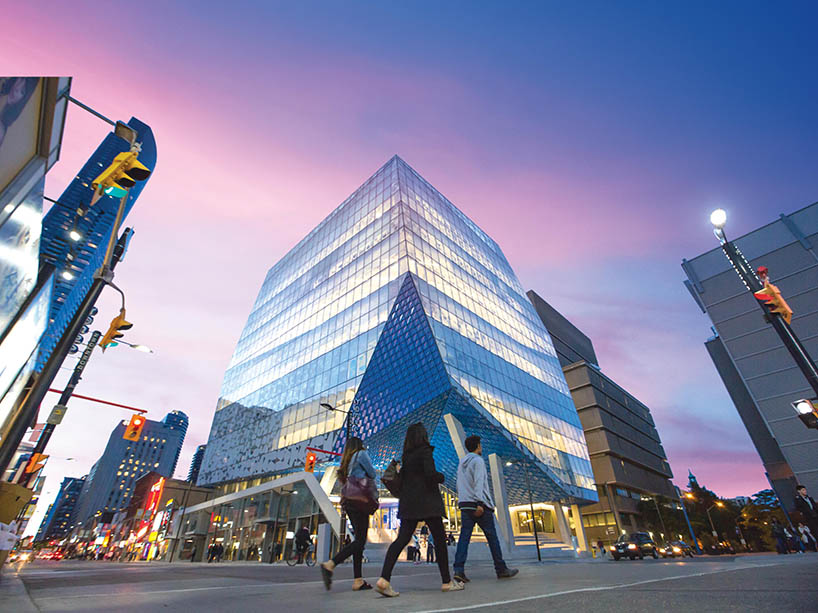 Today marks the first page of a new chapter in our university's history. Earlier today, I was pleased to bring to our Board of Governors the name Toronto Metropolitan University, which they have approved.
Our new name Toronto Metropolitan University embodies so many things about our university, our community, our students, faculty, staff and alumni. Located in the heart of our country's biggest and most diverse city - we represent all that it is to be metropolitan. We are a gathering place for people from all over the world, from all walks of life, with broad and diverse perspectives, lived experiences and aspirations.
Our university is where it all happens - our energy, creativity, innovation and commitment to welcoming and accepting all who come here is what makes us who we are. Metropolitan also defines our aspirations to expand our reputation and reach, as exemplified by our new Lincoln Alexander School of Law, our first international campus in Cairo, Egypt, and our plans for a future School of Medicine in Brampton.
From its earliest days, the city of Toronto - our home - has been a gathering place. Toronto comes from the Mohawk word "Tkaronto," meaning "the place in the water where the trees are standing" - a place where people came together. I know our new name will continue to invite people from all over the world to gather - to learn, to teach, to share, to undertake scholarly research and creative activities, and to engage in new ways of thinking and doing. Toronto Metropolitan University reflects all that we are and our commitment to continue being a destination for the great minds, partnerships and discoveries that we are already known for.
I cannot think of a better name for our university. I am so grateful to the University Renaming Advisory Committee for their dedication and determination in finding a name that will unify us for decades to come. I also want to acknowledge all of our community members who have long advocated for change, and to all of you who provided ideas and perspectives to the University Renaming Advisory Committee - you have helped to make this day possible. My sincere thanks also to the Standing Strong Task Force for taking on the complex and challenging task of addressing our history - without your work we would not be at this critically important moment.
As we start the next chapter as Toronto Metropolitan University, I want to assure everyone that our new name is not about erasing our history. As a university, our values have long defined who we are and they will always guide where we are going. Our values are the basis upon which we have built our uniquely vibrant, diverse and intentionally inclusive culture. Our new name builds upon these values and, along with our 73 years of excellence and achievement, it is intended to be a name that unifies all of us - a place where all of our community members belong.
Our new name is a cause for celebration, to celebrate all that makes us who we are and to welcome all the ways we can make a positive impact on the people and communities around us - here in Toronto, across Canada and around the world.
I hope you will join me in embracing our new name of Toronto Metropolitan University, in continuing to challenge the status quo, and in knowing that you belong here.
You can learn more about our new name, how it will be implemented, and your role in welcoming this new chapter on our Next Chapter website.
Mohamed Lachemi,
President and Vice-Chancellor, Toronto Metropolitan University