University announces change in health and safety requirements for spring/summer semester
Suspension of vaccination and mask policies take effect May 1, 2022
March 28, 2022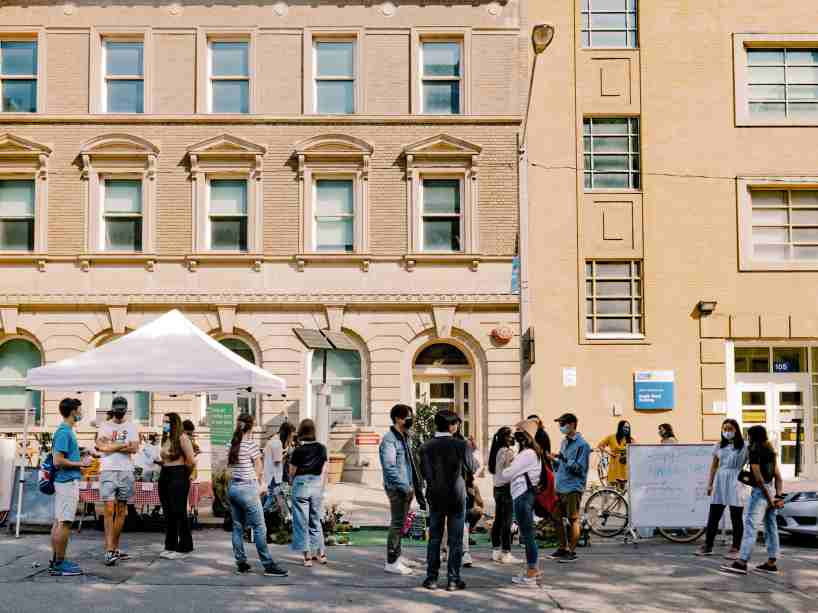 As the province of Ontario adjusts public health restrictions and we continue to see other positive indicators related to COVID-19 in our province, the university will be suspending both our vaccination and masking policies, effective Sunday, May 1.
This decision is supported by direction from government and public health authorities, it is in keeping with other sectors across the province and is reflective of the approach to Spring/Summer semester taken by other Ontario universities.
While this decision has been made based on the current information and advice, as we have seen throughout the pandemic, things can change very quickly. Members of the university community should be aware that it may become necessary to quickly reintroduce these and other measures and requirements in the future.
The university continues to monitor the impact of COVID-19 in our city and province, and will be nimble in responding to changes, and in planning for the future. The university may need to reinstate requirements for vaccinations and masks in indoor settings should public health indicators change.
Vaccination status and accessing campus
Community members accessing campus during the Spring/Summer semester must update their vaccination status via the RyersonSafe app by May 1, 2022, if they have not yet done so.
Students who have not been able to register for classes with in-person requirements will now be able to do so.
Human Resources and the Office of the Vice-Provost, Faculty Affairs will reach out to leaders who have employees who are impacted by this policy change to advise of next steps. Faculty and staff are encouraged to remain up-to-date with current COVID-19 vaccinations in the event that the policy is reinstated and non-compliance measures are applied. Should this happen, the university will consider exemption requests based on protected grounds under Ontario's Human Rights Code.
Keeping track of the vaccination status of all of our community members will allow the university to shift back to requiring vaccination to attend campus quickly and easily, should it become necessary. Please note that your ability to continue to attend class, work and participate in other activities at the university may be impacted if the requirement for mandatory vaccination against COVID-19 is reintroduced, based on the updated information you provide about your vaccination status.
Please note all university buildings will continue to be OneCard access only.
Masking
While the university will no longer require you to wear a mask on campus after May 1, we do support those who choose to continue to wear a face covering. We strongly encourage our community members to wear masks in crowded settings or in areas where you are working closely with others.
As with vaccinations, the university may need to revert back to requiring masks in indoor settings should public health indicators change. The university will continue to make masks available. Please visit the Masks and Personal Protective Equipment site for more information on obtaining a mask from the university.
Health screening and self-monitoring
Similarly, the university will no longer require daily health screening for those coming to campus, effective May 1. However, community members should continue to monitor their health for any COVID-19 symptoms and not come to campus if they are feeling unwell.
Should you test positive for COVID-19, please do not come to campus until your recommended self isolation period has ended and follow the Reporting Cases on Campus information outlined on the COVID-19 site. as outlined on the website.
Planning for fall 2022
While we are confident that the pausing of these policies is a safe next step for the community, plans for the fall semester, including health and safety practices on campus are still underway. Further information on the fall semester will be available in the weeks ahead.
Thank you for your continued effort to keeping campus safe
As always, the university remains committed to the health of our community. Each of us has an important role to play in keeping our campus safe. We encourage all community members to be fully vaccinated, including the booster shot as recommended by public health, maintain physical distancing wherever feasible, to stay home if you are ill, and to practice good hand and respiratory hygiene.