Architecture students use cutting-edge technology to create winning design in lockdown
"S'winter Station", created using virtual and augmented reality, is on display as part of Winter Stations
February 24, 2022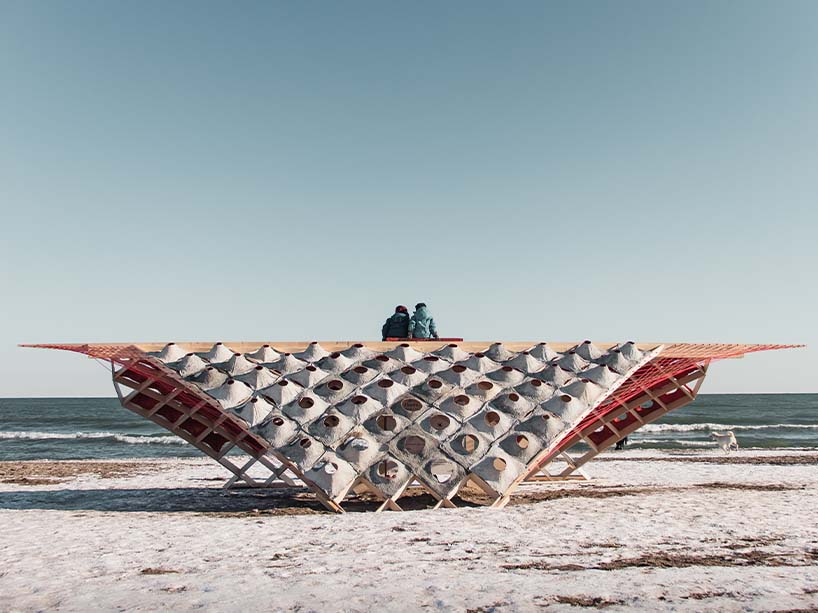 A design created by Ryerson architectural science students has been selected for Toronto's Winter Stations, external link competition. The international design competition, taking place at Woodbine Beach from February 21 to March 31, 2022, has winning participants build temporary winter art installations that incorporate existing lifeguard stands. Ryerson's is one of five designs that came to life based on this year's theme of 'resilience'.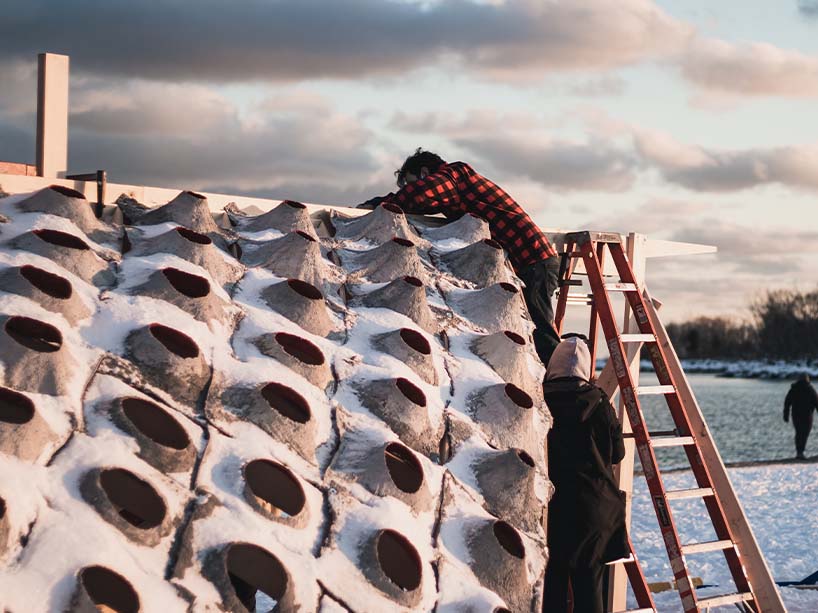 Ryerson's winning submission to the competition is called S'winter Station, external link. It combines materials used on summer beach days - the existing lifeguard stand, marine rope and beach towels - and uses concrete to mould protective panels that control the amount of light and snow allowed to enter the structure. The S'winter Station pavilion encourages visitors to engage with their surroundings and offers unique views of the nature around it.
The concept of using concrete and mixing it with textiles like the beach towel was inspired by a similar activity conducted by children at Ryerson's popular Architectural Science kids camp this past summer.
"We have been able to take what was once a children's activity and bring our own expertise into it," said Ariel Weiss, a third-year architectural science student and part of the 15-person team behind the S'winter Station design. "We were able to inject our sense of digital tools and advanced fabrication techniques that we're taught here at Ryerson."
In fact, it was the group's use of digital tools that set them apart from their competitors. Since the team of students were in lockdown at the time of design, they had to get creative when it came to building their vision.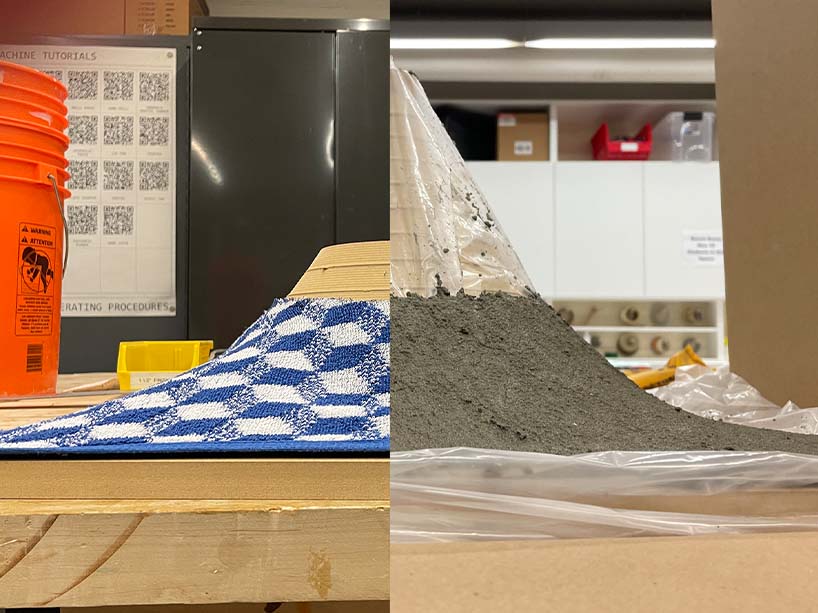 The twist
How do you create a winning design when your team is separated due to COVID-19 restrictions? Enter virtual and augmented reality tools. The design team was able to access headsets to design the S'winter Station pavilion from their homes.
"Virtual reality was really useful here, because especially when we were locked down at home, you're able to just put these goggles on and sort of walk through your design in real time," said Weiss, who worked on the design from his bedroom.
The team also used augmented reality, the layering of digital models in the real world, to map out the design. They were able to see how the design would work in three dimensions as well as make fixes and changes before the physical design existed.
Weiss says these practices are at the forefront of architectural design. "We can test hundreds and thousands of panel [designs] with no waiting time," he said.
One of Weiss' design partners, third-year student Justin Lieberman, adds that the use of advanced visual design is something that some of the top architectural firms in Canada aren't even getting to do.
"Because of our faculty and team here, we're able to actually do that kind of stuff. And it's making this whole process even better," Lieberman said. "It's making our products even stronger. We don't have to worry about what's going to happen on site when we can do it right in our basements or our bedrooms."
The design and build experience of bringing S'winter Station to life has been an incredibly valuable learning experience for the team members involved. Historically, design teams at Ryerson are made up of students from many different years. For example, Weiss has been helping some first year students learn the building process by having them cut out materials.
"Some of these students just started a few months ago," he said. "It's really nice having multiple years on this project, we can share our wisdom."
For other students, like Alex Winslow, participating in Winter Stations has given her the opportunity to apply what she's been learning in the classroom for the past two years.
"This has given us a really great opportunity to [be] hands on [and] apply this knowledge," she said. "We've gone beyond just design work. It's a lot more than just a pretty picture… it's a really great learning opportunity for us."
The winning design from this Ryerson team has been catching the attention of not only the architecture world, but mainstream media, external link as well. Professor Vincent Hui, who has been overseeing the project and supporting the students, says people are blown away by the student's use of technology to support their design. "We empower our students by providing those tools," he said.
Winter Stations, external link kicked off on February 21, 2022 and the installations will be open to the public until March 31.