Ryerson growth tops Research Infosource rankings for second straight year
In the annual review and 20-year spotlight of research income growth, Ryerson was first among Canadian comprehensive universities
January 25, 2022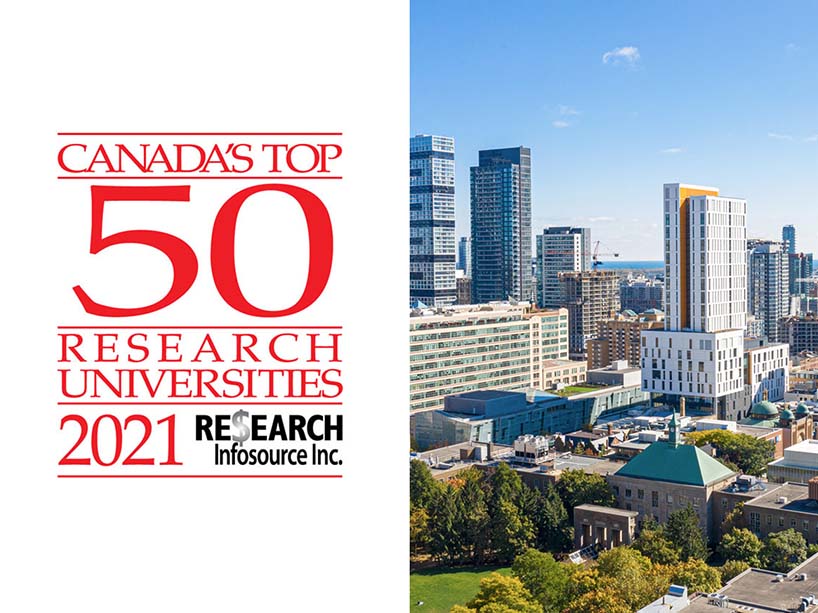 Ryerson University has been ranked first for research income growth for the second consecutive year and third for research intensity dollars per graduate student,, external link among comprehensive universities in Research Infosource's Canada's Top 50 Research Universities List 2021. The university's research income increased 32.7 per cent in the 2019-2020 fiscal year and totalled $105.6 million. In the overall rankings, external link, Ryerson placed 21st on the annual list.
In this year's spotlight, external link, reviewing 20 years of university research income, Ryerson placed first in total comprehensive university income growth, which increased 1,071.3 per cent, second in not-for-profit research income growth and third in corporate research income growth (FY 2001-20). Ryerson was ranked first across all three categories in research publication growth, with total university research publication growth up by 1,084 per cent, university international collaboration publication growth up by 2,523.5 per cent and university cross-sector collaboration publication growth up by 2,066.7 per cent (FY 2000-19).
"This significant achievement, and Ryerson's continued trajectory of success, is a reflection of the university's commitment to research excellence," said Steven N. Liss, Ryerson's vice-president, research and innovation. "It is also a testament to our continued collaboration with industry and government partners and to the dedication, innovation and creativity of the university's exceptional faculty, students and support staff, who work tirelessly to deliver impactful results that will improve the lives of people in Canada and around the world."
Research Infosource Inc. is an independent research, consulting and publishing firm that focuses on Canadian research and development. It is known as a respected and leading source of ranking information on research universities, corporations, hospitals and colleges.
Learn more about the Canada's Top 50 Research Universities 2021 rankings., external link
Related links: