Everything you need to know for coming back to campus
As our gradual return to campus begins this week, check out the latest information on health and safety measures
January 28, 2022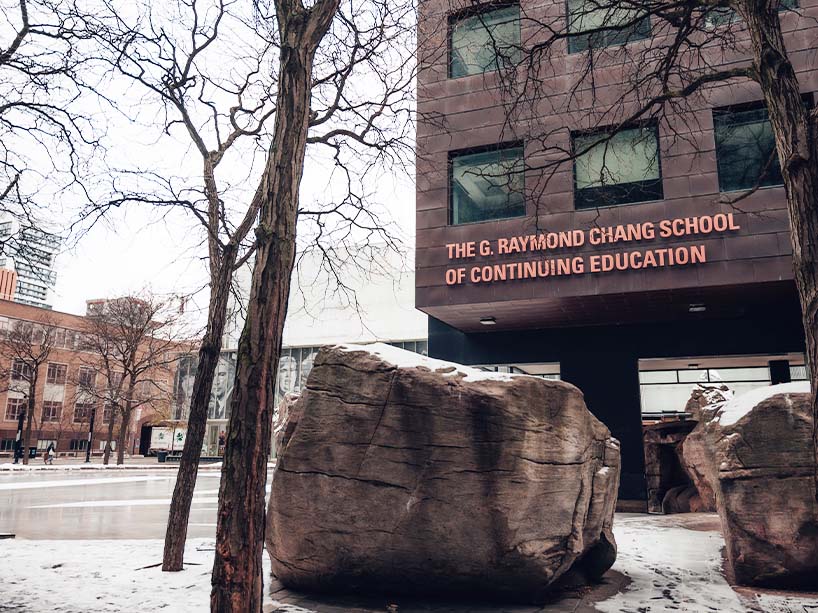 As students, faculty and staff prepare to return to campus during the next month, here's the information you'll need to return to our shared spaces safely and to make a smooth transition back to in-person learning.
Everyone coming to campus must:
Be vaccinated
All individuals accessing campus or participating in-person university activities off campus must be fully vaccinated or have received an approved exemption from the university. Individuals who have approved exemptions are still required to participate in the Rapid Antigen Testing Program.
Community members should be prepared to show their proof of vaccination to access certain spaces on campus, such as athletic and recreation facilities, venues, and events.
Wear a well-fitted mask indoors
Ryerson's mask policy requires that a well-fitted mask or face covering must be worn by every person at all times while indoors in a manner that covers their mouth, nose and chin.
For more information on guidelines and exemptions, visit the Masks and Personal Protective Equipment (PPE) page.
Complete a daily health screening
Prior to each visit to campus, all students, faculty, staff, contractors and visitors must complete a mandatory health screening before being granted access to campus buildings. Mandatory health screenings must be completed via the RyersonSafe app or the RyersonSafe Health Screening webpage.
You may be asked to show proof of your passed health screening to access some areas on campus, such as the Ryerson Library or Student Learning Centre.

You will need your OneCard to access buildings
During the winter 2022 semester, exterior entrances to campus buildings will be locked and only accessible by tapping your OneCard against the card reader to gain entry. For more information, visit Community Safety and Security's webpage about building access during COVID-19. If you do not already have a OneCard or need a replacement, please visit the OneCard website for more information.
Building and classroom activity
Local level building access monitoring will be conducted to ensure the health and safety of all community members. Community members should anticipate they may be asked to show proof of their completed and passed health screening to access some areas on campus.
Physical distancing
Physical distancing not required in indoor instructional spaces
According to the most recent guidance released from the Ministry of Colleges and Universities and amendments to the applicable emergency regulations, physical distancing guidelines have been relaxed for indoor instructional spaces at post-secondary institutions.
2 metres physical distancing required in all other spaces
In all other spaces on campus, such as common spaces, elevators and corridors, the two-metre physical distancing requirement continues to be required by law, and will remain in place until further notice. It is recommended that faculty members hold office hours online and that staff continue to meet virtually where possible. Review information on physical distancing on campus.
Know what services are open
February is a transitional period with access to buildings, services, and supports gradually returning. To find out what buildings are open and what services are being offered, please visit the Campus Status webpage.
Keep our community safe

The university is committed to protecting the health and safety of all community members. We all have a part to play to minimize the spread of COVID-19 on campus:
get vaccinated
stay home if you are ill
wear a well-fitted mask, and
practise good hand and respiratory hygiene
Thank you to our community members for their continued commitment to following guidelines and safety protocols so we can ensure a safe return to campus.