Meet the fall 2021 award-winning graduates
Learn more about these extraordinary scholars
November 23, 2021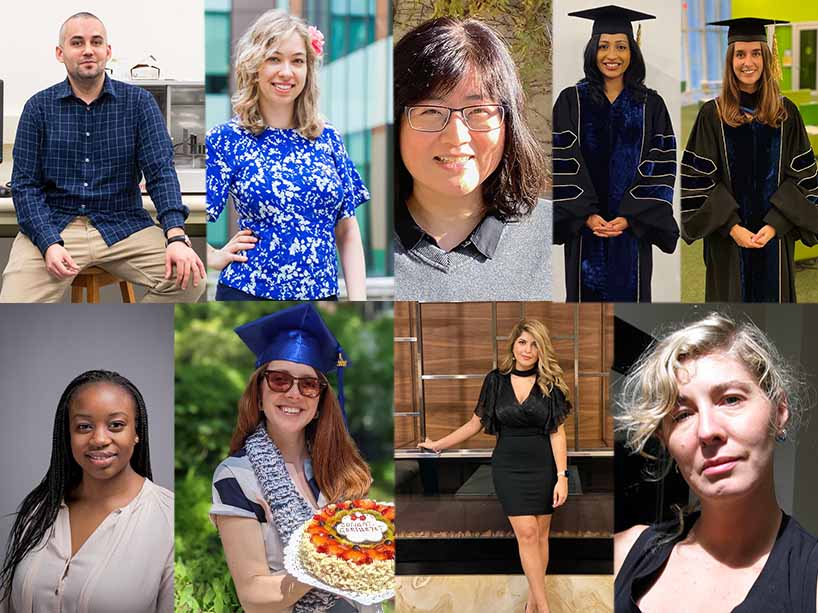 Receiving a top award from an academic institution is an accomplishment at any time. Doing so in the midst of a global pandemic and many of its unpredictable challenges is perhaps even more exceptional.
Below, meet nine extraordinary scholars who have done exactly that - among them, they've earned Gold Medals, the Board of Governor Leadership Award, the Governor General Gold Medal and a top thesis award for their outstanding academic achievements and remarkable contributions to the Ryerson community and beyond.
Celebrate their success with us by reading below and exploring their feature profiles.
Faculty of Arts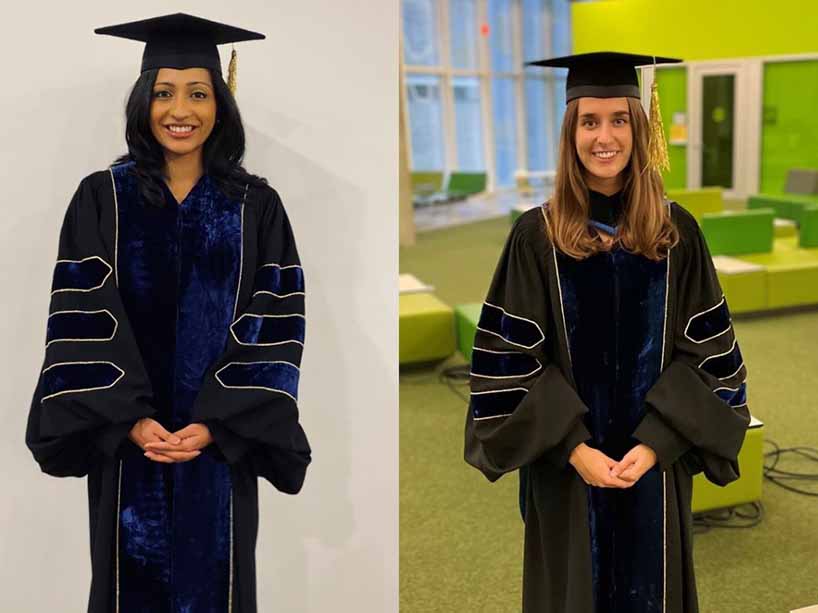 Ryerson Gold Medal
Psychology graduates Fiona Thomas, left and Brittany Jamieson, right, who both completed their PhD studies earlier this year, have been awarded Gold Medals for academic excellence from the Faculty of Arts.
Governor General Gold Medal
Jamieson received the Governor General Gold Medal, the most prestigious academic award for graduate students with the highest cumulative grade point average at the university.
Ryerson Gold Medal/Board of Governors Leadership Award and Medal
Thomas received both the Ryerson Gold Medal and the Board of Governors Leadership Award, one of the most prestigious university-wide awards for outstanding academic achievement, community engagement, and most importantly, leadership qualities exhibited.
Words of wisdom from Jamieson:
"Good enough is good enough - and your good enough is good enough… This wisdom was essential to my wellbeing and efficiency in graduate school. It was a consistent reminder to trust in my work ethic and my ideas. I share this advice because perfectionism and imposter syndrome are ever-present in academia and add stress to an already stressful process," she said.
Tip from Thomas:
"Do what scares you. There is nothing in life too scary that's not worth attempting. The things that scared me the most also led to my greatest growth personally and professionally," she said.
More on Brittany Jamieson and Fiona Thomas
Faculty of Community Services (FCS)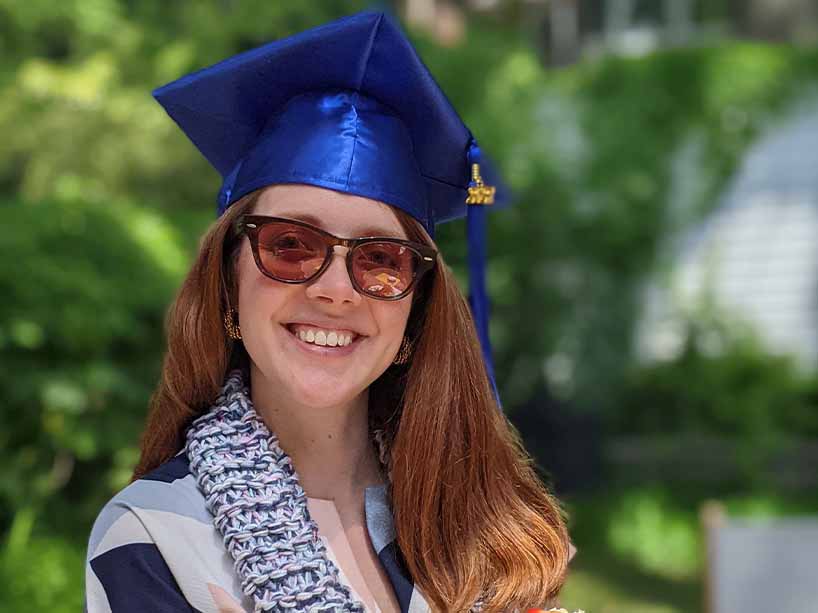 Ryerson Gold Medal
Faculty of Community Services' Emma MacGregor, master of nursing '21, received the Ryerson Gold Medal at the Faculty of Community Services virtual convocation ceremony on November 18.
MacGregor's mantra:
"Coming to university is a big change... It can all come at you fast. Take a deep breath, and first get used to these new surroundings: discover resources like the RAC, the Library and the SLC. Find your 'spot'. Take the time to build relationships with the professors, students and peers that inspire you. Do whatever you can to help you feel like you belong here, because you do."
Faculty of Engineering and Architecture Science (FEAS)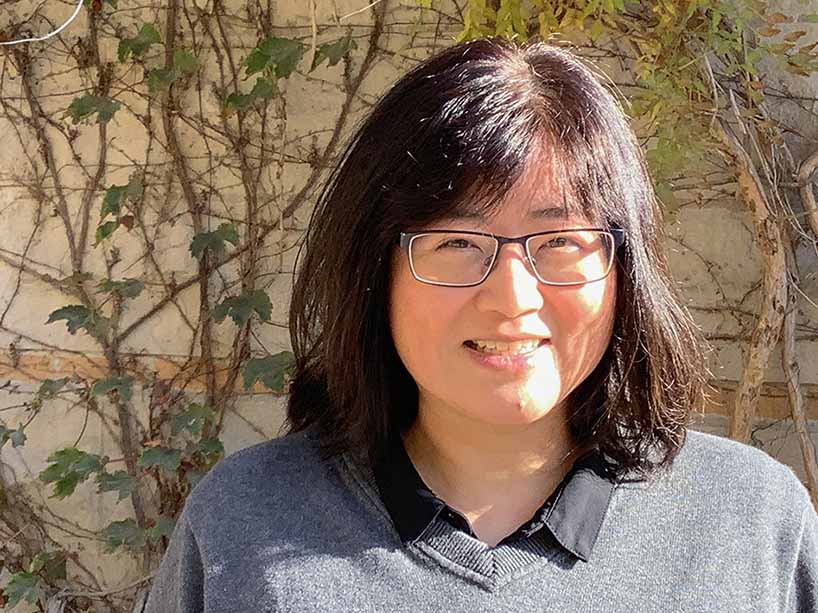 Ryerson Gold Medal and Governor General Gold Medal
Alice Rueda is a recipient of the Ryerson Gold Medal and the Governor General Gold medal, one of the most prestigious awards presented to a student in a Canadian educational institution.
Fun fact:
Becoming a PhD candidate in electrical and computer engineering was not always on Rueda's list of options. With an interest in urban big data analytics, Rueda had plans to pursue an MBA.
Faculty of Science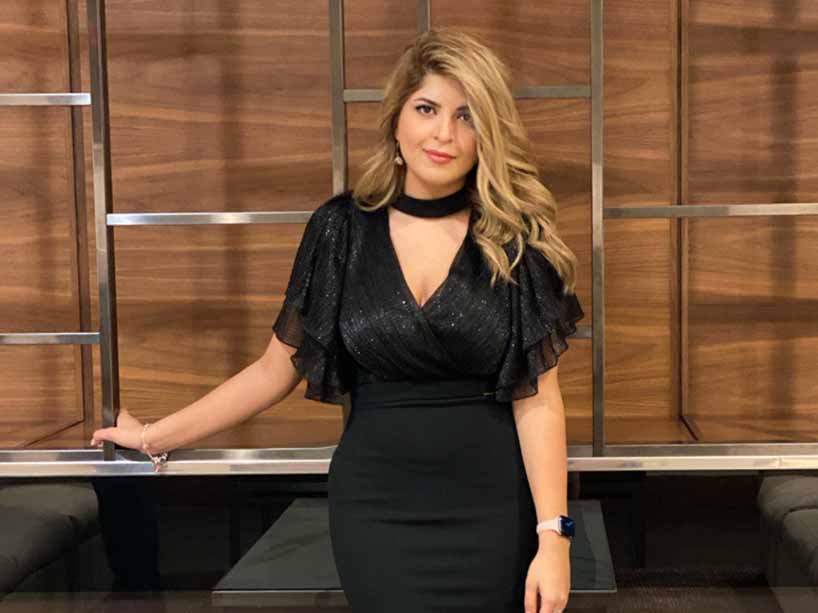 Ryerson Gold Medal
Double Gold: Graduating with a master's of science degree in physics from the Faculty of Science, Niloufar Rostam Shirazi has achieved Ryerson's top honour for the second time.
Just two years ago, in 2019, Shirazi walked across the convocation podium and picked up her first Ryerson University Gold Medal. She was the first physics undergraduate to ever win the award.
Two years later, Shirazi has done it again. She completed her master's degree with the schools' highest award, and is now hard at work on her PhD. The two-time honouree shared some perspectives in a recent interview.
Lesson learned:
"Receiving the Gold Medal for the second time reminds me that hard work pays off. Achieving the Gold Medal is a challenge in itself, but it requires even more hard work when there are additional barriers to overcome, which I personally faced as an immigrant woman in science. One of the toughest challenges was overcoming the language barrier to communicate complex scientific ideas effectively."
More on Niloufar Rostam Shirazi
Ted Rogers School of Management (TRSM)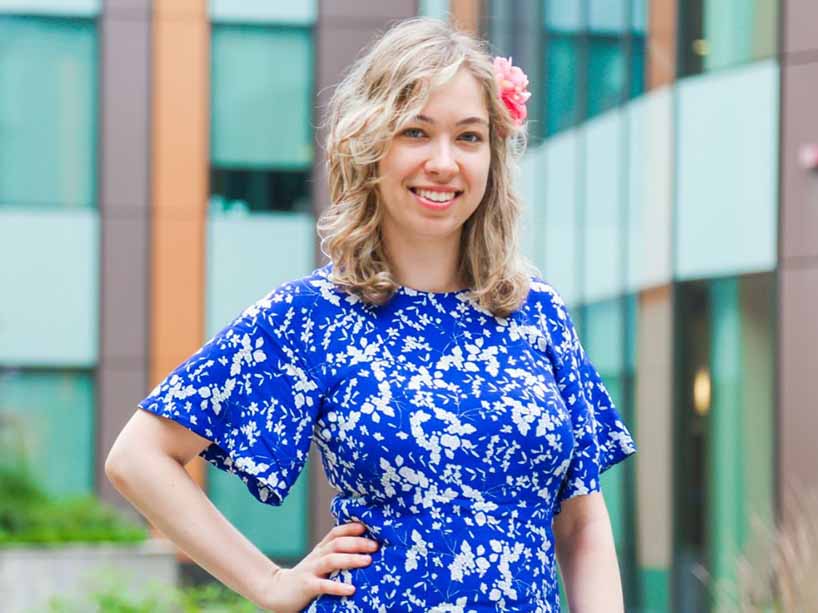 Ryerson Gold Medal
Master of Science in Management (MScM) graduate Noah Friedman is the Ryerson University Gold Medal winner for the Ted Rogers School of Management.
Highlights about Friedman:
Friedman achieved a perfect GPA during her master's studies while also remaining committed to student life and environmental causes. Her thesis explored how community-based programs were able to motivate reusable coffee cup adoption during the COVID-19 pandemic, which made significant contributions to the literature on sustainable reuse behaviours. She also volunteered as the vice-president of communications for the MScM Student Association, and participated in the MScM Peer Mentorship Program where she helped incoming students adapt to university life.
The Creative School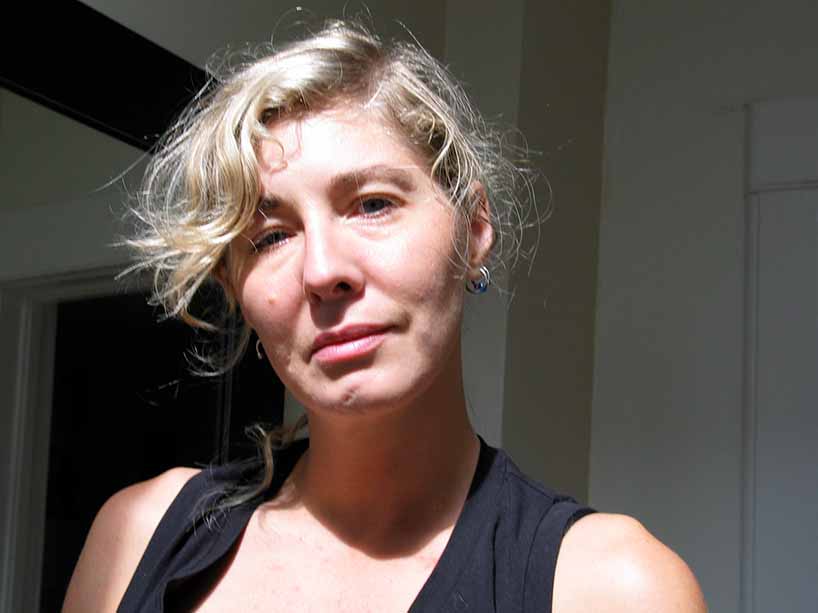 Ryerson Gold Medal
Michelle Melles is the Gold Medal recipient from The Creative School.
Sneak peek:
Melles, a graduate of a master's in the Documentary Media MFA (Master of Fine Arts) program, created the film 'Drunk on Too Much Life' in part to help change the cultural narrative of mental illness and how it is often stigmatized and conveyed exclusively through medical diagnosis. It is a deeply personal autoethnographic work that uses self-reflection and the personal journey of her family to connect with the audience. Melles says the film could not have been created without her husband, Pedro Orrego, working alongside.
Communication and Culture
Joint interdisciplinary program between Ryerson University and York University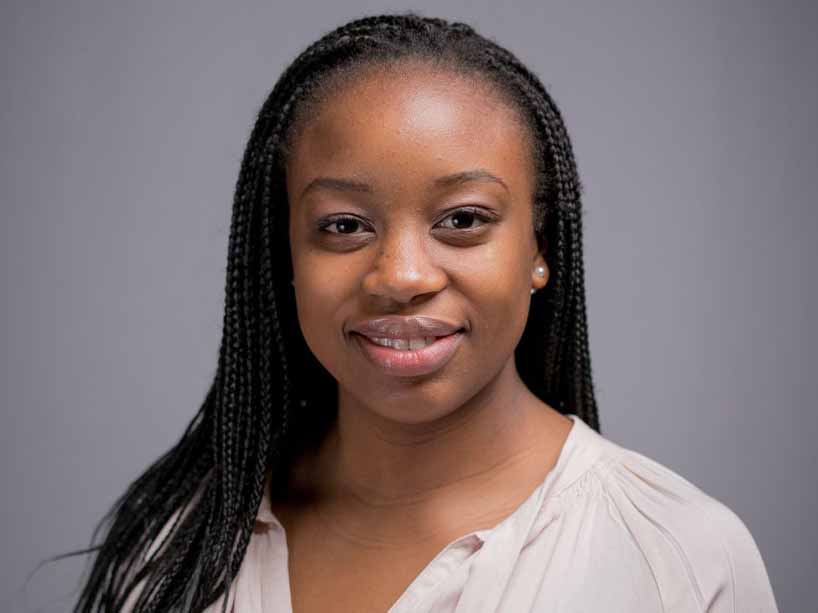 Ryerson Gold Medal
Ruvimbo Musiyiwa, who graduated from the Master of Arts in communication and culture, received the Ryerson Gold Medal for her groundbreaking research on social media influencers in marketing, and her exceptional commitment to scholarship and community.
Moment to remember:
"The day I defended my master's thesis in September was my proudest accomplishment. Since it was a virtual presentation, my family from Zimbabwe and South Africa was able to join by video. My family was there to see me complete my thesis, with distinction and no major revisions, which meant a lot to me."
Additional Awards
Dr. C. Ravi and Shanti Ravindran Award for Outstanding Doctoral Thesis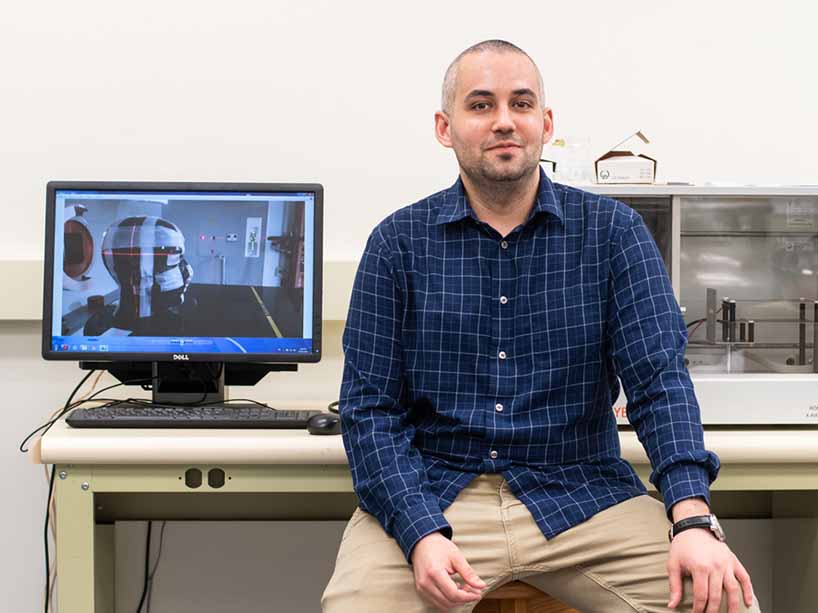 Kurt Van Delinder, Physics PhD, Faculty of Science, has received the 2021 Dr. C. Ravi and Shanti Ravindran Award for Outstanding Doctoral Thesis.
Delinder's dissertation examines the clinical feasibility of producing a new imaging procedure coined "Particle Neutron Gamma-X Detection (PNGXD)." PNGXD is a newly proposed imaging concept developed specifically for the application of particle therapy - a new frontier within radiation oncology. Van Delinder's research has led to the publication of four high-impact journals with significant interest in the medical community.
More on Kurt Van Delinder and this award
Related: