COVID-19 safety on campus
The university is committed to protecting the health and safety of all community members. Find out how
November 19, 2021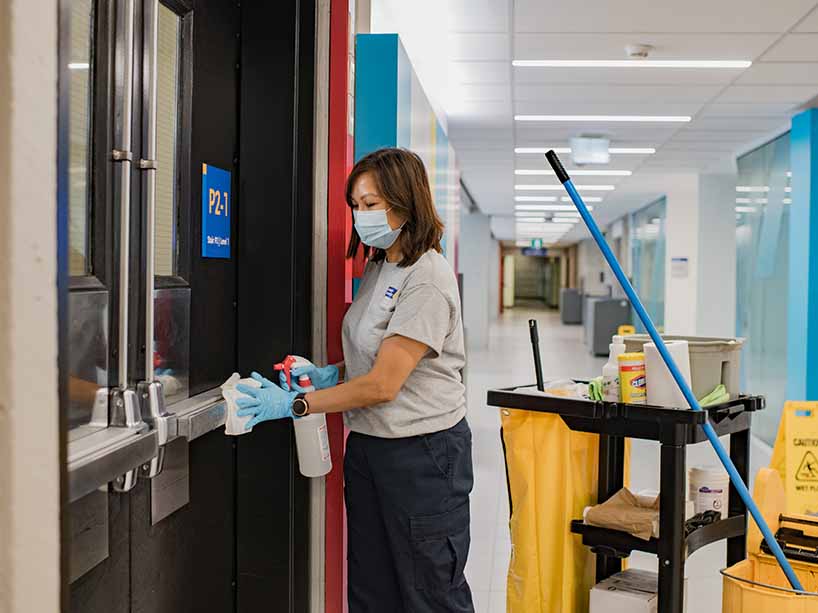 As shared by President Lachemi on October 26, the university will offer more in-person classes and on-campus programming, services and supports beginning in January.

To help ensure the health and safety of all community members, the university is committed to implementing the highest safety standards. As we move towards the winter semester, we want to thank our community members for their commitment to following the guidelines and safety protocols put in place as we work together to minimize the spread of COVID-19 on campus.
A multilayered approach to mitigate risk
Communicable disease expert, epidemiologist and Professor Emeritus from the Ryerson School of Occupational and Public Health, Tim Sly, who has been working as special advisor to the university with regard to the development of pandemic-related policies and procedures, has reviewed Ryerson's COVID-19 health and safety measures. He's pleased to see the many steps the university is taking as part of its multilayered approach to mitigate the risk for anyone on campus.
"In planning for resumption of operations, the university appears to have done its homework, consulted widely, and is clearly optimizing health and safety for the students, staff, faculty and visitors," Sly said. "In the COVID-19 context, while no single intervention has been found to be 100 percent effective, multiple-layering of interventions like vaccinations, screening, monitoring, distancing, masking, and ventilation is the best way to approach this."
Learn more below about the university's broad range of measures to protect the health and safety of all students, faculty, staff and other community members.
Vaccination requirements
Vaccines have been recognized by public health authorities as safe and effective protection against serious illness due to COVID-19. Effective Monday, October 18, individuals accessing campus or in-person university activities off-campus were required to be fully vaccinated or have received an approved exemption from the university. Individuals who have approved exemptions are still required to participate in the Rapid Antigen Testing Program. As a reminder, as we move towards the winter semester, while some remote activity will continue, all community members are expected to be able to return to campus in January.
Learn more about the university's vaccine requirements.
Testing program
For those who receive an approved exemption from being vaccinated, the university has implemented a required rapid antigen testing program.
Although rapid antigen screening is generally not recommended for individuals who are fully vaccinated against COVID-19 (as the likelihood of COVID-19 is low for this group which could result in an increase of false positive results), Ryerson community members are able to participate in the voluntary program.
Learn more information about the rapid antigen testing program.
HVAC: Ventilation and air purification plan
The university is working with a consultant to ensure that best practices and standards for HVAC ventilation and filtration with regards to COVID-19 are implemented. Since the onset of the pandemic, the university has taken additional steps to ensure appropriate ventilation in indoor spaces to extract air contaminants and bring in fresh air:
The university has measured airflow rates in classrooms, studios and teaching labs, study spaces, and additional identified spaces. This work is also ongoing as required. The university has tested more than 500 spaces consisting of classrooms, special rooms such as studios (dance, recording, etc.), workshops, shared work areas (10+ people), library study areas, RAC, SLC. To enhance the air quality in light of American Society of Heating, Refrigerating and Air-Conditioning Engineers (ASHRAE) standards, portable air purification units have been installed in certain premises.
95% of buildings on campus have MERV 13 filters (recommended by top health officials and ASHRAE) installed. In buildings that do not have MERV 13 filters, air quality has been enhanced with portable air purifiers.
Investing strategically in upgrading HVAC systems, such as in the Early Learning Centre.
Ryerson's facilities team regularly inspects and replaces the air filters in all air handling units that are responsible for removing particles in the air such as dust, smoke, allergens, airborne bacteria and other pathogens.
In addition, the university has implemented the following strategies:
For all classrooms with two entrances/exits, signs were placed to direct community members to use one for entering and one for exiting.
Confirmed that washroom fans, which are designed for higher air circulation, meet the recommended standards. Currently all washroom fans run continuously.
Sly says the university has paid careful attention to ventilation. "Gathering large numbers of people together indoors for extended periods of time, even when vaccinated, will still present a small risk of transmission, and for this reason, special attention has been given to ventilation systems," he said. "The good news is that to date, viable virus has not been recovered on filtered, 'return air'. Plus, the university's system has been fitted with filters specified for hospital inpatient care and smoking lounges. Areas with numbers of people and higher risks will be provided with local HEPA units (air purifiers) as an additional precaution."
Learn more about the university's ventilation and air purification strategy.
Mask policies and procedures
Ryerson's mask policy requires that a mask or face covering must be worn by every person while indoors in a manner that covers their mouth, nose, and chin.
For more information on mask requirements, what to do if someone isn't wearing a mask and more review the mask requirements on campus.
Contact tracing
The university will continue its contact tracing program. Contact tracing is completed by the university's Environmental Health and Safety (EHS) services. EHS works closely with Toronto Public Health and relies heavily on local departmental efforts and all members of the university community more generally to maintain sign-in, booking and contact tracing logs and follow established protocols.
Over the past year, the university has implemented a detailed process for individuals to report if they test positive for COVID-19 and have been on campus in the 14 days prior. When notified, the university conducts a careful case management process to investigate possible exposure, conduct contact tracing and notify individuals who may have had a risk of exposure.
Health screening
As a reminder, everyone is required to complete health screening prior to coming to campus daily. If you are on campus and you begin to feel unwell:
Stop your work and make reasonable effort to distance yourself from others.
If applicable, ensure that your work area is in a safe state.
If you're in class or a work area, notify your instructor or supervisor.
Go home.
Stay home and

PDF file

self-isolate

, external link

and complete the Government of Ontario's COVID-19 self-assessment

, external link

tool to determine how to seek further care.
Enhanced cleaning
Enhanced cleaning protocols and technology, such as electrostatic disinfection sprays and sanitizing agents, have been implemented. This has included focusing on frequent cleaning of high-touch surfaces and using disinfectants with a Drug Identification Number (DIN) approved by Health Canada. The university has also installed additional sanitary wipe dispensers and hand sanitizer dispensers in classrooms and outside labs.
Physical distancing
According to the most recent guidance released from the Ministry of Colleges and Universities and amendments to the applicable emergency regulations, physical distancing guidelines have been relaxed for indoor instructional (e.g. classrooms, laboratories, libraries) spaces at post-secondary institutions. Where possible, the university encourages members of the community to maintain physical distancing in such spaces.
In all other spaces on campus, such as common spaces, office areas and corridors, the two-metre physical distancing requirement continues to be required by law, and will remain in place until further notice.
Signage such as physical distancing requirements, entrance and exit directionality, and corridor and stairwell directionality has been posted. Additionally, the university has outlined instructions for and developed a space planning tool for leaders to implement physical distancing strategies and signage in their own areas. We encourage community members to be aware of space-specific guidelines when you are on campus.
COVID-19 Information and Updates
Anyone with questions about health and safety procedures on campus or for more information, please visit Ryerson's COVID-19 Information and Updates page.
Related: