Ryerson student the only Canadian to win competitive STEM award
Master's student Madeline McQueen has been recognized for her work in making aviation more environmentally friendly
October 14, 2021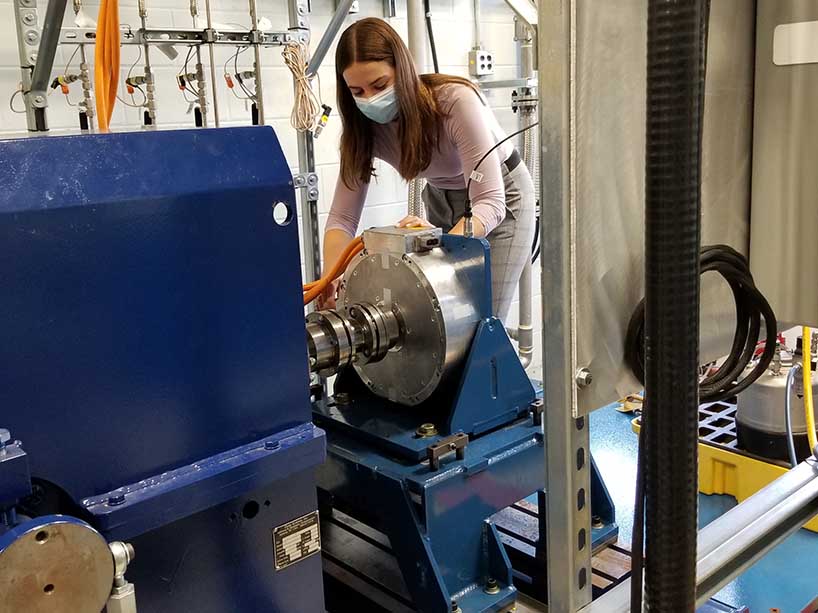 Madeline McQueen has a lot going on. She is in her second year of a master of applied science program in aerospace engineering, she is a member of the Ontario Network of Women in Engineering, she has a passion for green technologies and she is working hard to change the future of aviation.
And now, she can add the designation of being the only Canadian to be awarded the 20 Twenties award by Aviation Week Network, external link. McQueen was one of 20 selected from a group of over 60 qualified nominees from 26 different universities from five different countries. The 20 Twenties award recognizes students in their twenties who are on course to change the face of the aerospace and defense industry.
"There are so many amazing students that are applying for this all over the world," said McQueen. "I was quite honoured to be chosen amongst such an awesome group of 19 other students that have great backgrounds."
The 20 Twenties award recipients are chosen based on academic performance, contributions to their field of study and community involvement.
"I decided to nominate Madeline because beyond her extremely impressive academic career, she also struck me as someone with a clear vision, determination to constantly inch forward to achieve her long-term goals, and community involvement to inspire others," said professor Emre Karatas.
McQueen is at the National Research Council's Gas Turbine Laboratory in Ottawa doing experimental testing on hybrid-electric propulsion systems with the aim to further eliminate greenhouse gas emissions in aviation. At the lab she conducts literature reviews, prepares testing procedures, designs various components of the state-of-the-art hybrid-electric test platform, and performs experiments to advance this technology. The goal is for McQueen to ultimately present a thesis on the suitability of hybrid-electric systems as an alternative to traditional aircraft propulsion.
"As we come out of the COVID-19 pandemic, humanity's most pressing challenge becomes climate change and sustainability," said Karatas. "Madeline's experimental and modelling efforts are key to assess the feasibility of the electrification of aircraft propulsion and to address the challenges of introducing a new technology in a tightly regulated industry."
McQueen has the option to travel to Washington D.C. this coming October, where she will be recognized for the 20 Twenties award in-person with the 19 other winners. Aviation Week Network will support winners like McQueen with industry intelligence and research, events, career connections, free student subscriptions and an online community.
"This is great exposure for me personally, but also for Ryerson and the Ryerson aerospace engineering program," she said. "I value the fact that Canada is working on really innovative aerospace projects. I think it's important that we can showcase the fact that we have a lot to offer."
For more information on aerospace engineering at Ryerson, visit the program website.