Q&A with Pamela Sugiman on systemic racism in higher education
Lived experience inspires dean of Arts to host National Forum on Anti-Asian Racism
October 26, 2021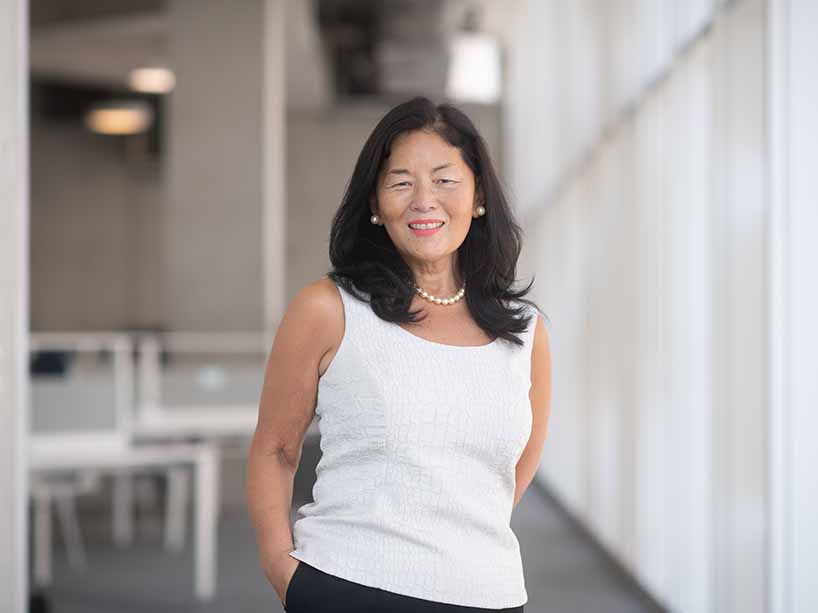 On November 9 and 10, the Faculty of Arts is hosting the National Forum on Anti-Asian Racism: Building Solidarities, that will bring together students, staff, faculty, academic leaders and community partners to deepen our collective understanding of the subtle and overt ways that systemic racism shapes higher education in Canada.
The two-day event will continue the work initiated by the University of British Columbia at its inaugural National Forum on Anti-Asian Racism in June 2021, that focused on raising awareness about the challenges and lived experiences of anti-Asian racism. This forum will build on those conversations to drive meaningful action and find academic and community-led solutions.
In our conversation with Pamela Sugiman, the dean of Arts, she shares her personal thoughts and experiences that define her journey to leadership as an Asian-Canadian woman. She also elaborates on why this forum is important, both personally and for universities across the country.
We've seen a significant focus on social justice and anti-racism programming and events from the Faculty of Arts. What made this such a priority for you personally?
Formal education provided me with a path to change. In university, I found my voice. I learned that "the personal is political." I began to understand the "hidden injuries" of class, race and gender, as well as my intersectional identity. Importantly, I explored the relationship between scholarly research and advocacy.
At the same time, as an undergraduate student, I felt like a foreigner, afraid to speak in a lecture hall. As a graduate student, I read passionately but never about my own community's history or culture. As a young professor, students described me not as a learned scholar but as "that Chinese lady."
These personal memories serve as poignant reminders of the myriad ways in which higher education is rife with contradictions: universities are at the same time sites of oppression and sites of resistance. As members of university communities, we therefore need to look inward in our efforts to achieve equity and social justice in society as a whole.
These thoughts propelled me to host the National Forum, which will bring together members of many different universities to collaborate on strategies and solutions to systemic racism in higher education. On November 9 and 10, I look forward to conversations with students, faculty, staff, academic leaders and community partners to continue the discussion that was initiated at the inaugural Forum hosted by the University of British Columbia earlier this year.
Why do you see it as particularly important for universities to address racism?
Universities have a moral obligation to address racism and all systemic inequalities not only to ensure a safe and healthy learning and work environment for students, faculty, staff and communities, but also because we play a key role in shaping the future of our society.
While the National Forum will focus on building solidarities and creating change within the university sector, its impacts will be far reaching, well beyond the walls of the academy. We strive to make universities a space for respectful, informed dialogue and debate, personal growth and security and transformative change.
Why is the theme of the National Forum "Building Solidarities"?
This theme emerged from the inaugural Forum as an important area of focus. It also resonates with me as an individual, a scholar and an academic leader. My ongoing work with colleagues such as Dr. Hayden King, director of the Yellowhead Institute (external link) and my advisor on Indigenous education, and Dr. Mélanie Knight, a sociology professor and my advisor on Blackness and Black diasporic education, has highlighted for me the deep and complicated relationships between various racialized and marginalized communities in the academy.
Our work together has further reinforced the value of collective mobilization and strategic and collaborative advocacy work. Together, we have explored the connections between racism, colonization and other forms and systems of oppression as experienced by different communities. We have drawn on shared experiences, different histories and distinct struggles to build the solidarities that can drive transformative change in our systems and institutions.
I encourage everyone – students, faculty, staff and community members – to join us at the forum, engage in these rich conversations and be part of the solutions. Everyone is welcome and you can register on the National Forum on Anti-Asian Racism website.
Related stories:
Asian Canadian leaders launch new toolkit to respond to hate incidents