Lifeline Afghanistan helping refugees with new start in Canada
Volunteer initiative arranging everything from children's essentials to private sponsorship
October 26, 2021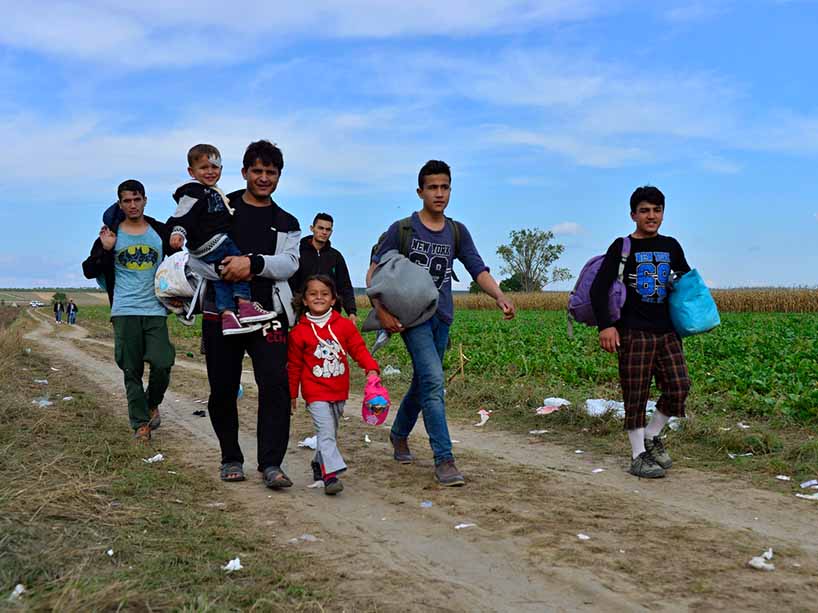 As the humanitarian crisis in Afghanistan unfolded this past summer, Wendy Cukier's email inbox began to swell.
The professor of entrepreneurship and strategy with the Ted Rogers School of Management's Diversity Institute at Ryerson University had helped organize support for Syrian refugees to Canada in 2015.
The initiative - Ryerson University's Lifeline Syria Challenge - which Cukier co-founded, had made a lasting impact, providing lessons on what to do and a network of people and organizations who wanted to lend support.
So, six years later, when similar, heartbreaking images of Afghan refugees emerged during the Taliban's siege, those who had helped in 2015 wanted to know what they could do to help.
"As the news about the evacuation and the urgency and crisis started to hit the news, more and more calls and emails came in," Cukier said.
Among those reaching out was Ryerson alumna and lawyer Hila Taraky, who is of Afghan descent, and whose mother was actively helping academics, human rights activists and lawyers in Afghanistan who she had worked with.
Cukier quickly realized Senator Ratna Omidvar, who had helped spearhead the previous Syrian effort, and Sally Armstrong, who was leading emergency efforts to help evacuate journalists, were also inundated with messages from people asking how they could provide support.
And so, to answer the call, Lifeline Afghanistan (external link) was born. Its goal? To help support the 40,000 Afghan refugees coming to Canada.
'The needs are so acute'
Cukier said that while the non-partisan volunteer network, comprised of various organizations and individuals, was initially focused on private sponsorship efforts, they quickly realized that more immediate needs had to be addressed first.
"The needs are so acute - 3,700 people landing at the airport with nothing," Cukier said, explaining that Lifeline Afghanistan is helping with everything from toys for kids to shoes for those who arrive with nothing but slippers and sandals on their feet.
To illustrate, she describes a recent arrival.
"You've got 1,000 kids stuck at an airport hotel due to Canadian quarantine regulations - imagine, 60 babies, 400 of them under the age of six… Any parent can appreciate the challenge of being trapped in isolation in a hotel room with even three kids, let alone all of the other stressful aspects of the situation," she said.
Cukier reached out to Lauren McNamara, one of her research associates at the Diversity Institute, who has worked with Canadian Tire's Jump Start program. McNamara quickly connected with Jump Start, "and within 24 hours, local store managers showed up at airport hotels with cars full of toys and sporting goods. Then they delivered 1,500 soccer balls and basketballs," she said, adding, "It's not considered essential, but in many ways, it is."
Cukier added that through her outreach to various companies, CEOs and community organizations, Lifeline Afghanistan has also been able to provide an estimated $750,000 worth of donations of other urgent items such as feminine products, 500 pairs of underwear, hundreds of Crayola crayons, modest clothing for women, tea and baklava.
"This was the secret sauce with the Lifeline Syria Challenge - working with so many others to generate such widespread support," Cukier said.
She and Taraky say some of the groundwork for Lifeline Afghanistan began more than a year ago between the Ted Rogers School of Management and Ismali Council, which helped connect recent arrivals to post-secondary institutions and employment opportunities.
"We are being connected to incredibly skilled and knowledgeable Afghan refugees who will benefit tremendously from our social capital. Introducing Afghan professionals to the right employer, university or training program will impact their settlement trajectory and their economic integration" said Taraky.
Skills assessment and more
In terms of current efforts, along with ongoing fundraising, Cukier said considerable logistical work is in process so that refugee sponsorship can be set up, including advocacy to the government to streamline processes, as they did for Syrian refugees, and to explore alternative pathways including student visas and temporary work permits.
"We are trying to both respond and shape the responses working to connect resources- whether it's information, money, connections or shoes – to those who need them," Cukier said.
While it's an ambitious set of tasks, she knows it's a winning approach.

"Leveraging technology, innovation, and sharing platforms and engaging Canadians can produce significant results," she said, noting that the Ryerson University Lifeline Syria Challenge raised more than $5 million for refugee resettlement, mobilized more than 1,000 volunteers for the cause, and involved new approaches to private sponsorship and support. "Canada is a global leader in bringing its citizens together to support the resettlement of refugees. Lifeline Afghanistan is complementing the great work of existing organizations."
Cukier and Taraky say they anticipate that half of the newcomers will be privately sponsored and supported through their innovative approach.
Noting that they already have more than 5,000 offers of employment, and that the next stages with Magnet, a website that matches employers and job seekers, and Ryerson's Future Skills Centre (external link) will be critical, Cukier says, "We know that education, skills and employment are keys to their success."
Learn more about Lifeline Afghanistan and how you can help (external link) .
Lifeline Afghanistan was founded by Wendy Cukier, Hila Taraky, Sally Armstrong and Ratna Omidvar. Initial supporting organizations include: Afghan Women's Organization Refugee and Immigrant Services, the Canadian Afghan Lawyers' Association, Ismaili Council for Canada - Future Ready Initiative, Skills for Change, Magnet, Ted Rogers School of Management, Diversity Institute, TNO- The Neighbourhood Organization, Immigrant Employment Council of BC, Catholic Crosscultural Services, Wesley Urban Ministry, Windmill Microlending, Immigrant Council and Art Association, Scadding Court, St. Matthew's House, the Association for Canadian Studies and World Education Services.
Related stories: