Black Studies minor launching next fall
The new interdisciplinary minor will make space for Black scholarship and help build community
October 21, 2021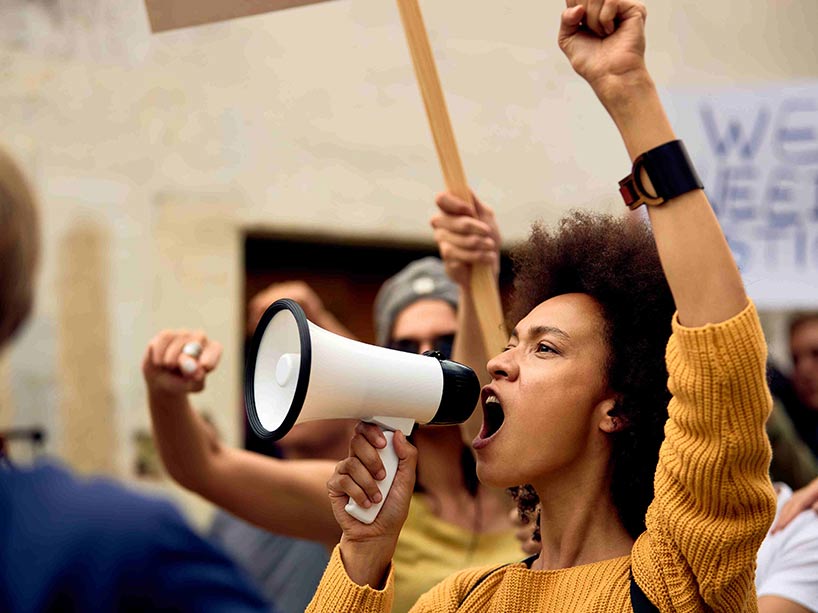 Starting next fall, students will be able to take a new minor in Black Studies that will explore the histories and cultures of Black diasporas, offering an educational experience as diverse and heterogeneous as the Black community.
Featured courses will dive into the ideologies of anti-Black racism, themes of Black resistance to oppression and exploitation, and the range of political strategies and community-based mobilization tactics Black activists and their allies have employed to counter systemic and institutionalized oppressions in the fight for social justice.
Housed in the Faculty of Arts, the minor will launch with courses from 13 departments and schools within the Faculty of Arts, The Creative School and the Ted Rogers School of Management. Additional courses will be added to the minor as different departments and programs develop them.
"This Black Studies minor is long overdue and came to fruition with student initiatives that have been ongoing for years. We have heard their voices and this minor is very much a response to their calls to centre and amplify Black-focused content," said Melanie Knight, advisor to the dean in the Faculty of Arts, Blackness and Black diasporic education, and president of the Black Canadian Studies Association (external link) .
"The strength of this minor is in its interdisciplinarity – its focus on the histories of the African continent, the Black diaspora in the Americas, including the Caribbean and Europe, on critical theories and scholarship. It's speaking to the lived realities of diverse Black communities from local, national and transnational perspectives."
Knight is one of the members of the working group that created the minor, along with Anne-Marie Lee-Loy, professor and chair of the Department of English, and Cheryl Thompson, professor in Creative Industries at The Creative School.
Making space for Black scholars and Black scholarship
The Black Studies minor also moves forward efforts to address student concerns outlined in the Anti-Black Racism Campus Climate Review Report published by the Office of the Vice-President, Equity and Community Inclusion.
A top concern expressed by students was that their curriculum reflects the "white experience" and there is a need for more programming reflecting Black life, studies and scholars.
"I've heard directly from a Black student that they were told in their introductory course that Black people don't do well in creative fields," said Thompson. "As a Black woman, the student was made to question why she was even there. If you don't see yourself represented in what you're learning in school, you actually start to think that there's no place for you. There are real world implications and that's what this minor is addressing."
From the student perspective, the program will support the transfer and mobilization of knowledge related to the Black Canadian experience.
"As a Black woman at the university, a major issue for me has been the underrepresentation of Black faculty," said Carianne Shakes, a fourth-year student majoring in Creative Industries.
"Most of the papers and projects I've completed have been focused on the experiences of Black people. However, receiving guidance on this work in most of my classes has been extremely difficult due to the lack of Black faculty members. The Black Studies minor presents an opportunity for the school to increase the number of Black faculty, which is necessary moving forward.
Engaging with history and building community
Knight considers the hallmark of the new minor, one of the first few programs of its kind in the country, to be its depth and rigour – pointing to the sheer breadth of courses that will be available to students. In particular, the minor is unique in grounding its program of study in English literature.
"As a discipline, the arts and humanities have a long tradition of Black intellectualism – Black creatives and scholars grappling with and articulating the experience of Blackness in the West. Foregrounding the debates, dialogues, questions and challenges posed by such thinkers provides students with an understanding of the rich heritage of Black thought, as well as with an intellectual context and vocabulary that they can draw on in their other courses," Lee-Loy said.
Another priority of the program will be to build community among Black students by helping them connect with a community of Black scholars from their own generation.
"The minor will make it easier for students to meet other students with similar interests and help foster a sense of belonging within the university and within a larger community of Black scholarship," added Lee-Loy.
Thompson further shared that the minor can help students realize that Black Studies is not additive; it stands on its own feet. "It's important to understand that there is a Black Studies canon; there are scholars, discussions and intellectual movements that students should know about. You can go back to the 19th century and find certain discussions that are still happening today. These conversations didn't start in 2020. This is a chance for students to anchor that knowledge in a set of courses," she said.
The Black Studies minor curriculum will be included in the 2022-23 undergraduate calendar. For more information on minors offered at the university, visit this year's undergraduate calendar.