15 ways to connect, network and make new friends
Looking for ways to meet new people at the university? These links can help
October 01, 2021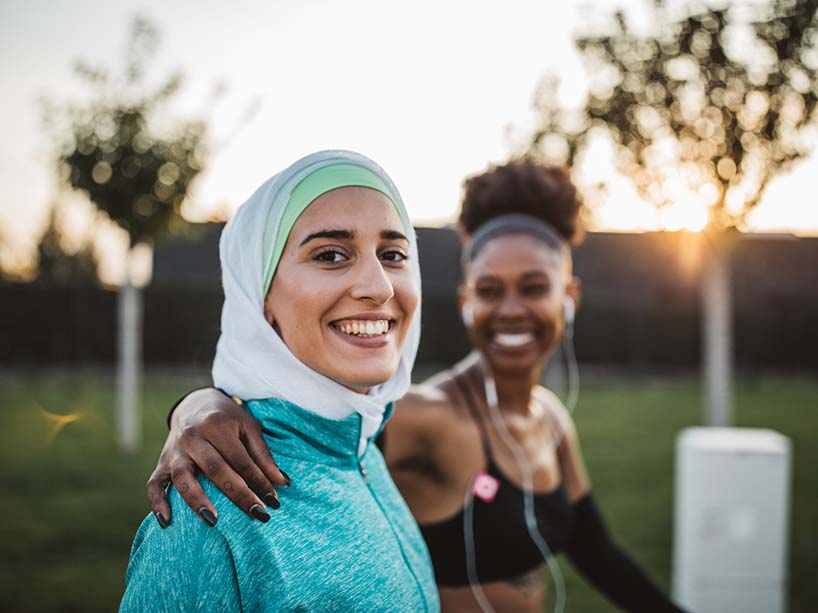 Meeting new people and making connections can be tough - especially in the pandemic and when starting over in a new place.
If you're a student looking for new ways to connect with people - whether to network with students in your program, make new friends, or just connect with peers who have similar interests, check out the resources below to give your social life a boost.
MyRyeU
This account is for all Ryerson students. It's a place to see what your peers are up to, what projects they're working on, and a fun way to make friends. Lots of Ryerson students have used it to connect during the pandemic. See what all the buzz is about, external link.
FriendUp
This account* is for Ontario university students, and gives users the chance to connect with peers at their specific university. Students fill out a questionnaire and are matched with 3-5 people. Then, they're placed into weekly group chats to meet new people. Learn more about FriendUp, external link.
Course unions
Course unions are another resource for making new connections. Many of these unions have been hosting virtual events and occasional in-person events which follow COVID-19 health and safety protocols. It's a great way for younger students to meet peers in upper years of their program and begin to build a professional network. View course unions listing., external link
RU Mine / RU Friends
While RU Mine is a dating app, the demand to connect with others for friendship has been so high that student developers behind the app also recently launched an "RU Friends" component for that purpose*. The new feature is also being used to meet people who are in the same course. Launched in March 2020 by Ryerson students for Ryerson students, those interested can join by using their Ryerson student email.
Caffeinated Innovators
Are you passionate about social innovation? Curious to learn more about the university's Social Ventures Zone? Or, do you simply want to get more involved in the start-up community? If you said yes to any of these, come check out Caffeinated Innovators. Serving up conversation and community (you'll have to make your own coffee for now!), the weekly event is currently online and involves discussions about social impact, entrepreneurship, current events and more. Check it out every Friday from 9:15-10:30 a.m. Learn more.
TedPacks
Recognizing that making friends can feel daunting when starting your first year at university, last year, TRSM launched a program called TedPacks. New students are put into small groups of 45 people and journey through their first year together. They have the same class schedules and are able to connect about courses, university life and extracurriculars. Students can access their "TedPack" in online chats connected to their Ryerson email, and have the opportunity to meet and chat with TedPack mentors (upper year students). While the program is already underway for fall 2021, learn more for Jan 2022 or next fall.
Learning Support
In Learning Support, students can connect with their peers through in-person and virtual group study sessions. These include Supported Learning Groups and Academic Skills Workshops where students can connect with peers while developing new learning strategies. Students also have the opportunity to engage with the university's Academic Edge program, which provides an enhanced small cohort experience for first year students to develop learning tools and strategies alongside their peers. Find out more.
Drop-in recreational programs
Recreation at Ryerson is offering drop-in programs across a range of sports and formats, including women's only programs. Sports include basketball, badminton, table tennis and volleyball. For more information, please visit the Recreation homepage and Drop-in schedules.
Intramural Sport and Social Leagues Challenges
Feeling a little competitive and want to join others with a similar spirit? Join the university's intramural sport challenges. These competitions involve running, rolling, daily or weekly step counts, and various types of virtual workouts, including biking, working out at the gym and more. These challenges can also involve cooking a healthy meal for someone, tutoring or helping another student or donating blood. Find out how you can get involved.
Cultural Connections
The Cultural Connections program is an intercultural understanding program for students. Participants will enrich their ideas on appreciation and empathy toward those of different cultural backgrounds, and self-reflect. The program aims to motivate and inspire individuals to be culturally conscious with the potential to bring positive changes to their community. Program offerings are "choose your own adventure" style, meaning that you take part in as much or as little as you would like. This program is open to both international and domestic students, and all are encouraged to participate and celebrate diverse perspectives. Check out the opportunities that are most meaningful to you.
Career Boost
The Career Boost program is an excellent way for students to make friends on campus (while earning some extra cash!). Through part-time Career Boost jobs, students can meet peers from different programs and faculties. Learn more about the Career Boost and Co-op Centre for both undergraduate and graduate students here.
Peer to Peer Mentoring & Career Mentoring
The Tri-Mentoring program creates mentorship opportunities for students using their individual experience to find their sense of belonging on campus. The "tri" represents the program's peer-to-peer, career, and group mentoring activities. Mentorship opportunities are offered to students of all identities across all faculties.
Mentees and mentors of the program are encouraged to meet and connect virtually using the TMP Online Community Portal., external link An app also makes connecting over various devices more accessible. Events for this group, which strictly follow the university's COVI9-19 protocols, can also be found on Connect RU or via the TMP Online Community Platform. Learn more about the Tri-Mentoring Program and how to join.
WhyRyerson Facebook page
For incoming students, the WhyRyerson Facebook page is a helpful resource. New users will find hundreds of group chats where students can connect based on program, course, hobbies, etc.

FEAS Peer Network Program
Designed for undergraduate engineering and architectural science students, the new Peer Network Program (PNP) is a go-to guide to all things FEAS. Whether it's answering questions, one-on-one advising or tailor-made workshops, PNP is here for you. Although FEAS will be teaching the majority of undergraduate courses by remote curriculum delivery during the fall 2021 term, our team will help you connect with your peers and the greater Ryerson University community.
Note: If you're a first-year engineering student, FEAS's First-Year Engineering Office is your main resource for customized support including tutoring, group study, advising and more.
If you have questions about the program or require additional information, please contact pnp@torontomu.ca.
*Please note: FriendUp, RU Mine and RU Friends are external resources which have been highlighted to offer additional options for connecting.