University honours Dish with One Spoon Territory with art installation
Steel ring designed by Indigenous architecture firm installed at Gould and Nelson Mandela Walk intersection
September 21, 2021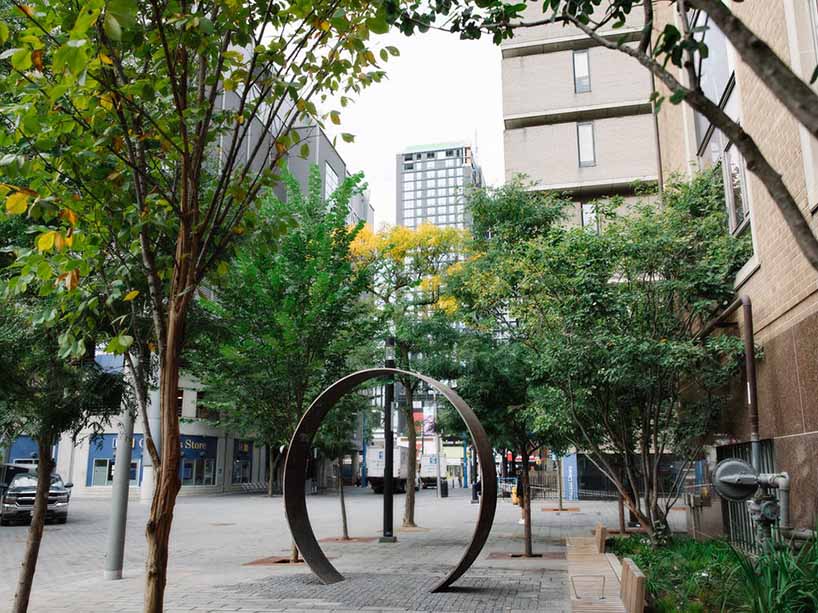 Ryerson has unveiled the installation of a large-scale public artwork to honour the Dish With One Spoon Territory, the land on which the university is built. Designed by Matthew Hickey and Jacqueline Daniel of Two Row Architect (external link) , the three-metre tall steel sculpture, colloquially known as the "Ring" and located east of the Gould Street and Nelson Mandela Walk intersection, is the end result of a multi-year project that emerged from the thoughtful and ongoing work of the university's Truth and Reconciliation Strategic Working Group in collaboration with members of the university's Indigenous community.
"The university's commitment to Truth and Reconciliation was apparent in their willingness to engage in a meaningful relationship-building process of listening and learning with our Indigenous community, which provided vital guidance to the creation of this important work," said Hickey. "Jacqueline and I are very proud to have this public artwork placed on campus within Tkaronto [Toronto] as a reflection of the university's understanding of the land on which we all stand."
The Ring's graphics, made by small perforations, incorporate the Seven Grandparent teachings and their animal symbols: Humility, Courage, Honesty, Wisdom, Truth, Respect and Love. Surrounded by stars and the constellation Pleiades, these pictographs also depict the lunar moon phases. The ring is oriented with the cardinal directions (North, South, East and West) so that the pathway through its opening faces east, representing creation and new beginnings; and west, representing knowledge and wisdom.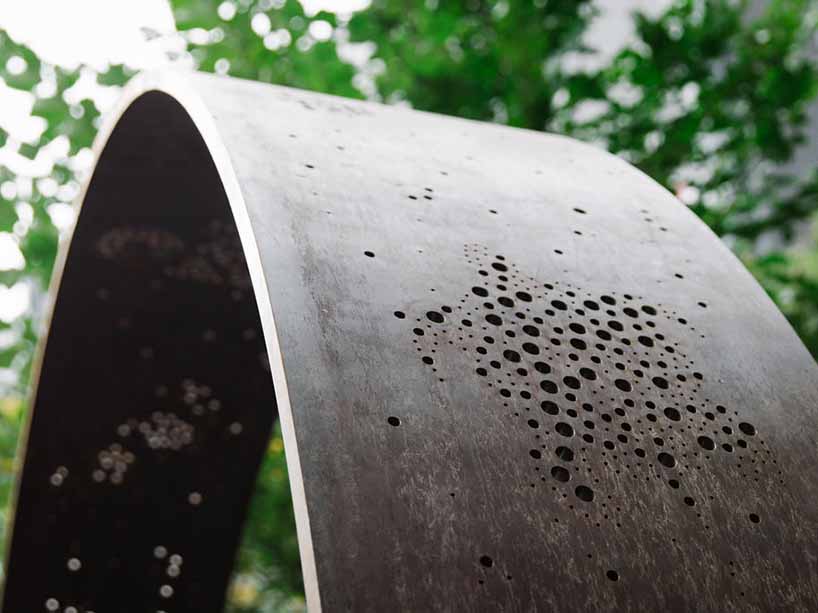 "Passed down from generation to generation, First Nations communities have long referred to the Seven Grandparent teachings as a guide for their cultural foundation, human conduct and survival," said Joanne Okimawininew Dallaire, elder (Ke Shay Hayo) and senior advisor, Indigenous Relations and Reconciliation, Ryerson University, and co-chair of Ryerson's Truth and Reconciliation Strategic Working Group.
"In our traditional Indigenous teachings, everything is about intent and the right relationship with our world, so as we continue to navigate the many challenges of the past year, I am grateful that we were able to come together as a community to bring this meaningful vision to life."
Indigenous ways of knowing, being, and design
Manufactured by
Mariani Metal Fabricators

(external link)
, the Ring is made of Corten weathering steel, a material that is less processed and more likely to change with its environmental conditions. Its exterior has been left untreated deliberately, to allow the weathering process to continue. The installation of such a prominent art piece on campus is one of many ways the university is working to implement recommendations from its
(PDF file)

2018 Truth and Reconciliation Report
, which includes the important practice of acknowledging the traditional territory and presence of Indigenous peoples on this land. Support for the Ring was made possible by the university and the Lindy Green Family Charitable Foundation.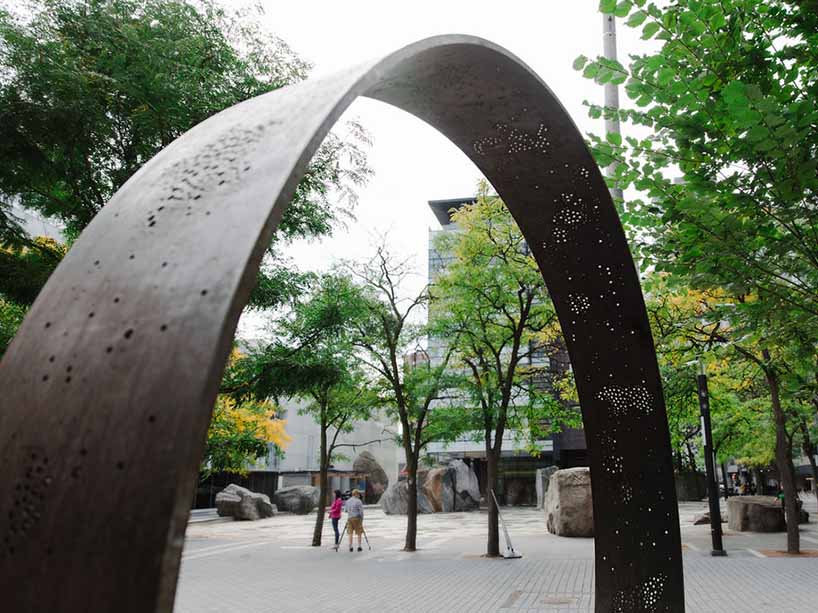 "As the university reflects on its history and shapes its future, it remains committed to increasing Indigenous visibility and celebration on campus, to educating the community about Indigenous issues, and to inspiring meaningful conversations," said Denise O'Neil Green, vice-president, equity and community inclusion, Ryerson University, and co-chair of Ryerson's Truth and Reconciliation Strategic Working Group.
"We are still in the early stages of Ryerson's path to reconciliation, and as a campus community, we are all responsible for taking deliberate steps to better recognize and centre Indigenous Peoples' voices, knowledges and experiences."
Two Row Architect is an Indigenous-owned and operated firm located on the Six Nations of the Grand River reserve. The firm is focused on guiding the realignment of mainstream ways of thinking on their journey towards Indigenous ways of knowing, being, design and architecture. The steel sculpture is one of a series of public art pieces at Ryerson that will come to fruition throughout 2021.
"Matthew and Jacqueline's design is a beautiful, physical way for Ryerson to demonstrate respect and understanding for Indigenous faculty, staff and students on campus," said Jennifer Simpson, provost and vice-president, academic, Ryerson University, and co-chair of Ryerson's Truth and Reconciliation Strategic Working Group. "It is our hope that, through this public art piece, members of the university and surrounding community will be inspired to learn more about the many rich elements of Indigenous culture that illuminate new perspectives and that can shape our collective way of life."
For more information about the Ring, visit ryerson.ca/indigenous-ring.