On Orange Shirt Day, we recognize the ongoing legacy of residential schools
The university community is called on to honour the victims and survivors of the residential school system
September 28, 2021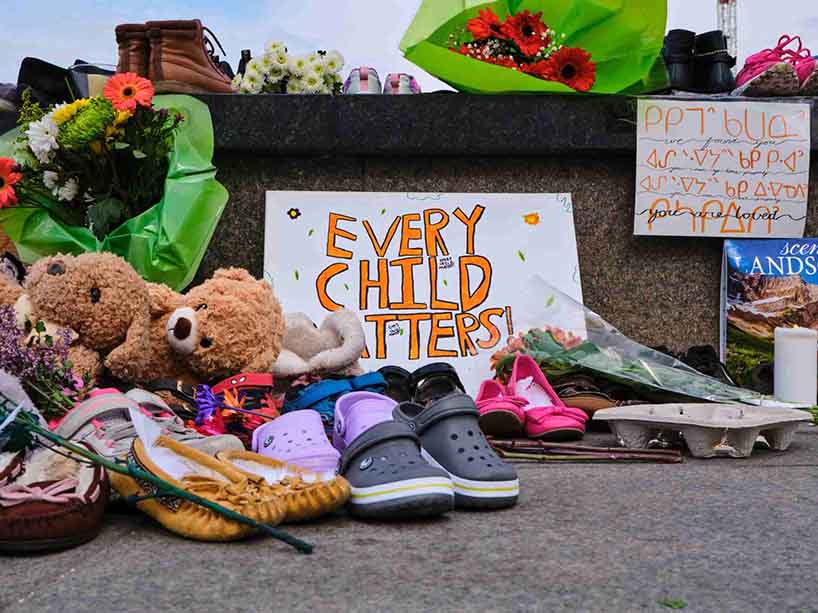 Orange Shirt Day is a global day of recognition and awareness-raising about residential schools, an opportunity for all people and communities to come together in the spirit of truth-telling and reconciliation. The day and movement was started in 2013 by Phyllis Webstad (external link) from Northern Secwepemc (Shuswap) from the Stswecem'c Xgat'tem First Nation (Canoe Creek Indian Band).
The university community is encouraged to join annual events in order to further the discussion about our collective responsibility to advance truth and reconciliation. Members are also asked to wear orange to honour survivors and affirm that every child matters. Now more than ever this is an important invitation given the ongoing uncovering of graves of children at residential school sites. "As we move forward, we hope to see the annual Orange Shirt Day events grow on campus," says Monica McKay, director, Aboriginal Initiatives, Office of the Vice-President, Equity and Community Inclusion. "We encourage faculties, departments, offices and units to consider hosting events so that it truly becomes a university-wide education day, not just led by the Indigenous community but by the whole community."
September 30 is also the first National Day for Truth and Reconciliation. This new federal holiday has not been recognized as a statutory holiday by the province of Ontario. The university will be open as usual with several events planned, including:
On Wednesday, Sept. 29 at 2 p.m., all community members are invited to join Aboriginal Initiatives in the Office of the Vice-President, Equity and Community Inclusion at its annual opening event to honour Orange Shirt Day. This year's event will include a virtual tour of Shingwauk Residential Schools Centre. The tour will provide a detailed overview of the site and its history, and insight into the day-to-day life of former students at the Shingwauk Residential School.
Following the opening event, community members are welcome to join Cher Trudeau for a virtual beginner's beading session. As an Anishinaabe/Mohawk person, Cher will also share her background in crafting, the arts and the importance of continued traditions for "wholistic" wellness.
On Thursday, Sept. 30 at 2 p.m., faculty and staff are invited to join the Centre for Excellence in Learning and Teaching and the Library for a discussion about how faculty and instructors can take up the TRC Calls to Action in their teaching.
Also on Sept. 30, community members are invited to a book talk with author, journalist and alumnus, Waubgeshig Rice (journalism '02). The talk starts at 12:30 p.m. Waubgeshig will discuss his national bestselling book, Moon of the Crusted Snow: A Novel (external link) . Register here for the book event.
This all follows the fantastic Indigenous Education Week and Pow Wow events, as well as the unveiling of the "Ring" public artwork installation to honour the Dish With One Spoon Territory last week.
There are also ongoing supports for Indigenous students, faculty and staff provided by Aboriginal Initiatives in the Office of the Vice-President, Equity and Community Inclusion in collaboration with campus partners, such as traditional counselling; tutoring; academic support and referrals, peer support; and more.
Related stories: