Know your human rights and responsibilities online
A new university initiative aims to foster respect and dignity in the virtual classroom
September 21, 2021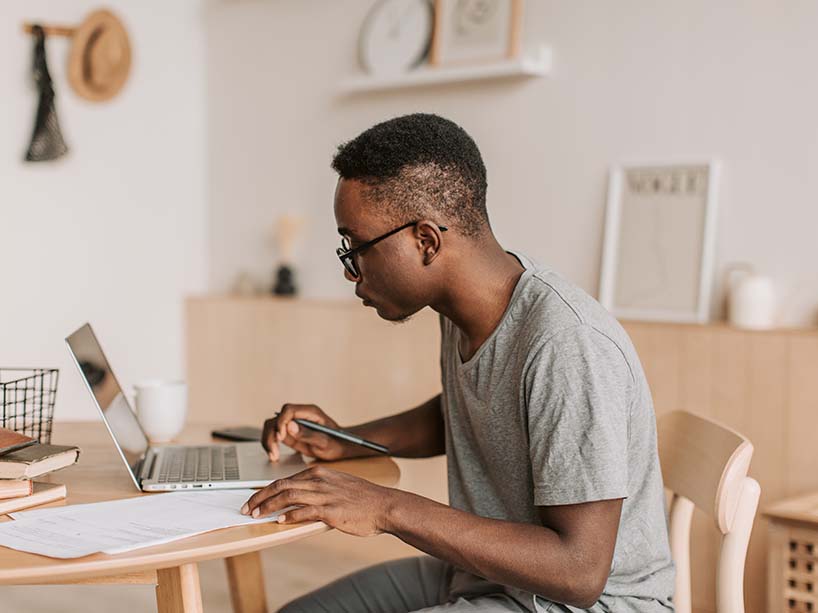 In the last year and a half, students might have seen inappropriate comments posted in D2L class discussion boards, offensive memes in university-affiliated social media groups, or improper jokes in group chats for class projects.
"With the shift to online learning, there has been an increasing overlap between our personal digital lives and the university's digital spaces and environments, causing an increase in online violations of our human rights and sexual violence policies," said Remi Warner, director of Human Rights Services (HRS) in the Office of the Vice-President, Equity and Community Inclusion.
Human Rights and Responsibilities Online is a new initiative by HRS to ensure that all individuals are treated with respect and dignity in the virtual classroom. As we start a new school year with most classes still being delivered virtually, the campaign will include social media content (external link) emphasizing the potential harms that discriminatory behaviour can have in an online learning environment. It will also provide community members with a better understanding of what online behaviours, language and content potentially breach the university's Sexual Violence Policy (SVP) and the Discrimination and Harassment Prevention Policy (DHPP), along with the consequences of such inappropriate behaviours.
"Our goal is to raise awareness about the community's shared responsibility to foster a safe and inclusive online learning environment, free of discrimination and harassment. We're helping ensure that human rights are upheld in online spaces and faculty members have the tools needed to manage discrimination, harassment and sexual violence in digital classrooms," Warner explained.
Resources for students

In addition to being well informed about their rights and responsibilities online, students are also encouraged to educate themselves on the policies and procedures in place to address discriminatory behaviour, whether online or on campus.
"I advise students to pause before they act; take a second to ask themselves if they would use certain language or behave in a certain way if the class was in-person. If the answer is no, then assume the same for your online learning environment," said Warner.
Further, students are encouraged to stand up and show up for human rights – to protect their own as well as the rights of other community members when they see discriminatory or offensive behaviour.
"You should never feel like you have to tolerate something when it's causing you harm. Advocate for yourself and don't be afraid to come forward. Make use of office hours, and if you don't feel comfortable going to your instructor, then go to Human Rights Services," said Michelle Schwartz, educational developer at the Centre for Excellence in Learning and Teaching.
Free and confidential consultation and complaint resolution services are available through HRS to all community members. The office can guide students through the process of filing a complaint, which may lead to alternative resolution of the matter, or an investigation, when the matter is within the jurisdiction of the university's human rights policies.
Consequences for offensive behaviour can ultimately lead to a range of sanctions that could include educational training sessions, restrictions to communication with affected parties, or the removal from class or campus, depending on the circumstances.
"In virtual environments, there can be ambiguity and confusion over what constitutes university spaces versus personal spaces, since students sometimes take classes in the same place as where they chat with friends. Knowing when and where it's appropriate to say something and what policies are in place can help students address incidents appropriately. Having this knowledge and understanding can especially help in a large class when it can be difficult for faculty to keep track of everything that's posted," Schwartz said.
Students are also advised to document incidents as they occur, whether they're a victim or an observer, as it can be crucial to establishing culpability upon further investigation.
There are a number of other supports available to students if they face offensive behaviour. For example, the Student Care office works with the campus community to identify and support students in distress. It also administers complaint resolution processes related to non-academic student conduct as per the (PDF file) Student Code of Non-Academic Conduct.
Additionally, the Centre for Student Development and Counselling offers free and confidential counselling services; Consent Comes First offers trauma-informed healing-centered support to those affected by sexual violence and harrassment; and Aboriginal Initiatives provides assistance and support to Indigenous community members, working to foster successful and meaningful academic experiences without barriers.
Tools and tips for faculty
It might feel like we've been learning and working remotely for a very long time, but it's still a relatively new concept for many faculty members that requires a different skill set.
"In real life classrooms, you can read the room and it's easier to manage difficult situations face-to-face. But for online classrooms, it's a new environment and there are new forms of etiquette we have to teach people to have respectful conversations," said Sandra Tullio-Pow, associate dean of undergraduate education and student affairs at The Creative School.
A common practice that still applies to online classrooms is discussing shared values and ground rules at the very beginning so that students are aware of the expectations and protocols in place for engaging appropriately online. At the start of their classes, faculty should also discuss the shared responsibility of students to maintain an environment that is free of discrimination, harassment and sexual violence under the DHPP and SVP.
"Faculty members should be aware that an incident could very well happen in their class, so they need to have the tools to handle it and not be caught off guard. If they see behaviour that is inconsistent with the ground rules they set at the beginning, they need to immediately call it out and redirect the conversation back to the shared values identified for respectful conversation," Tullio-Pow added.
The established shared values can also be revisited and revised as often as needed, to include more behaviours or modify expectations based on their effectiveness.
"When an incident occurs, try and intervene right away. If you can't do something in the moment, or you are only made aware of it after the fact, be sure to acknowledge that it happened and let the class know that you noticed, that you will address it and prevent it from happening again. Otherwise, students might get the sense that you don't care or they can get away with offensive behavior," said Schwartz.
Educational sessions such as Human Rights Live Online hosted by HRS provide an overview of the university's human rights policies and how they apply to online learning environments. Participants also get tips on how to prevent and respond to human rights issues in the digital classroom.