Everything you need to know about the return of Athletics and Recreation this fall
Varsity sports are returning to campus and the RAC is re-opening
September 17, 2021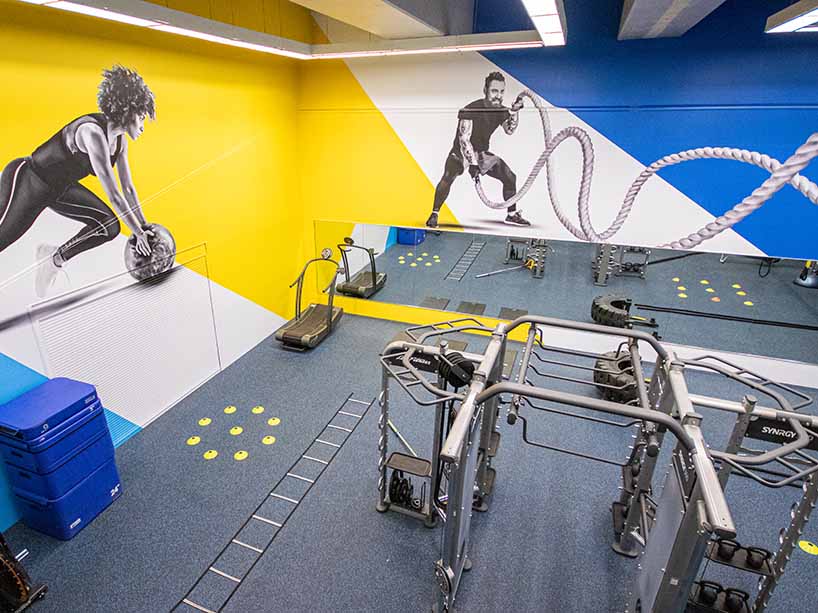 With health and safety protocols in place, much of Ryerson's Athletics and Recreation programming will return this fall.
A selection of both virtual and in-person programs, leagues and classes will be offered to the university community as they transition back to campus. Ryerson Today and the Athletics and Recreation department put together a round-up of everything you need to know.
Recreation and Group Fitness
Mattamy Athletic Centre (MAC)
MAC opened to students in July, with over 5,000 visits and no recorded transmission of any infections since then. As of September 13, showers are now available, and as before, students must book a time slot to visit the fitness centre. Extensive health and safety protocols continue to be in place.
Recreation & Athletics Centre (RAC)
The RAC fitness centre spaces will reopen today, September 20, with some new and reimagined spaces to inspire and keep you moving. A brand new functional training room awaits in two former squash courts and an accessible strength training and cardio circuit has been added to the former Cardio Gallery. The circuit is ready for all abilities, and specially designed to be both accessible and beginner-friendly. Finally, while fitness centre equipment is spaced across the RAC to allow for physical distancing, the RAC 2 Gym has been temporarily made into a dedicated Women's Only fitness centre space, available to women-identified students and members whenever the facility is open.
Each space will be booked as a stand-alone experience to ensure our capacity and physical distancing restrictions are maintained, with each student/member able to book one fitness area space per day. Find a complete list and preview the different spaces at MOVE Everywhere Fitness Spaces. The RAC will operate under the same health and safety and workout reservation procedures as the MAC.
Construction Notice, Alternate Entrance: Efforts to rejuvenate and improve accessibility at the RAC have been extensive, with several projects still underway, including two impacting the front/south and rear/accessible entrance. Please review the construction notice for information on the alternate entrance and accessible route into RAC, and follow the wayfinding signage from 350 Victoria Street.
Fall Recreation Programs
In-person programs will take place in the RAC and Kerr Hall Upper Gym. All programs will abide by COVID-19 safety protocols, with reduced activity/class sizes, participants spaced across gyms, and air purification units in place for added safety. Reservations and masks are required, sanitization stations are provided and all equipment will be sanitized with an electrostatic sprayer at the end of each activity/class by recreation staff.
Group Fitness - In-Person & Virtual
The MOVE Everywhere program will continue to operate in three modes to keep you moving wherever you are: at Ryerson, in your neighborhood and online. A hybrid group fitness schedule will feature both live, in-person classes at the RAC and virtual offerings online.
Ryerson's Athletics and Recreation department will offer 26 classes in total, with eight in-person and 17 virtual classes beginning Monday, September 20.
Recreational Clubs
A number of Recreational Clubs will be offered starting today. Clubs will operate exclusively for students as programs restart this fall. Clubs with live, in-person activities include:
Badminton Club
Trampoline Club
Kendo Club
Studio 2 Dance Club
Drop-In Recreation
Drop-in sports will resume across a range of no/low-contact, lower-risk sports today. Students can book a timeslot on the Recreation Portal, and programs run out of the RAC or the Kerr Hall Upper Gym. Drop-in sports include:
Badminton
Volleyball
Basketball
Table Tennis
Women's Only
Intramural Sports & Social Leagues
In-Person Intramurals
With the gradual return to life on campus, Ryerson will be offering a range of in-person Intramural activities in the fall. Registration is live. Offerings include:
Table Tennis (singles only)

Registration deadline: September 22
Start date: September 27 and September 30

3 on 3 Volleyball

Registration deadline: September 22
Start date: September 27

Badminton (singles only)

Registration deadline: September 22
Start date: September 28

Dodgeball

Registration deadline: September 22
Start date: September 29

Ultimate Frisbee

Registration deadline: September 26
Start date: October 3

Women in Sport

Registration deadline: No registration deadline
Start date: September 29

Residence in Sport (residence students only)
Virtual/Remote Intramurals
Intramural sports will continue to offer a range of virtual and remote programs for those not able to or preferring not to take part in-person. Registration is now open and deadlines vary by activity. Be sure to sign up before the end of September. Virtual intramurals include:
FIFA 20
Rocket League
Among Us
9 Week movement challenge
Steps challenge
Running Challenge
Ramily Feud Trivia
Rolling Challenge
Aquatics Programs & RAC Pool
The RAC pool is expected to reopen on September 27, including weekly lane swim options, Masters Swim program and more. Check the recreation page for updates later this week.
Athletics
Varsity Sports
After a long 18-month absence, our varsity teams are returning to play. With soccer kicking things off, eight varsity sports teams will return over the course of the fall semester.
Soccer
On Oct. 2, the Rams men's and women's soccer teams are set to make their return to Downsview Park, hosting their 2021 Home Opener against the Toronto Varsity Blues at 6:00 p.m. The Ryerson community is invited to Downsview Park to cheer the Rams on.
Admission is free and no tickets are required. In true community spirit, spectators are encouraged to bring a nonperishable food item in support of the RSU's Good Food Centre (external link) .
Downsview Park is a Ryerson facility and follows the university COVID-19 vaccination policy.
Coming Soon
Men's and women's hockey, basketball, volleyball will resume at the MAC in early November and will be streamed on OUA TV (external link) . The safe return of spectators to the MAC will be determined at a later date.
A full calendar of Varsity Sports events can be found here (external link) .
Competitive Clubs
Nearly 20 competitive clubs will be returning to action this fall. From Baseball to Dragon Boat to Dance Pak to Esports, Ryerson's Athletics and Recreation department offers a vast range of competitive clubs for those interested in a high-performance environment.
If you would like to try out for a competitive club team, please visit the Rams tryout dates (external link) page or reach out to a coach for more information.