Welcoming new students with a jam-packed Orientation Week
Road to RU is a two-week orientation experience filled with fun, laughter and learning
August 17, 2021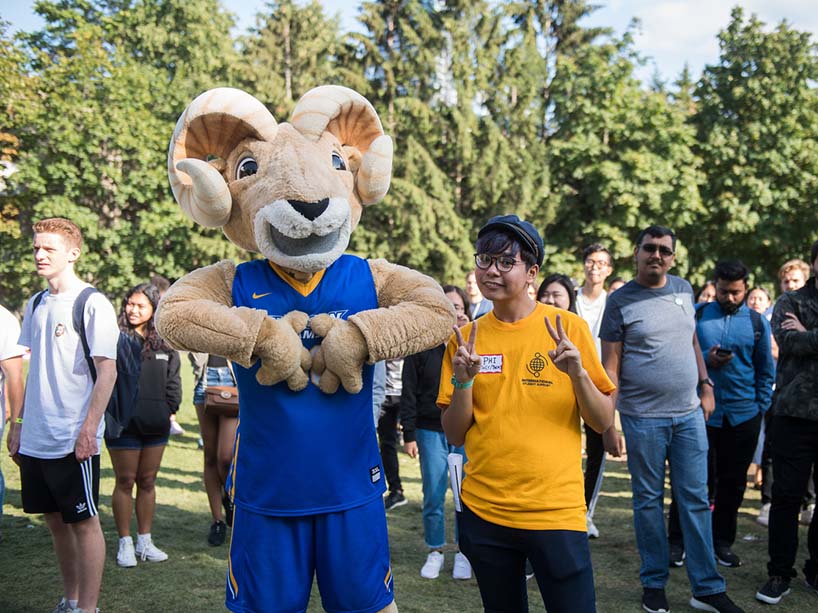 There might be a whole lot of uncertainty going into the fall semester, but one thing for sure is that first- and second-year students will receive an exciting welcome to Ryerson with everything they need to successfully transition into university.
With more than 200 events taking place in-person and online, Road to RU (external link) will be a two-week orientation experience from Aug. 23 to Sept. 6, 2021.
The event lineup features many favourites from past years plus new ways for students to connect with each other and become a part of the vibrant Ryerson community.
With a gradual return to on-campus activities, Ryerson University's Student Life and Learning Support team is excited about hosting some in-person events so that small groups of students can gather in adherence with public health and social distancing guidelines.
"Our goal for this year's Orientation Week is to have a robust offering of online programming while creating unique and valuable in-person experiences that can't be replicated at home. The events will provide opportunities for students to take part in on-campus activities intentionally developed to create a sense of belonging to the Ryerson community," said Andrew Bisnauth, manager of student life and campus engagement, who leads orientation week planning.
The upcoming weeks will be full of activities that support academic success and connect students to the larger campus community, along with active learning experiences that enhance student engagement in social and academic environments.
New students can also join campus experts for in-person guided tours around the Ryerson campus during most days of Orientation Week.
Below is a roundup of exciting events that students can look forward to. For a full list of events, visit the Road to RU page (external link) . Eligible registrants have also been sent a unique link and can find their personal invitation in their inbox.
On-campus events
Art Attack
Monday, August 30; Tuesday, August 31; Wednesday, September 3; multiple timings. Hybrid.
Channel your inner artist and de-stress by painting your next masterpiece, folding origami or creating your own custom tote bag. Get creative, learn new skills with live instructors, or simply hang out and make new friends!
O'Fest campus street fair
Tuesday, August 31; Wednesday, September 1; Tuesday, September 2, 11:00 a.m.–4:00 p.m.
Taking place over three days on Gould Street in the heart of campus, O'Fest is a jam-packed street festival full of music, carnival games and more! It also showcases many of the services available to students such as the Student Learning Centre, Ryerson Eats and Athletics & Recreation.
Self-care night
Tuesday, August 31, 6:00–7:00 p.m. Hybrid.
The importance of self-love and self-care is greater during tough times, and we all deserve a break right now. At the self-care night, students can gain tips and strategies to tend to their physical and mental health, all while doing face masks, meditation, practicing gratitude, creating positive affirmations and much more.
GrooveFit and Zumba
Wednesday, September 1, 11:00 a.m–12:00 p.m. and 12:00–1:00 p.m.
With in-person group fitness classes available almost every day of Orientation, students are sure to stay energized and stress-free. These GrooveFit and Zumba classes are a great way to take a dance break while getting your daily cardio, toning and stretching in.
Talent triad: comedy x magic x improv
Wednesday, September 1, 3:00–5:00 p.m. Hybrid.
What's life without some magic and laughter? This event will have plenty of both! It combines a magic and a comedy show for a special afternoon that will have you laughing till your stomach hurts.
ISS welcome party
Thursday, September 2, 12:00–3:00 p.m. Hybrid.
Organized by International Student Support, this annual party welcomes students from all over the world to the Ryerson and broader Toronto community. Open to all students, the event features great food, entertainment, special prizes and cultural celebration. It's a chance to make new friends and find out about the many resources and services available to international students at the university.
Online events
Invocation: #RoadtoRU kick-off
Monday, August 23, 12:00–1:30 p.m.
Join us for the Orientation opening ceremony hosted by Ryerson alum and Kiss 92.5 host Deepa Prashad. We'll officially welcome all students to the Ryerson community and kick off orientation right! From invocation to convocation, we want you to be a part of it all.
RU concert series
Monday, August 23 to Friday, September 3, 8:00–9:00 p.m.
Featuring 10 performances across two weeks of Orientation, the Monday-Thursday sessions will feature intimate concerts, where students will have the chance to get up close and personal with the artists, interact with them through a Q&A and gain access to exclusive sets.
The Friday sessions will be larger concerts, featuring Rock N' Rams and Finale Fest headlined by established talent. The RU concert series lineup includes Two-Spirit Indigenous artist Shawnee Kish (external link) , queer East Asian rock band cutsleeve (external link) , Juno-nominated pop singer Ryland James (external link) , and many more.
Stride Forward
Monday, August 23 to Friday, September 3, multiple timings.
Offered through the Tri-Mentoring Program, Stride Forward is a series of sessions that will provide transitional support for incoming students to help acquaint them with the university's resources and programming. Each session is tailored to aspects of students' identities and also designed to foster community with current students, faculty and staff from the same equity-deserving group.
The program features sessions for mature students, students with disabilities, 2SLGBTQ+ students, women in STEM, the Latinx, Lusophone and Filipinx communities, Muslim women and Black-identified students.
Slumber party
Tuesday, August 24, 7:00–8:00 p.m.
What better way to meet new people and make new friends than a sleepover? The Orientation slumber party will help students break the ice while also learning how to navigate the Ryerson campus. With music, games, dance and a virtual tour of the campus, this is a unique opportunity for students to make connections with current and other incoming students.
Streamz: online gaming at home
Friday, August 27, 1:00–3:00 p.m.
This one is for all the gamers, no matter your skill or experience level. Make new friends and play your favourite games such as WarZone, 2K21, GTA 5, Among us, Fortnite and more! The first 20 students to register also win a $20 gift card, just in case you still need convincing.
Body positivity fashion show
Friday, August 27, 2:00–3:00 p.m.
Presented by Student Health and Wellness, this event provides students with a space to showcase their individual style of clothing while embracing all the shapes, sizes and cultural backgrounds of students at Ryerson. An Orientation Week favourite, you don't want to miss this great event that celebrates body diversity.
Multicultural night
Monday, August 30, 7:00–8:00 p.m.
A night dedicated to embracing your cultural pride, this event is a fun opportunity to connect with others from your home country as well as meet new people from new places. We invite you to wear your cultural attire, share your music, traditions, food and more.
Virtual escape room
Tuesday, August 31, 3:00–4:00 p.m.
Students will be put into Zoom breakout rooms with seven other people and have one hour to solve different scenarios to break free. Bring your mystery solving skills and competitive spirit to claim your prize – $25 gift card each!
Trivia night
Tuesday, August 31, 6:00–7:00 p.m.
With categories such as art, science, sports, entertainment, geography and history, students can put their trivia knowledge to use and win prizes including gifts cards to local businesses.
Indigenous beading webinar
Thursday, September 2, 5:00–6:00 p.m.
Students will learn about the process of beading and its significance, while watching Marissa Magneson, a Cree-Métis artist and educator, bead live on Zoom.
Karaoke
Friday, September 3, 5:00–6:00 p.m.
If you're bored of singing in the shower and miss the thrill of performing in front of a live audience, this event is your chance to sing your heart out! Release all your stress on the virtual stage with your favourite Karaoke song. Over-the-top performances are strongly recommended.
Registration is required for all Orientation Week events. To register and attend, visit the Road to RU website (external link) .
All students, faculty, staff and visitors are required to complete health screening before accessing campus each day, via the RyersonSafe app. For more information, visit the Ryerson COVID-19 information website.