University to require proof of vaccination for fall semester
New requirement will further enhance the health and safety of community members on campus this fall
August 27, 2021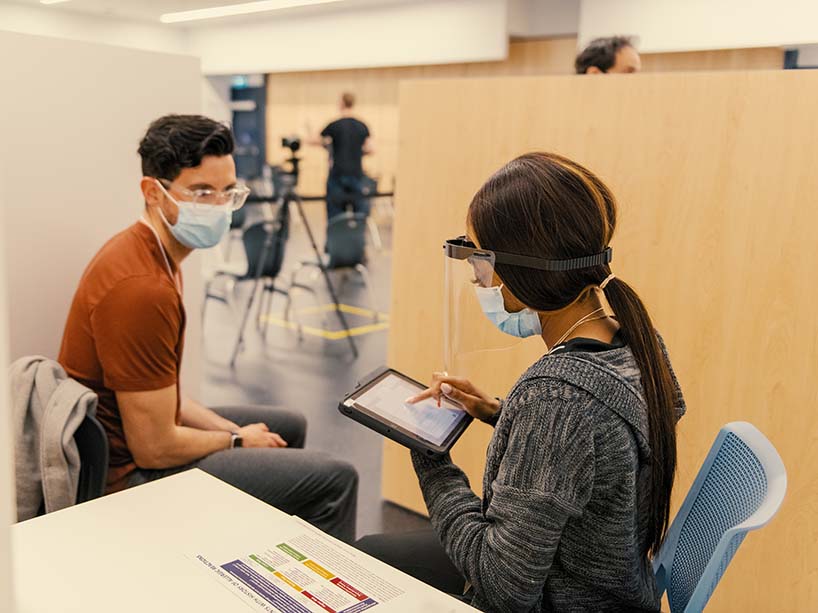 On August 13, Ryerson University announced it would require attestation of vaccination status for those coming to campus this fall. Since then, the university has continued to monitor developments and recommendations based on case counts, public health recommendations and the requirements, regulations, and guidance issued by the provincial government, including the PDF filerecent recommendations from the Council of Ontario Medical Officers of Health, external link.
To protect the health and safety of community members on campus and to comply with the recommendations from public health authorities and the provincial government's mandate, Ryerson, like other post-secondary institutions in Ontario, will require individuals to submit proof of vaccination. Individuals who require an exemption from the requirement for vaccination for reasons related to protected grounds under Ontario's Human Rights Code or for medical reasons may be permitted to attend campus, subject to regular testing requirements and other health and safety measures that may be implemented by the university.
Submitting proof will be done via the RyersonSafe app or on desktop. While the university will share more details about this process and implementation in the coming days, community members are encouraged to download the RyersonSafe app in preparation.
Community members, including new students coming to campus for Orientation, are reminded to familiarize themselves with existing health and safety protocol and procedures and to review what you need to know to access campus.
This enhanced vaccine requirement is in addition to the extensive health and safety precautions implemented through the pandemic that will continue to be in place, such as the mask policy daily health screening requirements, local contact tracing and case reporting processes, enhanced cleaning, and ventilation and air purification.
Since the beginning of the pandemic, Ryerson University's COVID-19 response has prioritized the health and safety of the community. While this has been a period of continued change and uncertainty, we continue to appreciate the ongoing support of our community in following public health recommendations and regulations to keep community members safe and limit the spread of COVID-19 on campus.