University accepts Standing Strong recommendations, including renaming the university
Task Force report makes 22 recommendations for the university to move forward with the next chapter
Category:
From the President
August 26, 2021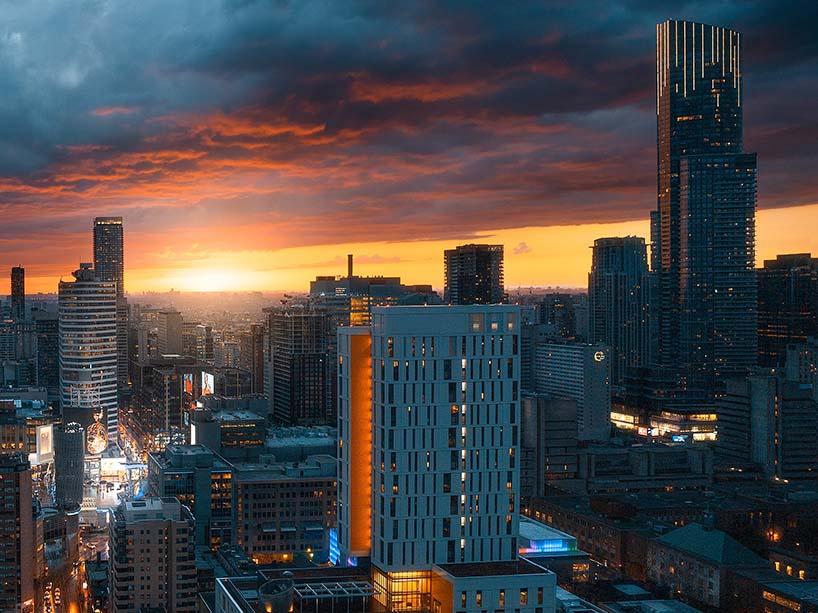 Earlier today, the Standing Strong (Mash Koh Wee Kah Pooh Win) Task Force's final report was presented to Ryerson's Board of Governors. The Board approved a motion to accept all 22 recommendations, including the recommendation to rename the university.
I would like to commend the leadership of co-chairs Elder Joanne Dallaire and Catherine Ellis, and all of the members of the Standing Strong (Mash Koh Wee Kah Pooh Win) Task Force who have all worked very hard over the past 10 months, often under difficult and challenging circumstances to get to where we are today.
The report provides clear recommendations on how the university can move forward and write the next chapter in our history. The Task Force's 22 recommendations include renaming the institution, sharing materials to recognize the legacy of Egerton Ryerson, and providing more opportunities to learn about Indigenous history and Indigenous and colonial relations. The report provides a full picture of the past and present commemoration of Egerton Ryerson, yet the recommendations are not based on either vilification or vindication of the individual.
The Task Force recommendations were heavily informed by the participation of over 11,000 Ryerson community members and the membership's own extensive learning and unlearning. The Task Force survey generated 22,860 individual question responses, over 250 people participated in community conversations and more than 250 people emailed the Task Force directly.
I encourage all of our community members to read the report to learn more about where we have come from, where we are now, and how this report and its recommendations will guide us into a more inclusive future.
I want to reiterate my thanks to all Task Force members for their contribution and commitment to this necessary exploration of both our namesake's life and legacy and the role of commemoration in our university community:
Co-chairs:
Joanne Dallaire, Elder (Ke Shay Hayo) and Senior Advisor – Indigenous Relations and Reconciliation for Ryerson University, Chair of Ryerson's Aboriginal Education Council, and Co-chair of the Truth and Reconciliation directive

Catherine Ellis, Chair and Associate Professor, Department of History, Ryerson University, recently concluded her term as an Elected member of Ryerson University's Board of Governors
Task Force members:
T'hohahoken Michael Doxtater, Associate Professor, Creative Indigenous Practices in the School of Creative Industries at Ryerson University

Cecile Farnum, Liaison Librarian with the Ryerson University Library
Natasha Henry, President of the Ontario Black History Society
Tracey King, Indigenous Human Resources Lead, Recruitment and Retention, at Ryerson University

Riley Kucheran, Assistant professor, Design Leadership in Ryerson's School of Fashion
Gerald McMaster, Professor and Tier 1 Canada Research Chair in Indigenous Visual Culture and Curatorial Practice, and Director of Wapatah Centre for Indigenous Visual Knowledge, OCAD University

Dennis Mock, Former Vice-President, Academic, at Ryerson University, former President of Nipissing University
Heather Rollwagen, Undergraduate Program Director and Associate Professor in the Department of Sociology at Ryerson University

Tay Rubman, History student at Ryerson University and Elected member of Ryerson University's Board of Governors, 2020-21

Amorell Saunders N'Daw, Partner and Equity, Diversity and Inclusion Lead at Knightsbridge Robertson Surrette and Ryerson University alumna
Julia Spagnuolo, Urban and Regional Planning student at Ryerson University and Ryerson University Student Senator, 2020-2021

Frank Walwyn, Partner, WeirFoulds LLP & Ryerson University alumnus
Task Force Project Management:
Rachel DiSaia, Engagement Manager
My thanks also go to Denise O'Neil Green, vice-president, equity and community inclusion, and Steven Liss, vice-president, research and innovation, who were the executive co-leads on this initiative and provided guidance and support to the task force in completing this important work.
And lastly, my sincere thanks to our community members and stakeholders for contributing to and participating in this valuable initiative. Thank you for sharing your experiences, thoughts and perspectives with the Task Force and each other. Our next steps will reflect and support our institutional values and our diverse community.
One of the report recommendations is for the university to develop an action plan by January 31, 2022, to address and implement the Task Force's recommendations. We will honour that commitment and I assure our community that a process will be put in place to ensure that the recommendations are carried out in an equitable, transparent, inclusive and timely manner. All recommendations related to academics and program delivery will be referred to Senate prior to the completion of the implementation action plan.
More information on how the university will be responding to the report and implementing its recommendations will be shared in the days to come.
Mohamed Lachemi
President & Vice-Chancellor, Ryerson University