Ryerson to require attestation of vaccination status for those coming to campus this fall
Other safety protocols are also in place, including use of masks, health screening and ventilation
Category:
From the President
August 13, 2021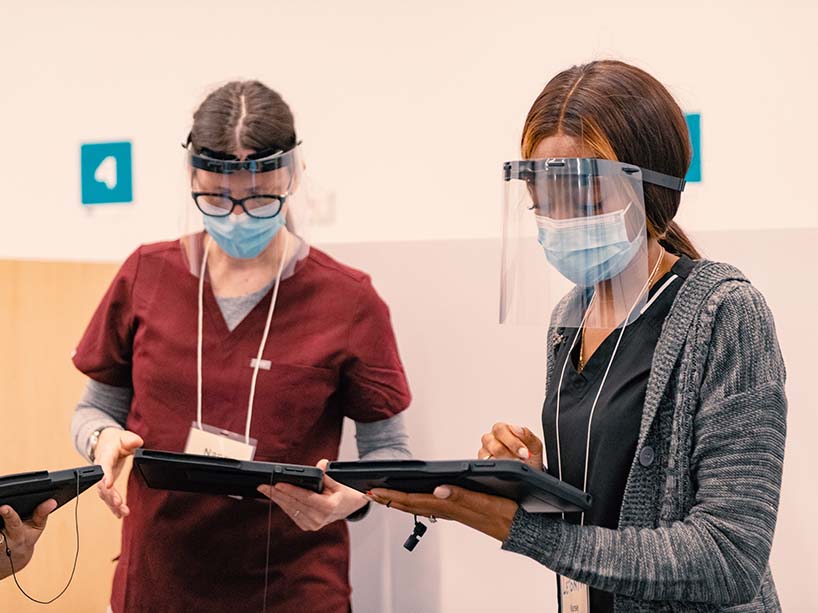 Since the onset of the COVID-19 pandemic, the health and safety of our community has been our top priority. We know that ensuring high rates of vaccination is essential to protecting public health and ensuring the successful reopening of our campus.
For the upcoming fall term, effective September 7, 2021, Ryerson University will require all students, faculty, staff, contractors and visitors coming to campus to attest to their COVID-19 vaccination status. Those who have not been (PDF file) fully vaccinated (external link) or do not want to disclose their vaccination status will be required to be tested in order to come to campus.
This requirement to disclose vaccination status is in addition to requiring all students living in residence and our student-athletes competing on varsity and competitive club teams (external link) to be fully vaccinated with a Health Canada or World Health Organization approved COVID-19 vaccine.
Details about attesting vaccination status, testing requirements, and how to request an exemption will be shared shortly. Please continue to monitor your email and our COVID-19 website.
As part of our preparations for the winter term and an anticipated full return to campus in January, the university will be working to include requiring proof of vaccination in order to come to campus.
The university continues to promote vaccination efforts and recently launched a vaccination confidence campaign (external link) . COVID-19 vaccines will be available to students and other community members through the Ryerson Medical Centre in the fall and many clinics through the province are currently offering same day appointments.
In order to make our campus as safe and welcoming as possible for everyone, the university will also continue to adhere to our mask policy and procedures and will maintain the safety protocols we have put in place on campus, including health screening, enhanced cleaning, and ventilation and air purification. The protocols and approvals required for activities taking place in research facilities remain in effect.
As always, I want to send a very sincere thank you to our entire community for persevering through this last year and a half of uncertainty, challenge and change.
We know there will be other changes and challenges along the way as we navigate through the COVID-19 pandemic. With that in mind, please remember that supports are available to all of you. Students can learn more about services available to them at the Ryerson Centre for Student Development and Counselling. Faculty and staff are encouraged to review the resources made available on the COVID-19 website regarding wellbeing.
Mohamed Lachemi
President and Vice-Chancellor