Drug-checking innovation wins $1-million prize
Funds support Ryerson student startup that helps prevent overdoses at harm-reduction sites
August 10, 2021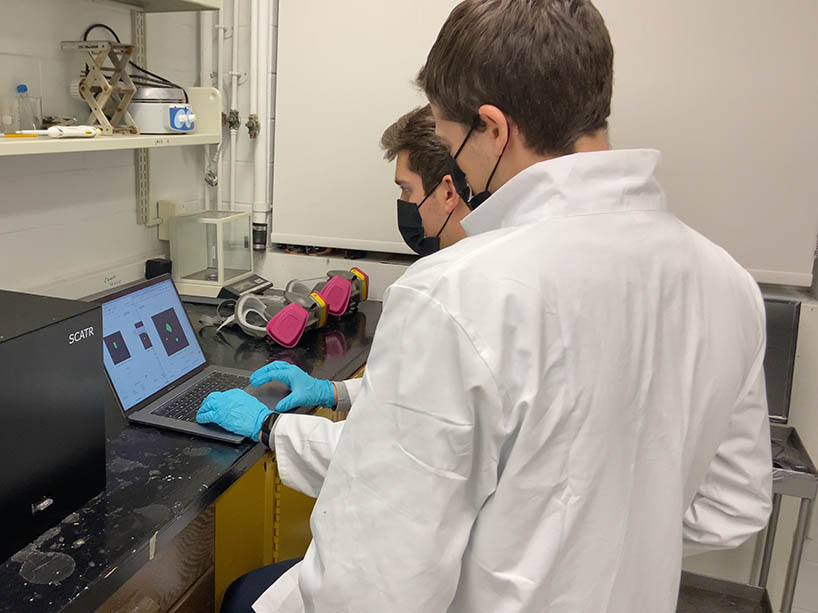 "Shoot for the moon. Land on the clouds." That's the plan for Ryerson aerospace engineering student Alex Boukin and his best friend and business partner Ari Forman. The co-founders of Scatr Inc. (external link) recently won Health Canada and Impact Canada's Drug Checking Technology Challenge and its $1 million grand prize.
The money will go towards R&D and commercialization of the Scatr Series One, a game-changing device that can accurately and quickly test illegal street drugs for multiple substances, including hard-to-detect fentanyl. The goal is for all of Canada's harm-reduction sites to have the device so they can save lives.
The device is currently being piloted at three Ontario harm-reduction sites. "We want to start taking pre-orders by the end of the year and begin making deliveries in mid-2022," says Boukin.
With Canada's opioid crisis worsening and the deadly presence of fentanyl growing, the urgency is clear. In 2020, 6,214 people across the country died from opioid-related overdoses, the worst year for overdoses since the Public Health Agency of Canada started monitoring the crisis in 2016.
The competition (external link) launched in October 2018, right around the time the lifelong friends, who met as kids at synagogue, were pursuing their undergraduate degrees (Forman was studying genetics at Western University) and researching the country's most pressing health issues. They were already developing a blood-typing device when they discovered the Drug Checking Technology Challenge. "We like being useful," says Boukin. "We wanted to align ourselves with an important need."
Their proposal: an easy-to-use, precise and affordable device tailored to supervised consumption sites. Today, sites can use point-and-shoot Raman spectrometers that are limited to collecting just one data point to analyze narcotics.
"We wanted to bridge the gap between expensive analytical devices and these more affordable point-and-shoot devices," says Boukin. "Instead of collecting one spectrum from a sample, our device collects and classifies hundreds to thousands of spectra in as little as 60 seconds without destroying the sample." To put this in perspective, fentanyl shows up as less than 10 per cent of a bulk sample. This means existing devices are not able to detect it.
Support from Innovation Boost Zone
Also unique to the Series One is its use of cutting-edge web browser technology. When harm reduction sites connect to the cloud-based platform they receive automatic updates as well as alerts from across the network. "If a harmful substance appears in one location, other sites will know," says Boukin.
In addition to the Drug Checking Challenge, Boukin and Forman applied for and won all three stages of Ryerson's Norman Esch Engineering Innovation and Entrepreneurship Awards. Along with a total of $38,000 in funding, the entrepreneurs receive support from Ryerson's technology incubator, Innovation Boost Zone (IBZ) that is part of the Faculty of Engineering and Architectural Science (FEAS) and the Zone Learning Network.
"Our mentality is founder first. What are your goals? How can we advise you? What are the tools you need?," says IBZ manager, Jeffrey Peng. "I was really impressed with Alex and Ari, how quickly they were able to go from prototype to piloting the device, and the social impact they can have."
Boukin and Forman continue to have monthly meetings with their IBZ mentor/health tech entrepreneur Harry Gandhi. "He answers all of our questions, introduces us to people when we need it," says Boukin. "We did a lot of mock presentations with him to prepare for each stage of the competition that helped us win the $1 million award."
How important is winning this award to making that impact? "Super important," says Gandhi. "Money is the best representation of validation. The win provides a beachhead market that a lot of companies struggle to find. This is the beginning of their journey. What I'm excited for is when they become a multi-million-dollar company."