Ryerson vaccine clinic helps achieve high vaccination rates
The community pop-up clinic will wind down operations on July 29
July 27, 2021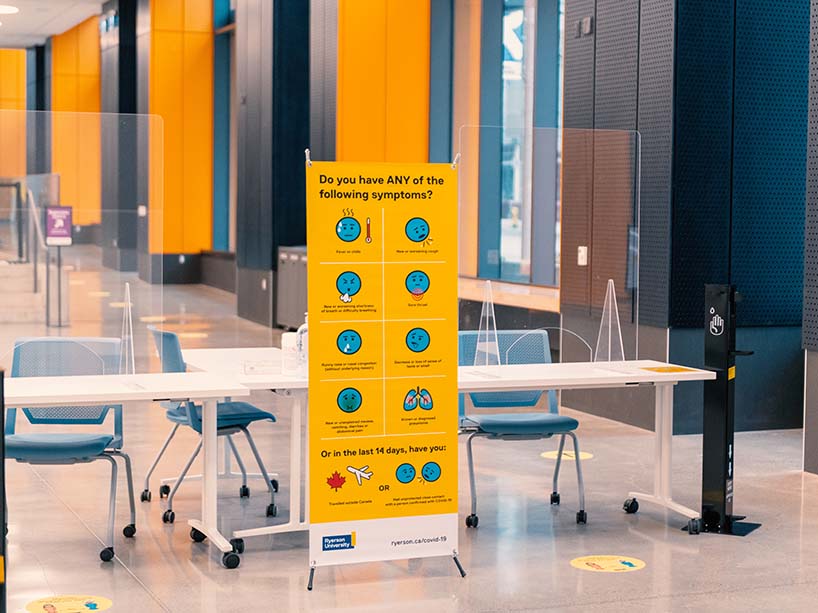 Since it opened earlier this summer, the Ryerson community pop-up vaccination clinic has provided more than 15,000 vaccinations thanks to more than 80 nurses, doctors and administrative staff from the university who devoted their time and expertise to help the city recover from the pandemic.
The clinic is ending operations as of July 29, 2021 as COVID-19 cases continue to decline and the city slowly reopens.
"It has felt like a once in a lifetime opportunity. I never thought that operating a vaccination clinic is something I would do, but I'm grateful for this time and place to make a difference in one of the most important initiatives the city has been involved in in recent memory," said Christopher Visser, the manager of the vaccination clinic as he reflected on how quickly professionals from across the university came together to get the clinic up and running.
By the third week of July, the clinic completed the majority of second doses. Any remaining individuals who got their first dose at Ryerson would have received communication about their options for a second dose at one of the other clinics in downtown east Toronto or elsewhere.
"I became a nurse because I wanted to help people and when you run a clinic during a pandemic, you know your work is actually having a significant impact," said Juannittah Kamera, the clinical lead at the clinic. "My first job at Ryerson was running the H1N1 vaccination clinic in 2009 when we vaccinated 1,500 people in a two-week period. And I'll never forget this year's experience because our work helped open the economy up again, helped people travel and see their loved ones again," she added.
The clinic staff also engaged with locals in downtown east Toronto through direct community outreach – visiting nearby stores, businesses and residential buildings to encourage people to get vaccinated and do their part in preventing further spread of COVID-19.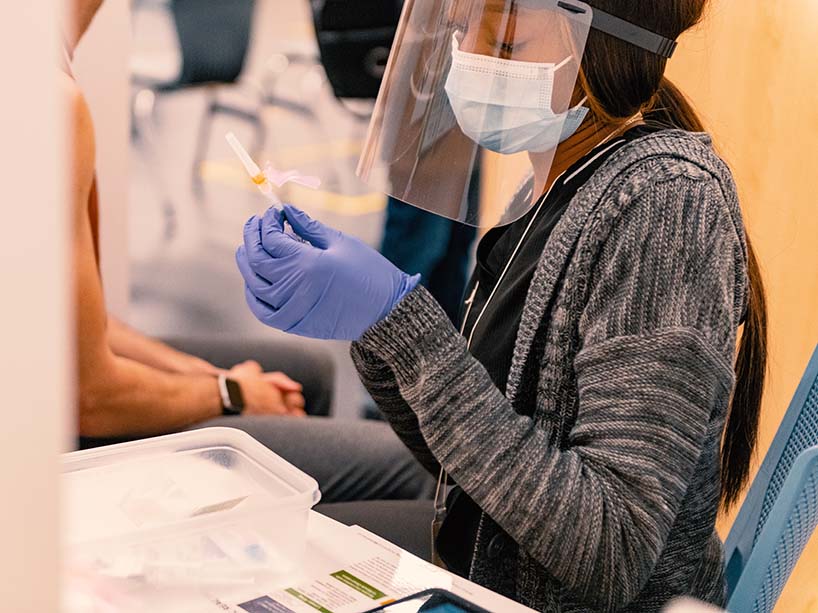 "The vaccination clinic personifies the university's values of civic responsibility and community collaboration. We came together to work with our neighbours and offer a way for the community to participate in the city's efforts to bring back some sense of normalcy," Kamera said.
The university collaborated with Unity Health Toronto, external link as a community partner to host the clinic that opened its doors on May 3. But as the city reaches close to 80 per cent of the eligible population vaccinated with a first dose and more than 60 per cent with second doses, the Ryerson clinic is one of many that are closing due to reduced need and decrease in vaccine demand.
"We have made amazing progress in vaccinating our communities with nearly 150,000 vaccines administered in Downtown East Toronto. Thank you to our community partners at Ryerson University who have played a pivotal role in our fight against COVID-19 by providing more access to vaccinations for some of the most vulnerable people in our communities," said Jennifer Bowman, COVID-19 vaccination lead and vice-president of people and transformation at Unity Health Toronto.
The clinic has been accepting walk-ins and encourages people to visit them at the Daphne Cockwell Health Sciences Complex between 9:30 a.m. to 4:00 p.m. ET till July 29 if they still need to get vaccinated.
Once it closes, those looking to receive a dose can visit the nearby pop-up clinic at Regent Park Community Health Centre, external link or find other clinic and pharmacy locations through the provincial vaccine booking site, external link.
The university will continue to offer COVID-19 vaccines to students and other community members through the Ryerson Medical Centre, and has also offered to run future pop-ups for the broader community if demand warrants.
Related stories:
COVID-19 vaccination clinic opens at Ryerson