Meet the community ambassadors reducing barriers to vaccination in an east end neighbourhood
Ryerson student is part of a volunteer group going door to door, translating flyers to help keep cases low
July 27, 2021
Zoya Hussain, a fourth year bachelor of science student at Ryerson, was just six years old when she came to Canada from Pakistan.
In 2004, her family settled in the East York community of Crescent Town, part of the Taylor-Massey neighbourhood north of Danforth Avenue, between Main Street and Victoria Park Avenue.
"I grew up in this community and it's filled with newcomers," Hussain says. "Although we don't consider ourselves newcomers anymore, we still feel a part of the Crescent Town family."
Taylor-Massey is one of Toronto's priority neighbourhoods with one of the lowest COVID-19 vaccination rates in the city. According to the City of Toronto's vaccine data portal, external link, as of July 19 only 59.2 per cent of those 18 and over have had their first dose and just 48 per cent have been fully vaccinated. Comparatively, the overall rate for Toronto is 79.4 per cent of residents who are 18 and over have had one dose and 65.6 per cent have been fully vaccinated.
Hussain is part of a group of frontline service workers, community members and leaders, medical professionals, and social workers who have been working to increase Taylor-Massey's vaccination rates.
To do so, the volunteers go door-to-door to reduce barriers to testing, address any vaccine hesitations and increase access to vaccinations. Hussain has been spending a lot of time translating informational flyers for newcomers. In a neighbourhood where more than half of residents speak a language other than English — including Bengali, Urdu, Tagalog — it's an important job.
"During these challenging times I can't imagine how overwhelming it must be to get the right information about the vaccines," says Hussain. "I wanted to give back to my community by translating flyers should people have any questions about the vaccines."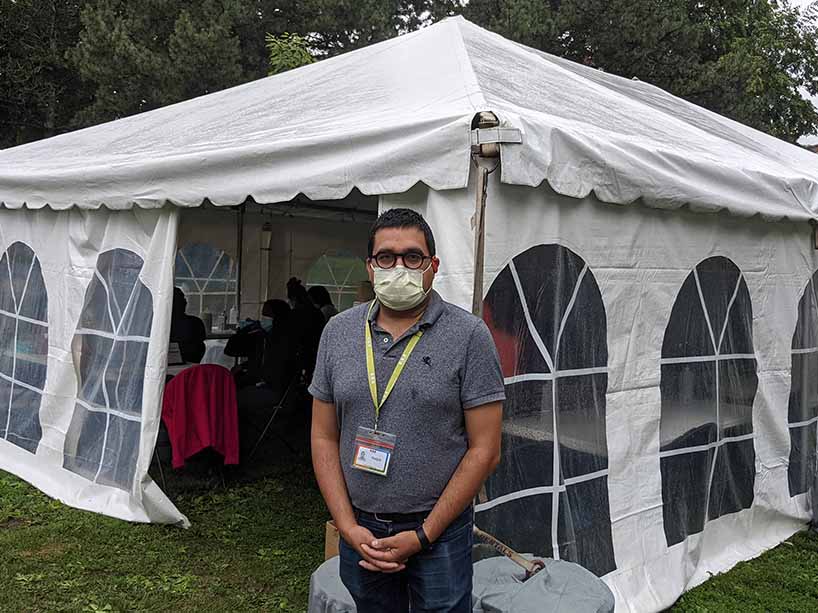 Nadjib Alamyar, manager of newcomer wellness at WoodGreen Community Services, estimates that, between July 3 and 11, the community ambassadors knocked on more than 1,800 doors and have given out over 1,200 vaccine appointments in Taylor-Massey. Across Toronto, WoodGreen's newcomer wellness team has engaged over 4,000 newcomers to get the vaccine.
Alamyar, who graduated from Ryerson's Immigration and Settlement studies program in 2015, says that community ambassadors come from partner agencies such as Access Alliance, The Neighbourhood Organization (TNO), Bangladeshi-Canadian Community Services as well as other East Toronto Health Partners agencies.
"It has been a really collaborative process in the sense that all the partners are working together towards one common goal — to keep our COVID-19 case numbers low," says Alamyar.
Alamyar works closely with Michael Garron Hospital to support the pop-up clinics in Crescent Town, whose health-care professionals from the hospital provide vaccine inoculation.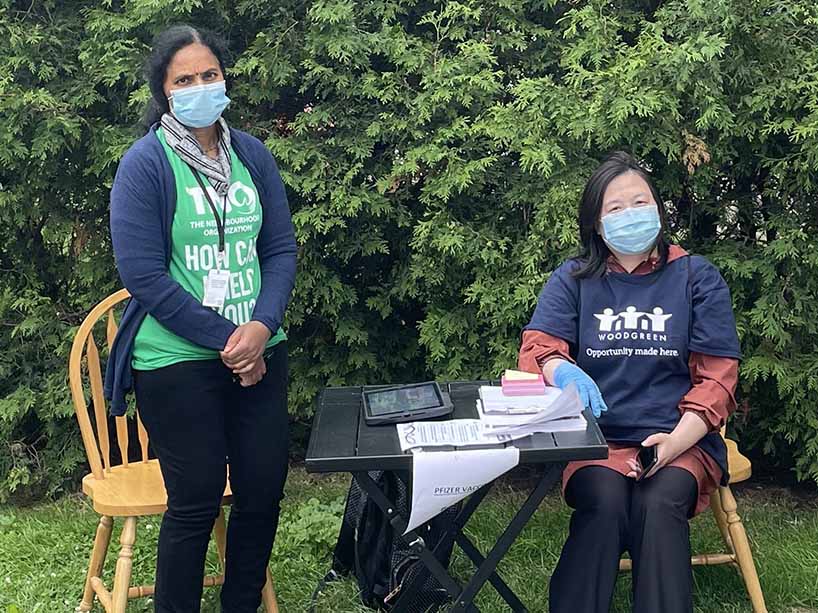 Phillip Anthony, manager of East Toronto mobile vaccination strategy at Michael Garron Hospital, said that one of the most important factors in building vaccine confidence is creating trusting relationships with the communities they serve.
"Our partners' community ambassadors are deeply embedded in Taylor-Massey and speak with residents every day to encourage them to visit nearby pop-up clinics and identify any potential barriers to accessing the vaccine," said Anthony. "We are proud of our continuing work with WoodGreen Community Services and all of our community partners in East Toronto to deliver vaccines to communities who need them most."
Michael Garron Hospital is providing vaccinations in Toronto's east end beyond the Taylor-Massey neighbourhood. Ryerson alum Aidan Messom has been working at the hospital since March. As a process improvement analyst, Messom helps organize the processes to get people vaccinated. He also analyzes data to help identify where the hospital needs to allocate more vaccination efforts.
If you still need to be vaccinated, you can book an appointment with Michael Garron Hospital, external link or through the Ontario provincial booking site, external link. If you live closer to campus, you can go to the Ryerson community COVID-19 pop-up vaccination clinic.
Related stories: