Applying skills in a real-world setting 'is simply the best way we can learn…'
New funding helps students build skills needed for post-graduation success
July 29, 2021
As a master of spatial analysis student at Ryerson, Tavis Buckland knew that gaining real world, hands-on experience would be a key factor in his success post-graduation. Although the pandemic limited some co-ops and internships that require travel, it didn't stop him or his classmates from working remotely with high-profile Canadian park organizations across the country last semester.
Together with his classmate Arthur Tong, and Andrew Millward, a professor in the Department of Geography and Environmental Studies in the Faculty of Arts at Ryerson, Buckland worked remotely with the Still Moon Arts Society (external link) , a park organization based out of Vancouver, to create a digital cartography project in the form of a Story Map.
A Story Map is a multimedia communication tool that combines authoritative maps with text, images and video to engage, educate and inspire park users, as well as build spatial awareness. Through the projects, Millward wanted his students to build the geospatial and communication skills necessary for digital mapping, liaise with technical experts and urban park management teams and further develop their project management experience.
Despite being across the country, Buckland and his classmate Tong were key members of the Still Moon Arts Society Team. "Over the course of several weeks, we were directly involved in the entire creative process, from the conception of early story ideas to its final revisions," he says. "We stayed in regular communication, actively listened to the vision of the park organization and put our geographic information system (GIS) skills to the test."
Buckland learned how to make accessible content for a broad audience and the Story Maps project also provided him the opportunity to showcase his skills in GIS and cartography, add to his portfolio, and expand his professional network through the collaboration with prospective employers. He says learning these skills and applying them in a real world setting is crucial to mastering spatial analysis. "Getting hands-on is simply the best way we can learn GIS software and the plethora of spatial analysis tools available."
Being able to work on a meaningful project with a partner organization also helped Buckland realize the importance of creative problem solving in his field. "Through practical application, it's common to run into limitations in resources, whether it be missing data, software access, or time. These are problems less common under controlled classroom settings," he says. "Managing our own project and working through limitations to achieve the creative vision of our partner organizations frequently required us to be adaptive and come up with creative solutions."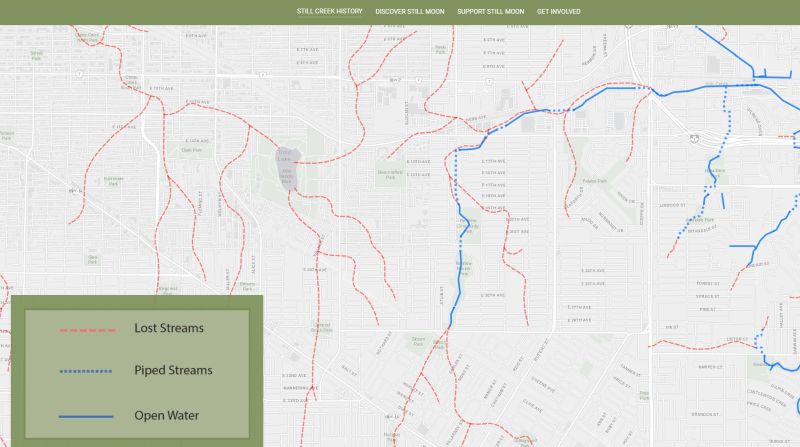 In order to make the opportunity to connect with the Still Moon Arts Society and other park organizations possible, Millward, with the support of Ryerson's Experiential Learning Hub, submitted a proposal to receive funding from Co-operative Education and Work-Integrated Learning Canada (CEWIL) (external link) and Employment and Social Development Canada. This past year, CEWIL created a new fund supporting the creation of curricular work-integrated learning (WIL), with a particular focus on applied research/industry projects, entrepreneurial WIL, field placements and service-learning WIL.
During the winter 2021 semester, Ryerson received $542,925.60 from CEWIL, funding 12 projects, including Millward's. The funding also looked to expand access and remove barriers to WIL opportunities for under-represented students, leverage technology to enhance and extend access to programming, and innovate WIL through new partnerships and models for curricular WIL.
"In addition to the hardships that students had to navigate during the past year, the COVID-19 pandemic placed many limitations on the experiential learning activities that our students could engage in," says director, Experiential Learning, Anita Abraham.
"It was important for the EL Hub to seek out ways to support students and faculty in continuing to have meaningful experiences that transformed their learning amidst the constantly changing complexities. Supporting the Ryerson EL community to access CEWIL funding for students was a way for us to help address some of the challenges and inequities the pandemic placed on EL activities and our students."
Successful completion of the CEWIL-funded StoryMap initiative has the potential to create a regular experiential learning opportunity for future students in Ryerson's master of spatial analysis program who are keen to work in the environmental communication sector.
As Buckland can attest, there are no drawbacks to incorporating experiential and work-integrated learning opportunities into the curriculum. "Experiential learning benefits students through the added motivation and reflection that comes with having tangible outcomes to work towards … we're applying our skills and theoretical knowledge to make a real-world impact," he says. "This was increasingly welcome amid the remote classroom setting we found ourselves in this past year. The opportunity to team up with our classmates and collaborate with a partnering organization was a refreshing experience overall."
This is one in a series of stories about Ryerson's Centre for Excellence in Learning and Teaching. The centre is dedicated to big thinking about curriculum, pedagogy and creative ways to develop inclusive teaching practices that enrich the student learning experience. To find out more, visit the Centre for Excellence in Learning and Teaching.
Related stories:
Re-imagining experiential learning
Peeling back the layers of unconscious bias