How Ryerson is preparing for a safe increase of on-campus activity in fall 2021
Enhanced cleaning, ventilation and air purification are just a few of the protocols in place to keep the community safe
June 24, 2021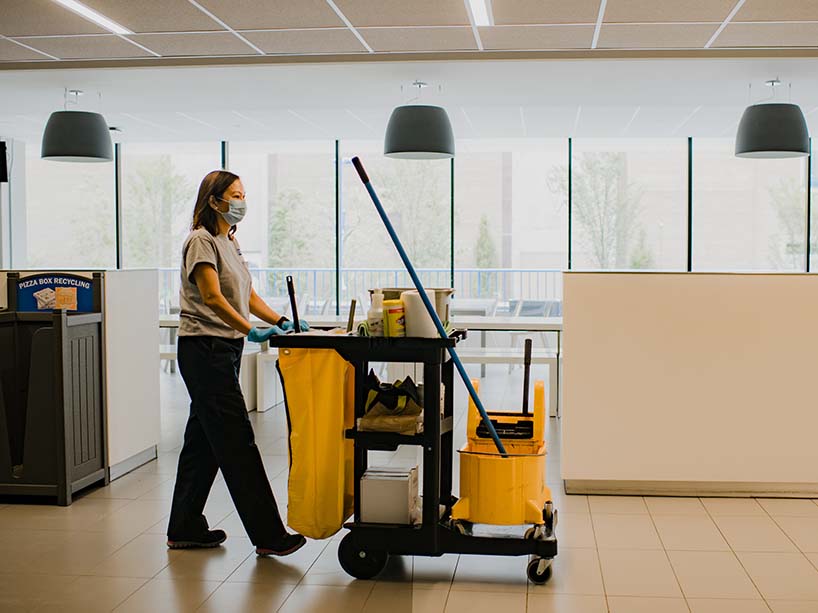 Since the onset of the COVID-19 pandemic, Ryerson University has continued to monitor government regulations and public health guidelines to implement strategies to prioritize the health and safety of students, faculty and staff. While this included shifting to remote work, course instruction, study and research wherever possible, it also included implementing health and safety precautions for those who needed to access campus through the pandemic.
As the university prepares for an increase of in-person activity on campus through the fall, here's an overview of existing health and safety processes, as well as enhancements that are currently being implemented to minimize the risk of COVID-19 on campus.
Enhanced cleaning
Ryerson has implemented enhanced cleaning protocols and technology such as electrostatic disinfection sprays and sanitizing agents. This has included focusing on frequent cleaning of high-touch surfaces and using disinfectants with a Drug Identification Number (DIN) approved by Health Canada. Additionally, the university has installed additional sanitary wipe dispensers and hand sanitizer dispensers in high traffic spaces on campus. Learn more about how Ryerson cleans spaces.
Ventilation and air purification
Ryerson follows the industry best practices for filter replacement and our air filters meet or exceed the Minimum Efficiency Reporting Value (MERV) rating recommendations — for filtering fine particles in the air — and guidelines put forward by American Society of Heating, Refrigerating and Air-Conditioning Engineers (ASHRAE) and Public Health.
Since the onset of the pandemic, the university has taken additional steps to ensure adequate ventilation in indoor spaces to extract air contaminants and bring in fresh air:
In summer 2020, Ryerson University began measuring airflow rates in classrooms, studios and teaching labs, and study spaces, plus additional identified spaces, to set safe capacity limits. This work will continue through the summer and fall.
Many buildings have MERV 13 filters installed. Where necessary, air quality will be enhanced through additional methods such as portable air purifiers.
Investing strategically in upgrading HVAC systems, such as in the Early Learning Centre.
Ryerson's facilities team regularly inspects and replaces the air filters in all of our air handling units that are responsible for removing particles in the air such as dust, smoke, allergens, airborne bacteria and other pathogens.
In preparation for the increase in activity on campus this fall, the university is working with a consultant to ensure best practices and standards for HVAC and filtration with regards to COVID-19 have been implemented. Learn more about Ryerson's ventilation and air purification strategy.
Health screening
Currently, any students coming to campus are required to self-screen prior to doing so and faculty, staff and visitors are required to complete a COVID-19 self screening form prior to coming to campus. In the coming weeks, the university will roll out an integrated health screening process for all students, faculty and staff to complete health screening via the RyersonSafe mobile app or desktop interface.
Physical distancing
Physical distancing strategies have been implemented in common areas at the university, and class/space planning is being developed based on physical distancing protocols set out by public health authorities. Signage such as physical distancing requirements, entrance and egress directionality and corridor and stairwell directionality has been posted. Additionally, the university has outlined instructions for and developed a space planning tool for leaders to implement physical distancing strategies and signage in their own areas. Learn more about implementing physical distancing.
Contact tracing
Over the past year, the university has implemented a detailed process for individuals to report if they test positive for COVID-19 and have been on campus in the 14 days prior. When notified, the university conducts a thorough case management process to investigate possible exposure, conduct contact tracing and notify individuals who may have had a risk of exposure. Review more information on how to report a case and how Ryerson University responds to cases on campus.
Vaccines
Vaccines have been recognized by public health authorities as a safe and effective way to protect you and those around you from serious illness due to COVID-19. All faculty, staff and students are encouraged to get vaccinated when possible.
Students living in residence in the 2021/22 academic year will be required to have received at least one dose of a World Health Organization approved COVID-19 vaccine. This requirement is specific to students in residence because of the nature of communal living, the high volume of cases and incidence rates among young populations, and to foster a welcoming and engaging community for students on our campus where they can learn and thrive. Find more COVID-19 information for students living in residence.
Masks
The university implemented a mask policy in July 2020 which remains in force and is updated from time to time to comply with current law. Cloth masks are distributed to students, faculty and staff working and studying on campus.
Resources to support wellbeing during return
This has been a challenging period of uncertainty and ambiguity, and the period of transition may create feelings of anxiety for many. As the province continues to reopen, protocols will continue to shift and responses of the community members will vary based on individual circumstances. It's important that as the community moves forward, we do so together with empathy, patience and respect.
Please keep in mind that there continues to be support available at this time. Students can learn more about services available at the Ryerson Centre for Student Development and Counselling. Employees are encouraged to review the resources made available on the COVID-19 website regarding Wellbeing as well as the Ryerson Recharge campaign.
Continue to monitor your email for further updates
As we continue to look forward to and prepare for an increase of activity on campus that prioritizes health and safety, we ask students, faculty and staff to continue to monitor your email for important updates. You can also visit the Ryerson COVID-19 page for the latest information.