Flagship fashion show Mass Ex to wow on digital stage, Priyanka to host
Student talent hits spotlight in virtual runway show, docuseries, online exhibition
June 03, 2021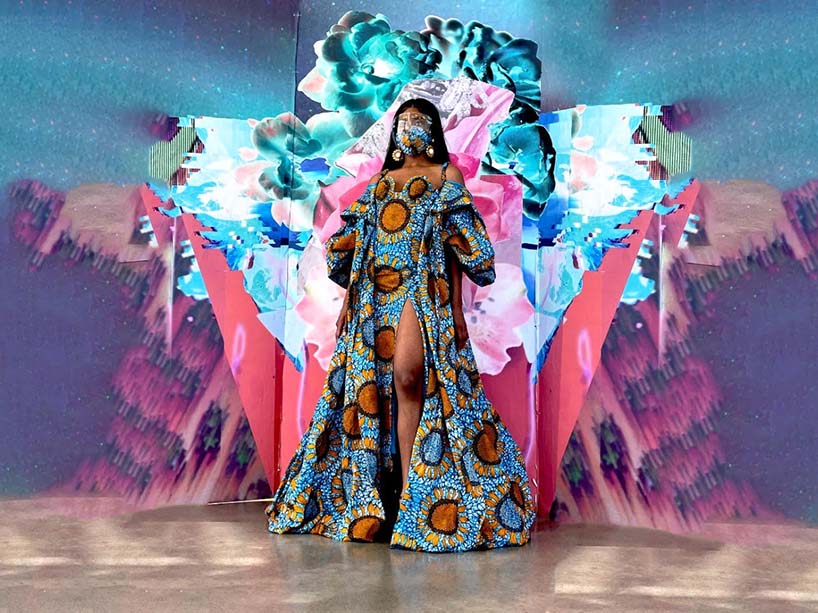 Like many of its designs, this year's Mass Exodus, external link will be like no other.
After careful planning due to the pandemic, this year's event will have a whole new look - and format - featuring digital runway show MX: Live, external link, a five-part docuseries, external link on the making of the event and a digital exhibition, external link, showcasing the work of talented student designers.
"I think we should be especially proud," said co-producer Adriana Hill, 21, a third year fashion communication student. "What we created has never been done before. You know, we didn't have a framework to go off of. No one has ever put on a fashion show like this in a pandemic."
Making it even more special? None other than Priyanka herself will be hosting the digital runway show.
"Oh my God, it's so exciting. I'm so happy," Hill said, noting they'd been hoping to find a way to add extra allure to the online event.
"We just threw the name out there, and didn't expect it would actually happen," co-producer Jeremy Paul said of landing the drag superstar, winner of Canada's Drag Race, for the flagship event.
"It's just so great because Priyanka is Canadian and represents so much of what the School of Fashion is about in terms of inclusion and diversity," said the 23-year-old, who's also studying Fashion Communication. "She's a perfect host. I think it will really lift the energy."
Runway show premieres June 10
The School of Fashion's annual event is part of FCAD's Live Events Super Course, which debuted in the pandemic. It brings 60 students of various FCAD programs together, including RTA, the School of Performance, Creative Industries and Graphic Communications Management, to gain experience producing large-scale, multi-stakeholder live cultural events. Their work will culminate through the launch of Mass Ex on June 10.
The MX: Live component - which was pre-recorded on three different floors of the SLC building over multiple days to meet health and safety regulations - will feature a special performance by Priyanka, which will only be available to those who tune into the debut screening. (A second version of the event will be available online following the show, but won't include the host's performance.)
Student organizers hope the strategy will pay off - since, after all, attracting an audience to a pre-recorded online event, especially after a year of Zoom fatigue, and just as summer weather is hitting - is no easy feat.
But it's one of the many new strategies they've employed in a year that's been anything but by design.
3 levels, 3 themes, 3 days
Despite the fact that an in-person fashion show wouldn't be possible this year, Hill, Paul and their team of roughly 60 students - handling everything from marketing, logistics and video production to the hiring of models and setting up endless virtual meetings - were determined to make it work.
At the time of filming the fashion show, physical distancing rules stipulated that 10 people in masks were permitted at a time on each of the three floors of the SLC. That meant that with stringent planning, 3-4 models at a time could be filmed on the runway on the three different floors simultaneously.
"We had a 20-page document with every single detail about how we were approaching this show, how to make it safe for everyone," Paul said.
"We really had to play with the schedule to respect the guidelines, and be under 10 people in each given floor or set," he said, noting that walkie talkies were essential to their operation.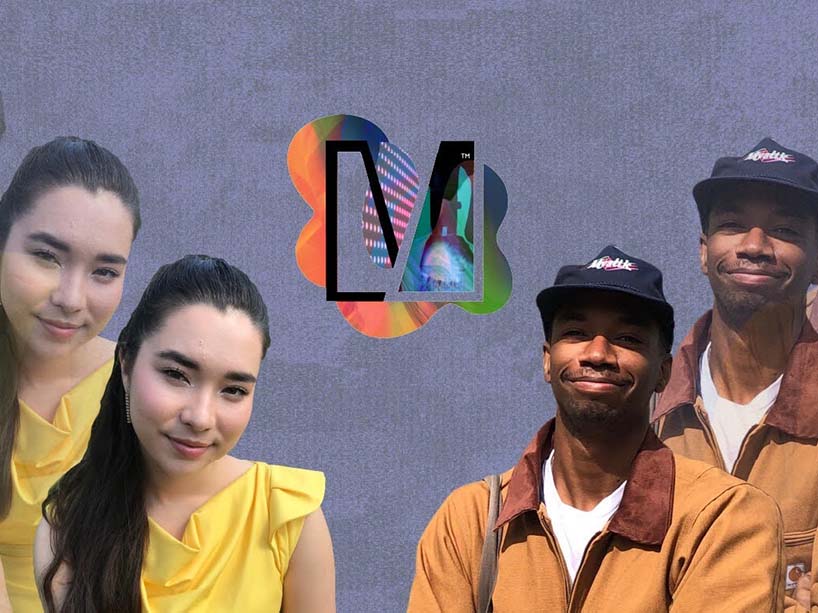 Fashion meets nature, technology and the future
In the show, each floor of the SLC represents a different iteration of the theme utopia: recalibrated.
"We created three different sets for the three different interpretations, and we'll have models walk through in outfits that match each theme. One is more inspired by nature, one is more about technology, and one is a merge of the two," explained Paul, adding that all models are in masks, some provided by the designers.
A range of looks - roughly 10-15 on each floor and 41 in total - will be featured, including up to two looks from each designer.
Kasie Lung, 21, is one of those designers.
The fashion design student, who is in her final year completing her capstone project, is no stranger to the spotlight. She recently won the first place prize in the "Ready To Take Off" Design Contest 2021, external link, a student competition that aims to foster creativity, innovation and technical expertise in fashion design.
The award was presented by Logistik Unicorp, external link in recognition of her human-centred approach to redesigning the uniforms currently worn by screening officers in all Canadian airports, all while respecting the various clothing constraints inherent to the work environment and job responsibilities.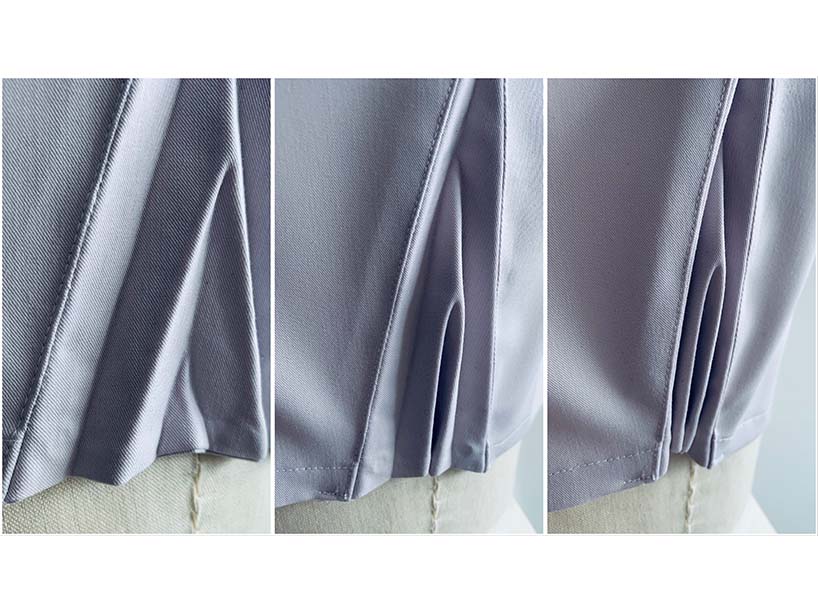 Lung's designs for Mass Ex are focused on wearable technology for practical applications, such as ‌functionality,‌ ‌accessibility,‌ inclusivity ‌and‌ ‌sustainability.
"I used rare earth (neodymium) magnets. They're the strongest magnets in the world," she explained with a sense of awe, noting that she learned about the powerful magnets from staff at the Creative Technology Lab.
One of the ways she incorporates the magnets into her designs is by entrapping small magnets between layers of pleated fabric, which allows the fabric to expand or collapse in order to change the silhouette, shape, and/or size of the garment as needed by the user.
"It can lengthen and shorten sleeves, for example, which could be a practical feature for someone," she said, praising Ryerson's fashion program for focusing on human-centric design, along with the Fashion Zone's RISE program, where she learned about inclusive and adaptive fashion.
Hopeful to one day take her talents to a master's program abroad, she's grateful for her experience at Ryerson.
"I think overall, the most rewarding aspect is meeting so many people and getting to collaborate with people from so many different disciplines," she said, adding that she'll be watching the premiere screening of the show from her hometown of Ottawa.
Teamwork the key to success
Lung is one of the designers whose work will also be featured in the digital exhibition, external link.
"The digital exhibition has been really well received so far. It makes it more of a permanent event, because most of the time it's fleeting," Hill said, also noting that the docuseries launched May 13 and will culminate on June 3.
Co-producers say much of their team's success this year is in part thanks to involving students from a wide range of programs.
"Our teamwork has been essential to all of this, and having the niche skill sets from all of the other FCAD programs - especially in video production. If we'd just been fashion students I don't know what we would have done," Hill said.
Paul agrees.
"It's usually only fashion students who participate in Mass Ex. But this year...we had all of these other skills come together," he said.
That "coming together" is something they're really hoping will happen soon - literally.
"We always joke with our leads team, we talk every day, but we've never seen each other in real life. So, it's hard to have people who are a big part of your life, but you've never met them. Hopefully when COVID is over, we can have a drink," Paul said.
Paul adds that the creative ways they expanded Mass Ex also inspired him to think more broadly about his future career.
"It's definitely opened my eyes to what's in front of us. Between the digital exhibitions and live shows, now I know there is so much more we can do," he said.
Related stories: