A message from President Lachemi on planning for fall 2021
Community safety and optimism guide planning for fall semester
Category:
From the President
June 08, 2021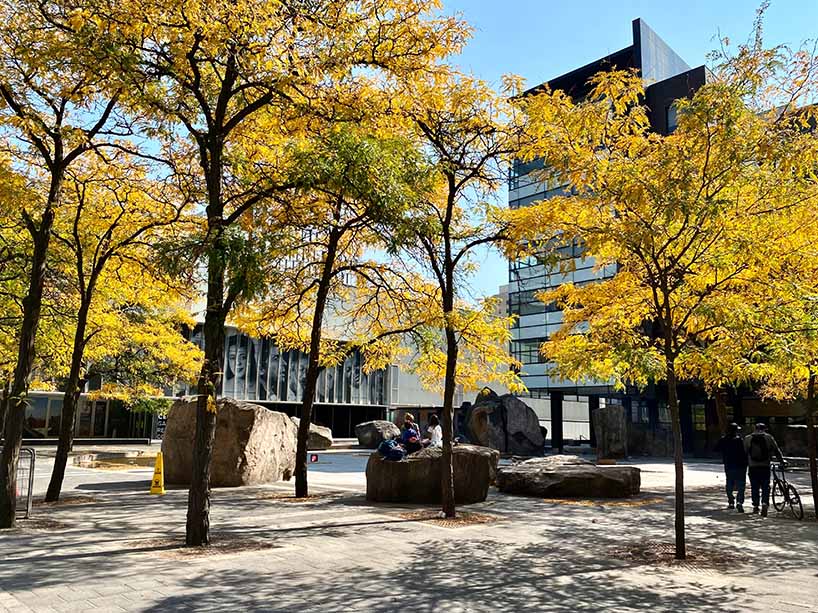 With vaccination rates going up and infection rates coming down in Ontario, many of us are looking towards the future with optimism and hope. This optimism, paired with the prioritization of the safety and well-being of our community, is driving the university's plans for the upcoming fall semester.
This fall will be a period of transition as we begin to increase the number of on-campus classes and activities in order to be prepared for a full return to all activities on campus in January 2022.
As part of our on-going process to fully open the university, we remain committed to following all directives and regulations from the provincial and federal governments, local health agencies, and the province's Roadmap to Reopen framework.
We are committed to keeping you informed and, given this shifting landscape, there will be on-going updates from the university and our faculties throughout the summer months. Please monitor your email and know that all updates on programming, academics, access to campus and other resources related to Covid-19 can be found on the university's Covid-19 website.
Committed to exceptional student experiences
Regardless of delivery method, the university is committed to offering the exceptional education and student experience that Ryerson is known for.
As the fall term will be a transition semester, we will be significantly expanding the number of on-campus courses; however many courses will continue to be offered remotely. On-campus learning will continue to be prioritized for courses that require in-person instruction or access to on-campus physical resources for students to meet their academic requirements, for example clinical instruction. All faculty members should continue to work with their deans for increased in-person academic programming for fall 2021 wherever possible.
Students in programs that are not able to offer in-person learning, and/or students who are not able to come to campus can expect to be provided with remote learning options for the fall semester.
Students, faculty and staff are encouraged to review the detailed information from their respective departments and programs, as it becomes available in the days and weeks ahead.
The university will be offering greater in-person experiences starting in September, including:

Student Learning Centre - The Student Learning Centre will be open for students for the fall semester. Capacity will remain limited, according to public health guidelines, with increased operations and access as the 2021 academic year progresses.
University Library - The University Library will continue to provide both safe onsite services and robust virtual services to ensure that academic support is available to students, instructors and researchers regardless of their location or program delivery mode. The University Library will be expanding onsite access to learning and study spaces, including computer and SRC labs and specialized experiential learning programs, and continuing to refine and add services, programming and learning resources to meet the needs of virtual teaching and learning and SRC.
Student Life and community building - Programming for both in-person and remote participants, including Orientation and Get Ryerson Ready, will be available to students to help them navigate campus, receive academic supports and build community with fellow students. As allowed in keeping with existing guidelines and protocols, in-person opportunities may include curated campus and neighbourhood tours, outdoor group activities, movie nights, and in-person academic learning supports. Online programming will also continue, including virtual one-on-one writing and language support appointments, international student advising, and tutoring.
Experiential Learning (EL) - While some remote experiential learning will continue, increased on- and off-campus in-person experiential learning opportunities including, but not limited to internships, co-op, placements, are currently being planned for in keeping with local public health guidelines. At this time, off-campus in-person EL opportunities will be limited to those in Canada and all opportunities will be at the discretion of the faculty leadership.
Zone Learning will also have increased flexibility to host on-campus activities this fall and will continue to adapt and deliver both online and in-person programs. In keeping with existing public health guidelines, Zone Learning is planning to increase in-person activities including re-opening of co-working spaces to students and zone members, access to fabrication, technical and science labs as well as offering hybrid in-person and online workshops, hackathons and speaker events.
SRC - As scholarly, research and creative activities have been deemed essential by the provincial government, SRC activity at Ryerson continues, where appropriate, in adherence with existing safety protocols. As the government of Ontario and City of Toronto move to reopen and gradually lift public health measures, the Office of Vice-President, Research and Innovation will actively monitor directives and announcements to update the SRC guidance and safety protocols. More information can be found on the COVID-19 SRC related updates.

Residence - Building on a healthy and safe residence experience this past year, we are planning to increase our overall capacity for students who want to stay in residence. Many students have already applied for residence, indicating a shared desire to get back to living on campus. Students should visit our residence application page for details and watch for communication from Housing & Residence Life about residence offers this summer.
Active well-being - Opportunities to participate in fitness and recreational activities will continue as soon as public health direction allows. The Mattamy Athletic Centre operated successfully at several points within the 2020/21 academic year, and it is anticipated that both the MAC and the RAC will be ready to welcome students back in the fall, or sooner.
Safety remains our top priority
While we are optimistic about what we can offer in the fall and are looking forward to a more active campus, the safety of our community members will remain paramount in our planning and will continue to guide our decision making, including but not limited to:
Progress of vaccinations in Ontario
Covid-19 infection rates in Toronto and Ontario
Masking protocols
Physical distancing protocols
Indoor and outdoor gathering limitations
Available classroom and programming spaces, given gathering limitations and existing physical distancing guidelines
Ventilation and disinfection of available spaces
Access to campus, including the use of public transit
Many staff to continue remote work where possible
Many staff will continue to be remote during the fall semester as we work towards a phased, gradual return. During this time, the university will also be introducing flexible ways of working. Plans for staff to return to campus will be in line with government and public health agencies' directives as we continue to prioritize the safety and well-being of our entire community.
Prioritizing who is on campus helps support the safety of those who are required to be there. Staff may be asked to return to on-campus work to support the increase of student activity and scholarly, research and creative (SRC) activity on campus. On-campus work continues to require senior leader approval, and all leaders will receive additional guidance from HR in the coming weeks. Leaders who are approved to have staff return to campus will be asked to implement a gradual, phased transition plan.
Planning for 2021-22 continues
We continue to monitor government directives and allowances and are optimistic that as the situation in our province improves, we will continue to increase access to campus with a full return for the winter semester.
This has been an extended period of uncertainty that none of us could have predicted, and I hope you are staying safe and well. Please keep in mind that there continue to be supports available to all of you at this time. Students can learn more about services available to them at the Ryerson Centre for Student Development and Counselling. Employees are encouraged to review the resources made available on the COVID-19 website regarding Wellbeing as well as the Ryerson Recharge campaign.
I continue to be appreciative of the tremendous efforts of our leaders, faculty and staff demonstrated in response to the pandemic. My sincere thanks to our dedicated staff and faculty for your work during these challenging times, including those that have continued to come to campus to keep the university operating. To our students, I extend my thanks for your hard work and patience as we move through these challenging times.
Mohamed Lachemi
President and Vice-Chancellor