How much does Canada owe Indigenous communities for stolen land?
New report by Yellowhead Institute focuses on financial theft and presents 10 forms of reparations
May 18, 2021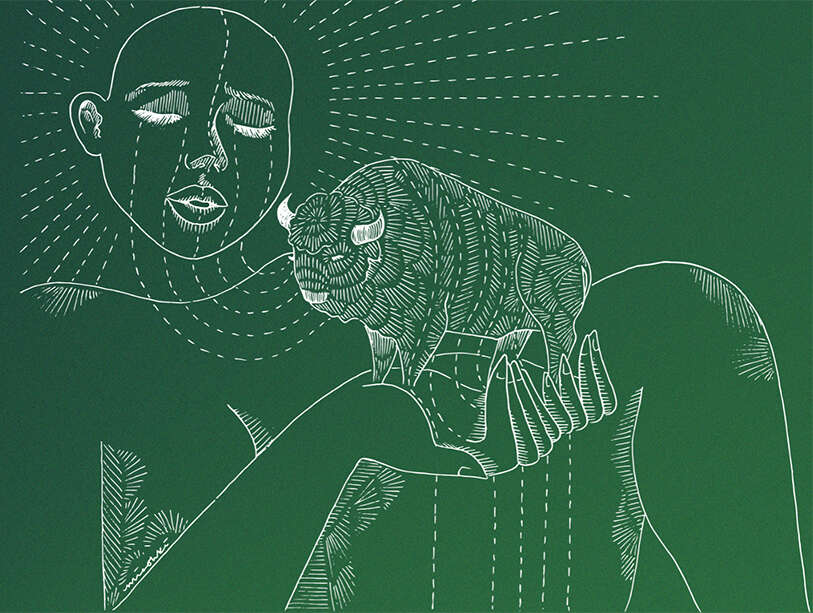 How much money flowed through the Indian Trust Fund and where is it now? How can the myth of "free money" for First Nations be deconstructed? What do solutions for financial reparations look like?
These are some of the questions that the Yellowhead Institute, external link addresses in its second Red Paper – Cash Back, external link – that follows a decades-long tradition of agenda-making reports by Indigenous people to fight back against settler colonial governance.
A First Nations-led research centre based in the Faculty of Arts, the Yellowhead Institute generates critical policy perspectives in support of First Nation jurisdiction.
"The systemic underfunding of First Nations is one of the most central and violent forms of colonization in Canada today, yet it is rarely historicized or explained. This underfunding takes place in the context of the ongoing enrichment of companies and Canadians off Indigenous lands and resources," said Shiri Pasternak, research director at the Yellowhead Institute and co-author of the report.
"But this report is also about lifting up Indigenous economies and weaving back into the narrative the ways that Canada has sought to stifle and destroy Indigenous economic independence, but failed. We foreground Indigenous visions for life-sustaining economies over what Winona LaDuke calls the Wiindigo economy – a settler economy that is eating itself alive," Pasternak said.
Divided into three sections, the report traces how Canada got its economy through theft of Indigenous land, how a weak and impoverished fiscal system enabled money to become the language of colonization, and 10 proposals on how to get that cash back from a diversity of perspectives.
A history of economic dispossession
Demonstrating how a company became a country, the report takes us back to 1670 when a royal charter granted to the Hudson's Bay Company transferred a third of present-day Canada to English shareholders.
Cash Back describes that ownership "as real as a sandcastle" – emphasizing that these lands still belonged to the Inuit, Oji-Cree, Cree, Anishinaabe, Innu, Métis, Gwich'in and others. It also highlights how money flowed from First Nations to the Crown coffers through the Indian Trust Fund, but questions around its use have remained unanswered.
"The report provides the most comprehensive empirical overview of the funds collected by the Crown for the 'use and benefit' of First Nations. They were radically misspent and used to fund colonial infrastructure instead," Pasternak explained. "It's a significant area of speculation for Indigenous people because there has been no clarity around what happened to all that money or how much is in that account and where it went."
Following the money
In addition to examples of how the Canadian economy was built on the theft of Indigenous lands and resources, the report describes four ways in which Canada still maintains colonization through the fiscal relationship between the Crown and First Nations.
These include social welfare policies without economic development, passing the buck to First Nations, austerity policies, and finger pointing between the federal and provincial governments to avoid responsibility and blame each other for First Nation problems.
"Systemic poverty was instilled through legislation and policy. The myth of 'free money' is very prevalent and is a misinformed idea that First Nations get a lot of free stuff. But we're dismantling that myth by looking at how Canada intentionally perpetuates a cycle of economic dependency," Pasternak said.
Cash Back states that instead of addressing underlying issues such as dispossession, insufficient funding and lack of First Nation control, Canada continues to double down on administrative solutions and subjects Indigenous Peoples to a cradle-to-grave bureaucracy to control their life.
The report also includes research that shows striking correlations between a federal debt management program for First Nations and housing deterioration on reserves.
Redress, compensation, restitution
Developed through a lens of Indigenous economic restoration, the report outlines three principles of getting the cash back: redress for suppression of Indigenous institutions that affirm Indigenous values and culture, compensation for land theft based on principles of Indigenous law and justice, and restitution of Indigenous economies that challenge the exploitation of global capitalism.
Further, the report proposes 10 specific forms of reparations based on diverse perspectives and ideas already advocated by many Indigenous communities.
"These solutions are a result of a collaborative effort, which is how Red Papers come together – through a gathering of Indigenous activists, leaders, practitioners and non-Indigenous allies who come together early in the process to define the research program and develop a report in accordance with community needs," Pasternak said.
A follow-up to Yellowhead's 2019 Land Back, external link report, a critical reference guide to colonial land policy and Indigenous jurisdiction in Canada, Cash Back is essentially a reckoning with the systemic impoverishment of First Nations.
"This report flips the narrative that frames poverty as a problem on First Nation reserves. Instead, it points towards the Canadian government to understand First Nations poverty," Pasternak added.
"Here are the receipts and what actually happened, here are the policies, the legislation, the neglect, the incompetence, the corruption, this is the creation of Indigenous poverty."
Related stories: