Filling a critical need: two nursing students tell their stories
The Daphne Cockwell School of Nursing and its students are helping solve a nursing shortage issue
May 14, 2021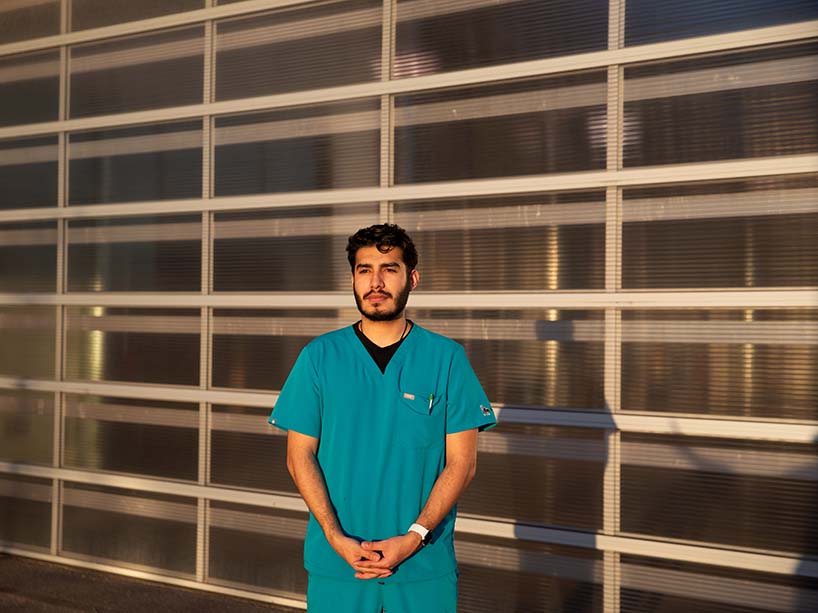 Before he even graduates this spring, nursing student Luis Diaz is already working two jobs. He works part time as an Emergency Room extern at Credit Valley Hospital in Mississauga and a Medical-Surgical extern at Oakville Trafalgar Memorial Hospital. As an extern, Diaz takes patient vital signs, re-stocks supplies and does whatever he can to support the nurses he works with.
Bre Hobbs is also graduating this spring. She has been working as an ICU nursing extern for the past several months of the COVID-19 pandemic. First, she completed her fourth-year placement at Humber River Hospital before working at Southlake Regional Health Centre in Newmarket. It's hard for Hobbs to identify a "typical" day in the ICU, because right now nothing is typical.
"You have to be very flexible," she said. "Sometimes [there are] no breaks. But we really get to help the staff and you can see that it is such a great help to them."
Due to an overwhelming demand for nurses, many Ryerson nursing students like Hobbs and Diaz are already providing a much needed support while waiting for their official nursing licence. They are able to do this through a nursing externship program funded by the Ontario government. The provincial Ministry of Health has identified areas in Ontario and the GTA that are experiencing a significant shortage in available health-care professionals and has provided funding to hire new and unregulated nurses to help fill staffing gaps.
Maher El-Masri, director of the Daphne Cockwell School of Nursing (DCSN), says the university has been doing its part in supporting this need by encouraging its nursing students to take advantage of these employment opportunities.
"This program provides students with many opportunities," he said. "It's an opportunity to network, work independently, and gain additional skills."
El-Masri adds that, as employed nursing externs, students like Hobbs and Diaz are able to broaden their clinical practice exposure and enrich their experiences.
'Bonus placement'
"It's like a bonus placement," said Diaz. "[The externship] is formatted to help us learn and to help the hospital as well." Diaz says that the nursing staff he works with really want externs like him to learn new things and he appreciates being given opportunities, even if it is to watch.
Hobbs says it has been gratifying to work in an ICU and help families who are struggling, especially during the pandemic. She chose to pursue a nursing career because she has always taken on the caregiver role in her own family.
The Ontario-funded externship she and Diaz are participating in is scheduled to run until August, with the possibility of being extended.
Based on data from 2019, the Canadian Institute for Health Information reported that there are nearly 440,000 nurses in Canada. As the largest undergraduate nursing program in Ontario, DCSN is helping to increase that number. El-Masri is working with the College of Nurses of Ontario to fast-track eligibility for temporary licensing to graduating students while they wait to write their registration exams.
"We need as many nurses as possible," said El-Masri. "The School of Nursing is doing, and will continue to do, its part in this regard."

Related Stories: