COVID-19 vaccination clinic opens at Ryerson
The university is collaborating with Unity Health Toronto to administer vaccines based on the provincial eligibility criteria
May 04, 2021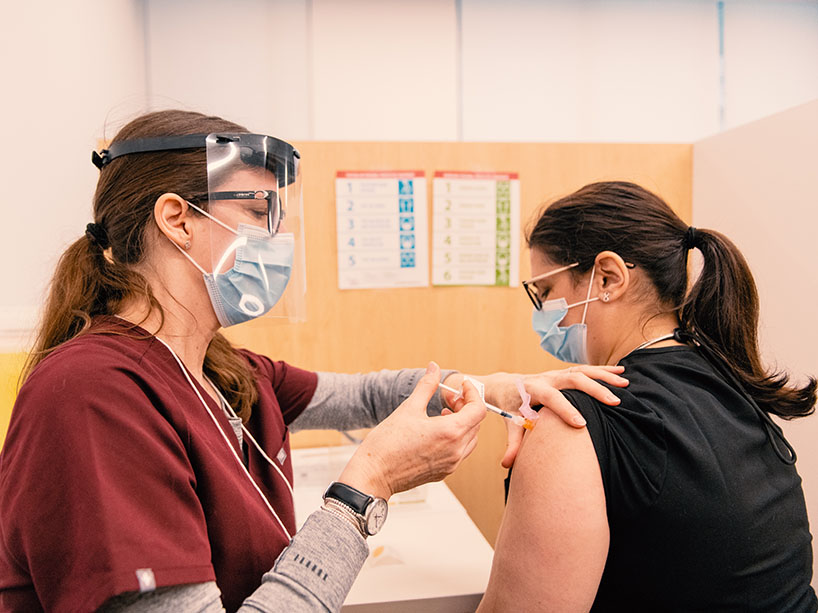 Ryerson University has converted part of its Daphne Cockwell Health Sciences Complex into a COVID-19 pop-up vaccination clinic to serve the downtown east Toronto community.
Health care workers and nurses, mostly graduates, instructors and staff from the Daphne Cockwell School of Nursing and physicians and staff from the Ryerson Medical Centre, began administering vaccine doses on May 3 to people who meet the eligibility criteria set by the province.
"Our collaboration with Unity Health Toronto to host a community vaccination clinic is a prime example of both Ryerson's continued resilience and our commitment to our local community. We are proud to partner with like-minded organizations to confront the most pressing issues and help shape a better future for our community," said Mohamed Lachemi, president and vice-chancellor of Ryerson University.
Unity Health Toronto, external link is leading the COVID-19 vaccination program in downtown Toronto and collaborating with community partners to support pop-up vaccination clinics in local neighbourhoods, including the one at Ryerson.
"Promoting socially responsive nursing and preparing our graduates to address global health needs is the School of Nursing's top priority. We're excited to be a part of this university initiative in collaboration with Unity Health Toronto – a great supporter of our nursing program," said Susana Neves-Silva, manager of Central Placement Office and Simulation at Ryerson's Daphne Cockwell School of Nursing, who is pictured above receiving her first vaccine dose.
"We have simulation staff, faculty, clinical instructors and new nursing graduates working in the clinic in a number of roles ranging from vaccination, syringe loading and clinical observation during recovery," Neves-Silva added.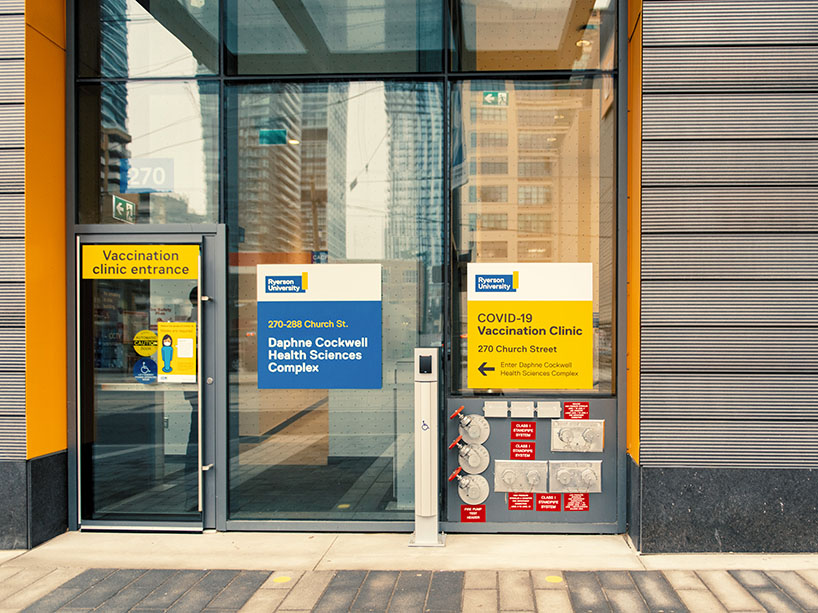 A cross-functional, collaborative effort
Ryerson's Medical Centre and Health Promotion Programs have demonstrated their expertise and capability to run a clinic through their many flu vaccination campaigns. But just like the virus itself, the scale of the COVID-19 vaccine clinic will be unprecedented.
"In the past, the Medical Centre and Health Promotion have administered hundreds of flu vaccines over the course of a semester, but the COVID-19 community vaccine clinic could potentially administer upwards of 500 vaccinations per day," said Allan MacDonald, executive director of student wellbeing at Ryerson.
As part of its soft launch, the clinic administered 111 vaccine doses on Thursday, April 29 to eligible Ryerson staff and community members.
"Even though we have the expertise and capacity needed, setting up a vaccination clinic of this scale from scratch in a matter of weeks required an extraordinary level of collaboration between different departments of the university," MacDonald added.
The Office of the Vice-Provost, Students, School of Nursing, Facilities Management and Development (FMD), Athletics and Recreation, Computing and Communications Services, Community Safety and Security and Human Resources were part of a cross-functional team of experts that organized the vaccination clinic on campus.
"We need trained clinical staff, swift administrative leadership and dedicated personnel on the ground to handle the operations of the clinic – to monitor vaccine eligibility, register individuals with appointments and manage the flow," MacDonald said.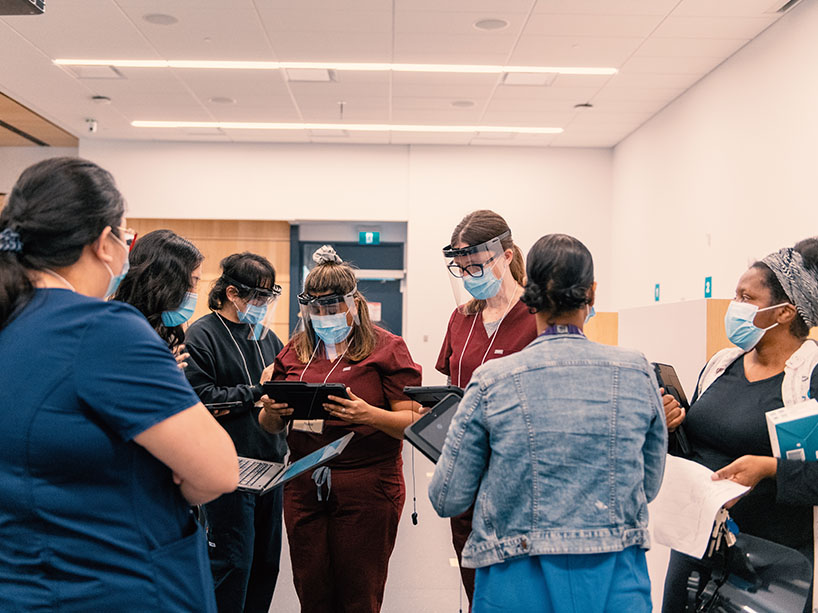 The planning process
While Human Resources took care of staff allocation needs, Community Safety and Security developed plans for crowd control, queue management and security.
FMD's space planning team identified the appropriate site that met Unity Health Toronto's criteria for a community pop-up clinic. The project management team then developed a detailed layout for the space, including the furniture, equipment, power and signage needed. The environmental health and safety team established safety plans for the clinic's operations.
"The Daphne Cockwell Complex provides an area of 4,000 square feet that easily accommodates the desired eight vaccination cubicles, space for physically distanced queuing, screening, registration, waiting and recovery space after a dose is administered," said Janet Hercz, executive director of business operations and space planning at Ryerson.
The space is also barrier-free and accessible, with a separate entrance and exit for people visiting the clinic.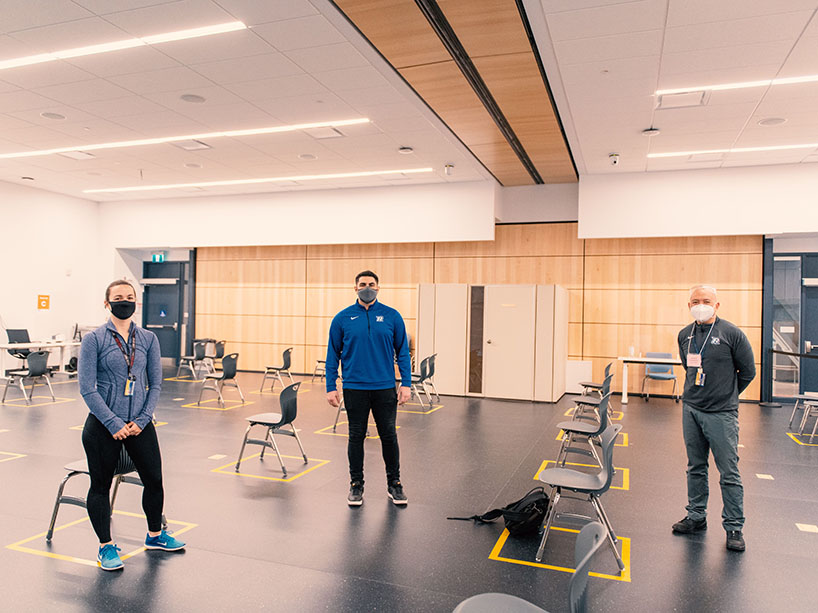 The facility services team helped set up the required furniture and equipment, while the communications team produced a comprehensive signage package.
Further, Computing and Communications Services helped with setting up and configuring the technical equipment along with the computer stations needed to check people in and out of the clinic.
All of this coordinated effort was executed within a few weeks to get the vaccination clinic up and running in time.
"Our clinic will play a vital role in supporting vaccination efforts in the downtown east Toronto neighbourhood in collaboration with Unity Health Toronto," MacDonald said. "We're looking forward to serving our community as more and more people become eligible for the vaccine under the province's prioritization guidelines."
Find more details about vaccine eligibility and requirements at the Ryerson vaccination clinic website.
Book your appointment through the COVID-19 community vaccination clinics website, external link.