Ryerson grad photographs Elliot Page in TIME's first cover of trans man
'It meant the world to me to be able to help him tell his story,' says Wynne Neilly
April 09, 2021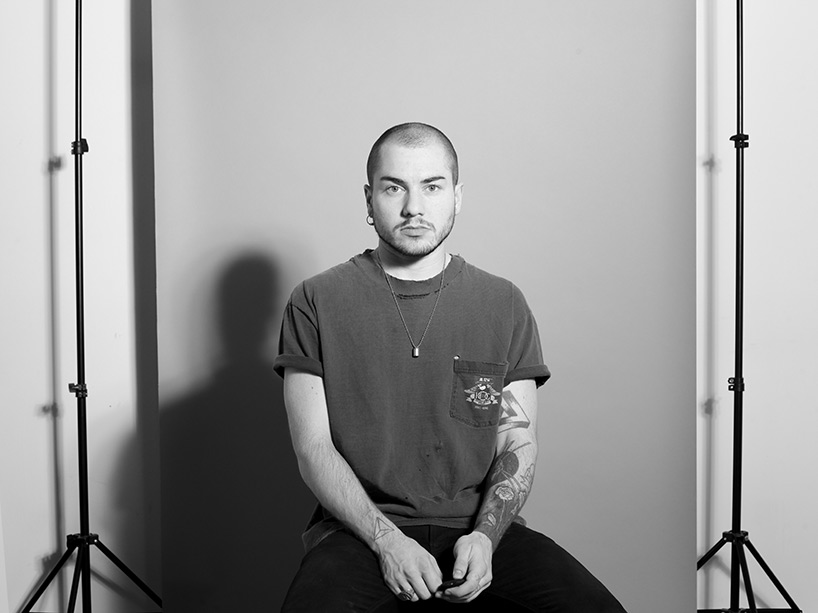 When Wynne Neilly was graduating from Ryerson University's image arts program in 2012, he had no idea the journey that would unfold.
The skills and talent he'd been honing behind the lens, combined with his work focusing on the 2SLGBTQIA+ community, along with his own experience as a trans man, would eventually culminate in a life-changing opportunity: Wynne was chosen to photograph Hollywood star Elliot Page for TIME magazine - capturing the first cover shot of a trans man for one of the world's most influential and powerful publications.
It was Page himself who requested Neilly for the shoot, which took place on March 5 for the March 29-April 5, 2021, issue of TIME.
"It's monumental," Wynne said.
Below, learn more about the 30-year-old Ryerson graduate and his remarkable experience and achievement in a Q&A with Ryerson Today.
Q&A with Wynne Neilly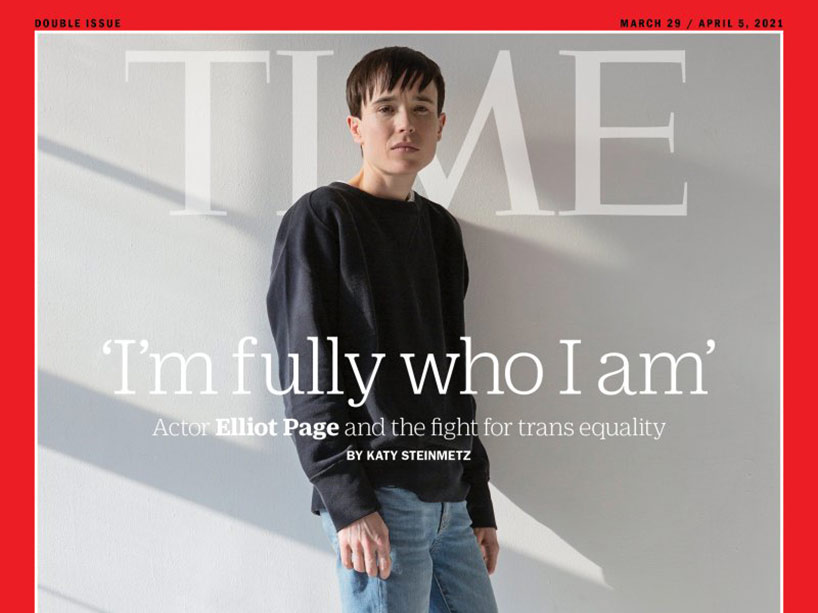 Ryerson Today: Talk about the TIME magazine photo shoot with Elliot Page. Was there a certain tone you were aiming for? Did Elliot express desire for a particular 'feel' for it? How did you decide on location, poses, etc. ?
Neilly: My main goal in shooting these images was to represent Elliot in an authentic and honest way. This was a really vulnerable experience for Elliot so protecting his integrity in these portraits was really important to me. Other than some notes on direction and tone, I was given a ton of creative freedom on this shoot which was really empowering for me as this was my first major shoot for a publication. Both Time and Elliot trusted me to do my thing and let me run with it. The clothing was pre-determined by a stylist, however both Elliot and I worked together through the shoot to decide on which outfit worked best with which shot. When selecting a studio to work in, I really wanted something simple and clean but with rich dramatic lighting. I got really lucky with windows that faced south-west so I had some really incredible evening sun hitting the studio when we were shooting.
Ryerson Today: Were you a fan of Elliot's prior to the opportunity to photograph him? How was his coming out as trans meaningful for you? Did it have an impact?
Neilly: I have always appreciated, respected and enjoyed the work that Elliot has put out into the world. When he came out as trans it was a really huge deal to me. There is such a lack of trans masculine representation in the media so it was really amazing to see him living his truth authentically and to see him start to share his experience with the world. It was really validating to know that someone with such a large platform would be speaking to parts of my experience that have always made me feel misunderstood.
Ryerson Today: Elliot specifically sought out a trans photographer for this shoot. How did it feel when you learned that the actor had specifically requested you? What did it mean to be that person to help foster that safe space?
Neilly: I have so much gratitude for his choice to request me as his photographer for this historical moment. It really meant the world to me to be able to help him tell his story and that he trusted me to do it right. It felt like a lot of pressure but at the same time I knew I was the right fit and I knew I could deliver. This really proved to me that if he was drawn to my images, then the energy and the intimacy that I help cultivate in my work is noticed and leaves a positive impact for observers.
Ryerson Today: You said in your recent CBC interview that it was "in the image arts program at Ryerson where I really bloomed into my personal photographic style." Could you talk about this - how did Ryerson's program, and your experience at Ryerson help you as a photographer or have an impact on your career?
Neilly: University was a really impactful time in my life. I was starting to really figure out who I was, meeting new groups of people in Toronto, and the image arts program allowed me to investigate myself and my blooming identity through my school projects. Second year of the images arts program was when I really started to explore my style of photography and when I found value and purpose in portraiture.
"Photography became a way for me to connect with a community that I so desperately saw myself being a part of, and it allowed me to better understand how to find myself. The queer work I was making in school was always welcomed and I felt really supported in making the work that I was most interested in exploring."
Ryerson Today: Talk about the impact of photography as a medium to create dialogue or spark change. Do you feel your work for TIME is having an impact?
Neilly: Photography is a universal language that can communicate so many different emotions, experiences and ideas all in just a few seconds of exposure to the content. Image-based media has the ability to influence the way we relate to one another and it sets the tone for how we as a culture and society move forward. This will help to normalize the trans experience. The more images we see of trans people the more we will all start to understand that trans people are everywhere. I think this TIME cover is a really important moment in history for trans representation. There are so few examples of trans masculine identity in mainstream media so this is a huge shift. I'm sure this cover will be extremely validating for a lot of youth out there struggling to find themselves and wondering what kind of future they might have. Having a trans photographer shoot the cover for the first trans man on TIME magazine is monumental.
Ryerson Today: In terms of advice, what would you say to Ryerson students looking to pursue their dreams in photography?
Neilly: Never stop making work. Never stop pursuing your goals and never stop exploring new ideas. It can take a long time to develop the right network and find your place in the photo world but persistence is key. Oh and the most important thing: Stop comparing yourself to others. Everyone's path looks different.
--
Neilly, who is a freelance photographer also working for a tech company, is now living in Hamilton, ON. To learn more about his work, please visit:
https://ffoto.com/collections/wynne-neilly, external link
https://www.wynneneilly.com/, external link
Related: