Creative Native connects, empowers Indigenous youth in pandemic
Program pivots to online format, helps youth gain valuable skills
April 29, 2021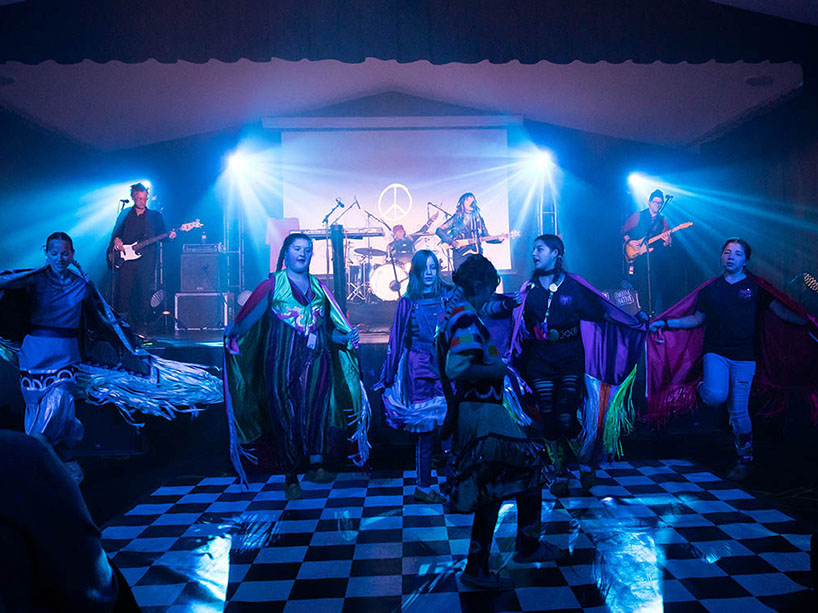 Before the pandemic, the Creative Native program was already proving to be invaluable.
Led by music industry icon Buffy Sainte-Marie, in collaboration with RTA School of Media professor and Saagajwe Director Lila Pine, the program gives Indigenous youth the chance to learn new skills in media and the arts, helping empower them for the future.
But this year, the program served to do far more than that.
Pivoting to an online format due to Covid-19, Creative Native has helped connect youth at a time of extreme social isolation.
It also provided an important chance to develop new skills when many other learning opportunities had fallen to the wayside.
"For me, the best part of the program has been the connections I've made with participants and the mentors," said Jessica Frappier, 22, who lives in Copper Cliff, Ont., a town of about 2,500 people near Sudbury, Ont.
"It's been something to look forward to when we're feeling so isolated. It's helped my mental health too - having a bit of social time to speak with other human beings outside of my house… I think it's really benefited all the participants in this way," she continued.
New opportunity in pandemic
Launched in 2019, administered by Saagajiwe, the Interdisciplinary Centre for Indigenous Research and Creation in the Faculty of Communication and Design (FCAD) at Ryerson, participants attended weekly workshops with Indigenous mentors, and produced a finale event in the community, showcasing skills and talents honed in the program - including everything from music and stage production to filmmaking, sound, lighting, photography, dance and more.
The inaugural 2019-2020 program took place in Six Nations, Ont. But in the spring of 2020, as the team at Saagajiwe were beginning to choose the next host community, the pandemic hit.
Faced with physical distancing protocols and ongoing lockdowns, organizers spent the summer rethinking how the program could continue. Finally, in the fall of 2020, the program launched in a new online format - encompassing youth from different communities and reserves across Ontario.
"Because it was going to be virtual, we saw it as a huge opportunity to work with youth throughout the province," said Creative Native project manager Connor Martin, a Ryerson RTA School of Media graduate, noting that participants from this year's cohort live in 10 different communities.
While the new format has presented new opportunities, Martin says the pandemic has also come with challenges.

"It's been difficult. Being online - the students need to have resources," she said.
To illustrate, she describes two siblings who were using the family's sole computer to participate in the program. It was a tricky situation since it was the same computer their parents used for work.
"We were really happy we could help them stay in the program, since Ryerson was able to lend them a laptop," Martin said.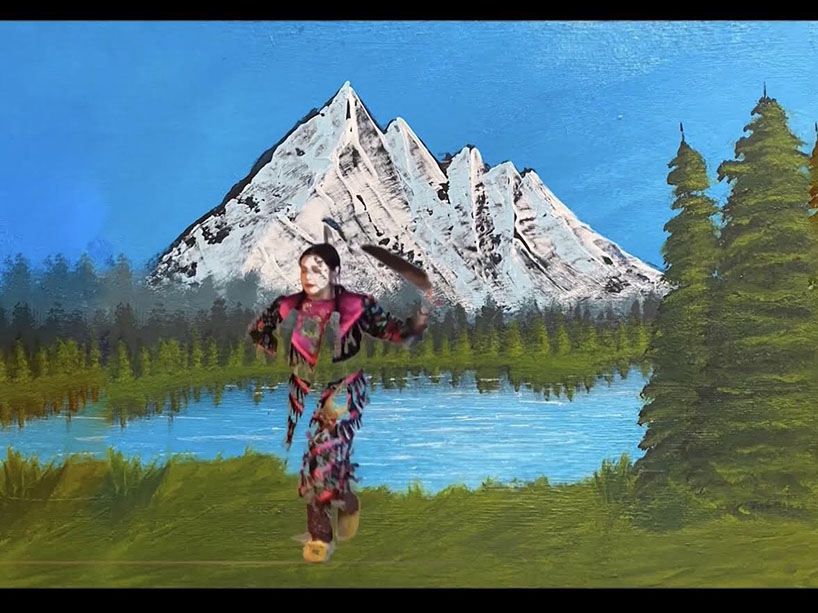 'Double mentorship'
Youth in the program range in age from 14-27, with many of the older participants mentoring the younger ones.
"There's sort of a double mentorship going on which is really neat," Martin said.
In addition, six full-time mentors worked with youth each week.
"They help them create their final projects and also help them with their artistic journey, like in finding themselves as artists," Martin said.
Additional artists gave special online workshops - another unique "silver lining" of the new format brought on by the pandemic.
"Because everything's virtual, this year lent itself to being able to bring in mentors who may not have been able to participate otherwise," Martin said, noting that one mentor artist, for instance, joined from Eastern Canada and another from Thunder Bay, Ont., a nearly 15-hour drive from the Toronto area.
Video production plays starring role
While students had an opportunity to develop their skills in a wide range of art forms, this year, video production played a more prominent role given the virtual format.
"Even if they're dancers or musicians, you have to learn how to do video just because of documentation and putting these fibers together without being together," said Martin.
The newfound focus was a perfect fit for Frappier.
Heading to the University of Victoria to study Indigenous law in September, she says she's always wanted to learn more about filmmaking too.
I'm very passionate about justice and truth telling. I always wanted to do that through creative means. I love documentary storytelling and the research behind it.
Seth Vlotaros, 20, shares Frappier's passion. Until spring 2020, he had been in film school in Toronto.
"I had to leave because of the pandemic, my semester ended a week early. And when I got home, I did exams online," he said.
"I didn't get to work all summer, I was collecting 'cerb'. It was kind of sad, I like to see people, I like to do things, and I was stuck at home," he continued.
Back in his hometown of Emo, Ont., which has a population of 1,300, Vlotaros eventually found a job at an historical centre in Stratton, Ont.
When his boss sent him a message about Creative Native, he leapt at the opportunity.
"I want to work in the film industry, and I know getting experience is one of the vital things you need, so this was a pretty positive thing," he said.
Vlotaros was in a weekly workshop with mentor Kathleen Edwards, who produces and directs with Moontime Productions.
He developed editing skills using Premiere Pro, and was lead visualist on the team - choosing the "vibe", colours, and various types of shots that would be needed for the final video project.
The highlight of the experience, he says, was "definitely the networking".
"With the mentors, the participants, everyone… We gained great career advice, and I would consider everyone my friend," he said.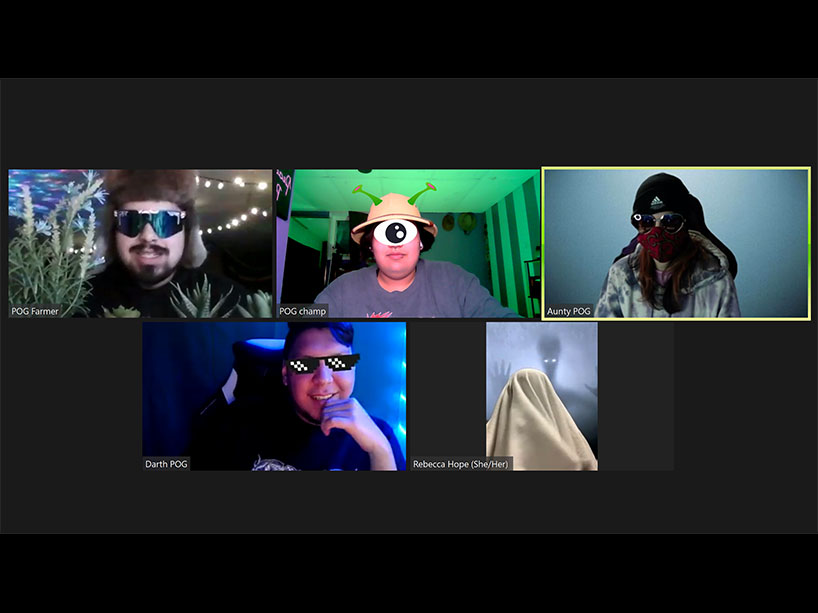 Final project set for film fest
The final project from this year's Creative Native group is a video they produced which will be entered into the annual ImagineNATIVE film fest in September 2021.
Each group is creating a different section of the video, which is being edited together to the song, We are Circling, by Juno Award-winning artist and Creative Native co-founder Buffy Ste. Marie.
Martin is excited to see the finished product.
"I have heard the audio and it's really beautiful. It's amazing what they've been able to accomplish - being virtual and some of them recording and composing for the first time," she said.
'Really grateful'
The freelance producer - Martin operates Little Brown Bear Media from Six Nations, Ont. - highlights that the program is crucial even in non-pandemic years.
"I didn't have exposure to art as a youth. There was nothing like this. But a lot of the students I went to university with, they had already had internships at Rogers TV, for example… I felt like I was behind everybody else, just because I didn't have that exposure," she said.
"It's really important to me just to be a part of creating that opportunity for Indigenous youth. To be able to work and learn from each other, especially this year when they were so isolated, the youth are just really, really grateful," she added.
---
The Creative Native project is funded in part by the Government of Canada and the Ministry of Ontario's Skills Catalyst Fund, along with support from the Social Sciences and Humanities Research Council of Canada (SSHRC), the Bell Media Fund and Ryerson University. Creative Native helps Indigenous artists learn and apply the Medicine of the arts among the people who most need it – their own Indigenous communities.
Related stories: