Ryerson to launch its first-ever Student Diversity Self-ID Report
The data will help move the university closer to its goal of providing a more inclusive education
Category:
From the Vice-President, Equity and Community Inclusion
March 16, 2021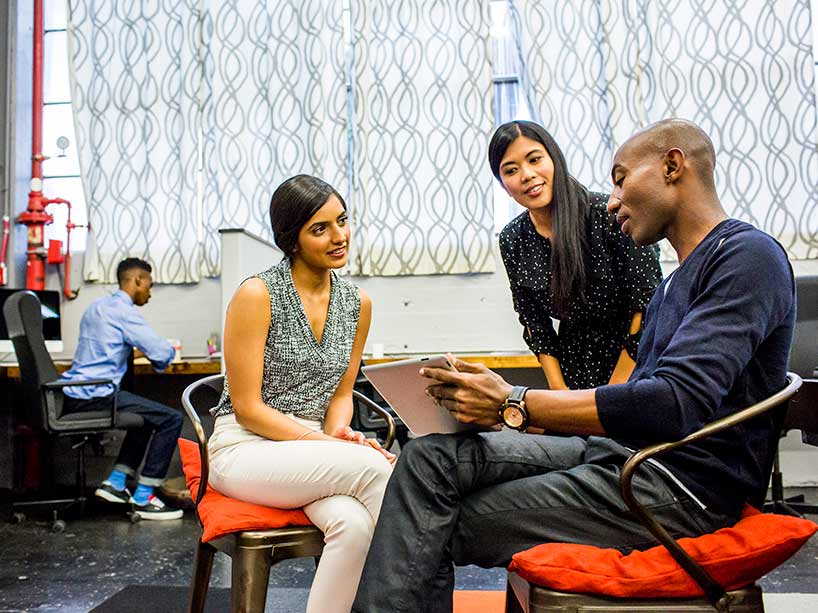 It's exciting to share a first glimpse of our 2019 Student Diversity Self-ID Report, Toward Inclusive Education at Ryerson. This landmark report showcases the diversity of Ryerson students while also identifying where there are gaps in representation in our programs. With this data, we have a snapshot and baseline from which to measure further progress toward equity, diversity and inclusion. As leaders in equity, diversity and inclusion among universities, we recognize there is more work to be done in improving access to post-secondary education.
We have arrived at this important moment thanks to our students, who shared confidential information about their social locations and identities through an online questionnaire. In identifying the many facets of who they are, they have made it possible for us to enhance their experiences and better support their success by advancing inclusion at the university.
Undergraduate and graduate student representation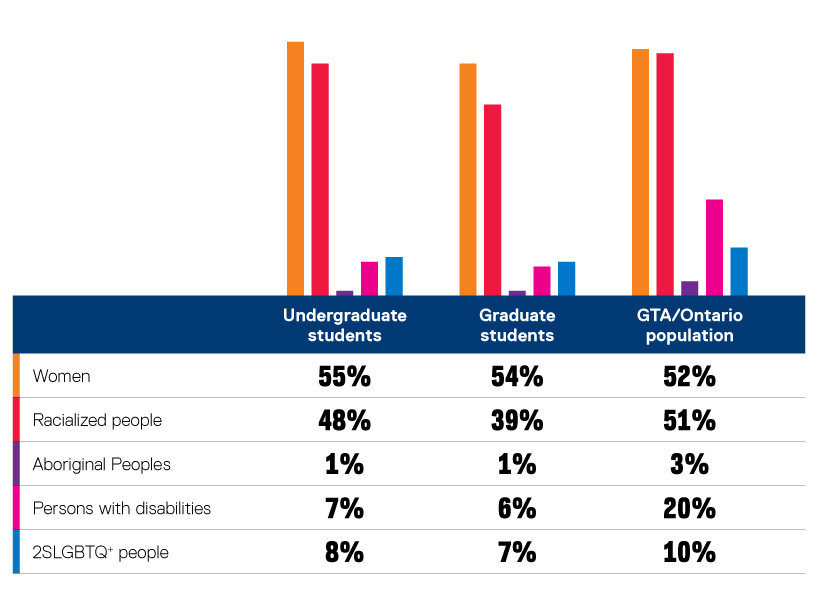 | | Undergraduate students | Graduate students | GTA/Ontario population |
| --- | --- | --- | --- |
| Women | 55% | 48% | 52% |
| Racialized people | 54% | 39% | 51% |
| Aboriginal Peoples | 1% | 1% | 3% |
| Persons with disabilities | 7% | 6% | 20% |
| 2SLGBTQ+ people | 8% | 7% | 10% |
The overall undergraduate and graduate student representation graphic provided here offers a few initial insights. The distribution of equity groups tells a story. When comparing our student equity groups with the GTA or Ontario population, in some areas we reflect our community favorably and in others we do not. The disaggregated data—which you'll see reflected in the report cards in the full report—reveals both highs and lows in terms of representation within our faculties and programs.
Since publishing our Employee Self-ID Reports in 2014, 2016 and 2018, the Ryerson community has asked for a student version. We are pleased to provide it. Because of our shared commitment to inclusive excellence, we know that this data will inform honest conversations and important work, at all levels of the university, to address systemic inequities that persist. Our faculties and programs will only grow stronger as we take deliberate action to increase opportunity and access for our current and future students.
I look forward to sharing the full 2019 Student Diversity Self-ID Report by the end of the winter semester.
Denise O'Neil Green
Vice-President, Equity and Community Inclusion