Ryerson students' music video of strangers dancing in lockdown warms hearts, lifts spirits
Students thank volunteers for 'opening a window to city's soul'
March 09, 2021
When Ryerson film students Charlie Hill and Max Mezo set out to create a music video for Toronto band The Neighbourhood Watch, they had no idea if it would work out.
They didn't have any actors, there was no budget, and due to the pandemic, they couldn't even film the band.
"We were just about to go into the second wave, and everyone was really nervous about the virus. It was like, 'How can we get people to be involved in this video while still being safe?'" said Hill, 21.
But, thanks to a little creativity - and the kindness of strangers - not only did they overcome the odds, they created a poignant portrayal of life in lockdown that's pulled on heartstrings across the city, the country, and the world.
'Flood of tears'
The video is as simple as it is touching: in it, a series of scenes show the window of a home. In the frame, a figure, a couple or a family stands motionless. Then, as the music builds, the figures begin to dance.
The simple, relatable shots of people stuck in their homes - combined with the stillness and stoic glances that shift into playful movement and expressions of joy - have connected with many.
"One person wrote, 'This had me in a flood of tears today,'" said Wyeth Roberston, 21, who plays drums in the band and in his third year of history and philosophy at Ryerson. "It really resonates because people are connecting their own experiences of being in lockdown in Toronto, and also, around the world. That's pretty magical for me."
"I've had people reach out to me on Instagram and say it just gave them this tiny little bit of positivity. I think everyone has kind of gotten to that stage where we all feel like prisoners in our own homes, and to see a video of all of these people stuck inside their homes just having a bit of fun, I think people really connected with that emotionally," said Hill.
To date, the video, which was filmed mid-January and launched on February 4, has nearly 29,000 views on YouTube, and was covered in the Toronto Star, external link and BlogTO, external link.
"This wouldn't have happened without the pandemic," said Mezo, 19, who notes that similar to their film class assignments, the restrictions from Covid-19 forced them to be creative.
"For us, it was, you can't film the band, you can't have a set, and no, you can't interact with anybody. You have zero money. I think if we were to do it again and the band was like, 'Sure we'll perform,' it wouldn't have been the same."
Pitch note sent through IG
As for how it all came to be, it was while listening to Spotify that Hill happened upon the band.
When he realized they were from Toronto, he reached out to them on Instagram.
"I just said, hey, I'm in Toronto, I love your music, and I asked if they wanted to have a video done," Hill said, with Mezo noting that it's Ryerson's hands-on approach that gave them the confidence and skill to pitch the project.
Timing and luck were on their side: the band needed a video, and coincidentally, two band members also went to Ryerson - Robertson, and pianist Tyler Moretti, 21, who's in his third year of psychology.
"The video may not even exist if it weren't for Ryerson, in that part of the reason we were so willing to work with people we hadn't met, and couldn't meet with, was because they were people from our community. It helped us know we could trust them," Robertson said, adding that working remotely for the past year also prepared each of them for the virtual collaboration.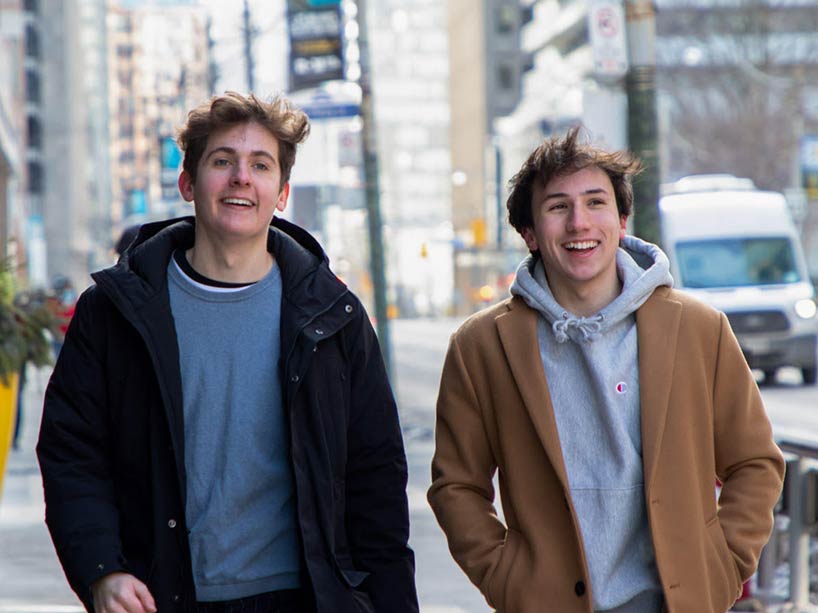 Inspiration strikes
As for the concept of the video, Hill explained that the idea stemmed from the work of Japanese photographer, Shizuka Yokomizo.
"She did these photography portraits about 10 years ago where she walked around London, Tokyo and Berlin, and wherever there was a nice ground floor window, she posted a letter to whoever lived there, and she'd say, 'Hi, so and so, if you're available, please appear at your window at this time, and draw the curtains,'" Hill explained.
So, the duo left 250 letters with their request around Hill's neighbourhood. When the letters went largely unanswered, a suggestion from Mezo's mom led them to post in a Scarborough Bluffs neighbourhood Facebook group.
"Suddenly, Max's phone just started pinging and like all of these messages were flying in. We were overwhelmed with how many people wanted to help out," said Hill.
Plot twist
The two planned out how the shoots would work, allotting 15 minutes at 27 homes over two evenings. Using Google Maps, they plotted out the houses of the more than 50 people, strategized the most efficient route, and drove around filming for two to three hours each night.
"We would give them a call and say, 'Hi, we're outside your house. Are you okay to do this thing for us?'" said Hill.
Then came the plot twist.
"We're turning up at people's houses, and we're asking people to stare out the windows, and they have no idea they're going have to dance - Max's post hadn't mentioned that," Hill explained with a laugh.

But, to their delight, participants more than obliged.
Given that they were filming at night, they also said most of the time, people couldn't even see the students outside filming.
"I think they could just see their reflection," Hill said.
"So, there were times when I'd be like waving my arms telling them to stop dancing and stuff, but they couldn't see us… So, we had to give them a phone call and say like, 'Oh, actually, we're down the driveway," Hill said.
Both were amazed by the willingness of strangers to help, noting that one couple even offered them curry.
As for the motivations of their participants, most people told Hill and Mezo they were simply bored at home and wanted to do something fun. And - they've been thrilled with the outcome.
"This message says, 'Thanks for letting us participate. I'm so proud to be part of it,'" Mezo read. "It was people thanking us, which was crazy. I'm like, no thank you."
Related