Internationally Trained Medical Doctors program launches in Brampton
Course helps doctors transition into careers in the Canadian health sector
February 26, 2021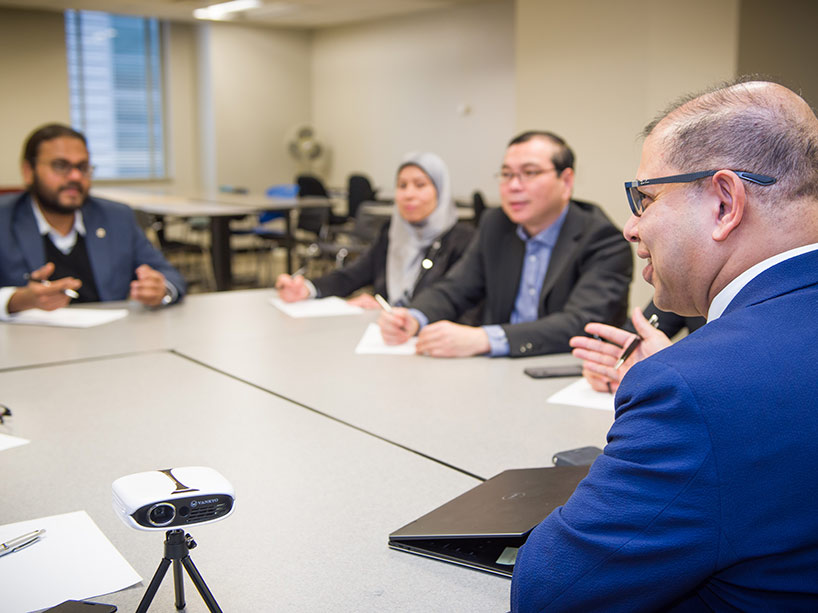 How do you improve community health? It's a question that is front and centre because of the COVID-19 pandemic, which has highlighted the need for culturally diverse health care professionals, particularly in the province's hot spots.
The answer: build local capacity by putting the expertise of Ontario's thousands of under-employed or unemployed internationally trained medical professionals to work, says Dr. Shafi Bhuiyan, cofounder of Ryerson's Internationally Trained Medical Doctors (ITMD) Bridging Program.
ITMD is the first program of its kind, helping internationally trained medical doctors transition into careers in the non-licensed health sector. Over this past year, graduates have been hired to help with the province's COVID-19 response. "They are working in contact tracing, case management, and mental health," says Dr. Bhuiyan.
On Feb. 8, 2021, ITMD moved to Ryerson's newest Innovation Zone in downtown Brampton although it's being taught virtually right now. A partnership with the city that also includes Ryerson's Rogers Cybersecurity Catalyst, the Innovation Zone will form the foundation for an innovation ecosystem in Brampton.
"I am proud that Brampton will be the new home of Ryerson's ITMD Program, allowing our city and our province to build up its medical capacity and support the next generation of highly skilled health-care professionals," says Brampton Mayor Patrick Brown.
Increasingly, these professionals are new Canadians. According to the 2016 Census, more than 50 per cent of Brampton's population were born outside Canada, with India the most common place of birth. ITMD's newest cohort of 24 students includes 13 participants from Peel region. They are all newcomers from South Asia.
Dr. Bhuiyan moved to Canada from Bangladesh in 2010, and experienced first-hand the two top challenges internationally trained health professionals face: a lack of Canadian education and Canadian experience. "Only three per cent to five per cent of foreign-trained medical doctors get licensed to work in Canada. The other 95 per cent and more are left out. Even if we are not getting licensed, we should have a chance to stay in the field. I wanted to be part of the solution."
After consulting hundreds of internationally trained doctors and identifying the skills needed to allow them to move beyond clinical practice, he launched ITMD at The Chang School of Continuing Education in 2015. Over the course of 13 weeks, participants receive training in health research, analysis, data management, project management, health informatics, and communication and leadership skills. This is followed by an optional eight weeks of volunteer practicum training with one of ITMD's 25 community partners.
"ITMD is a lighthouse for new immigrant health professionals. It's a platform to advance their professional journey in Ontario and to support our health system."
Sanjit Kharwal is one of ITMD's 253 alumni and among the more than 85 per cent of graduates to successfully join Ontario's non-licensed health sector. He immigrated to Canada from India in 2019 armed with a doctor of medicine and master of public health degree and five years' experience working on global health projects.
"Having Ryerson's ITMD on my resumé played the biggest role in my gaining employment," Kharwal says. Today, he is an environmental health coordinator with the Windsor Essex County Health Unit, helping advance public health and promote pandemic control efforts.
"As our government looks ahead to Ontario's post-pandemic future, I'm encouraged by the remarkable work Ryerson is doing to build up capacity in one of our most important sectors – health care," says Prabmeet Sarkaria, associate minister of small business and red tape reduction. "The ITMD Program in Brampton will quickly provide students with training and more opportunities to develop their skills, while connecting them with employment in the health-care sector to help increase access to health care."
Ryerson is grateful for the vision and support of Dr. Shafi Bhuiyan and the Toronto Global Doctors Lions Club, and for their lead gift to establish the ITMD Awards program. To support the ITMD program, please visit the site or contact Michelle Hounslow at michelle.hounslow@torontomu.ca.