Creating a caring future
Two Ryerson community members talk about advocacy work in the pandemic and the inequalities it's laid bare
March 02, 2021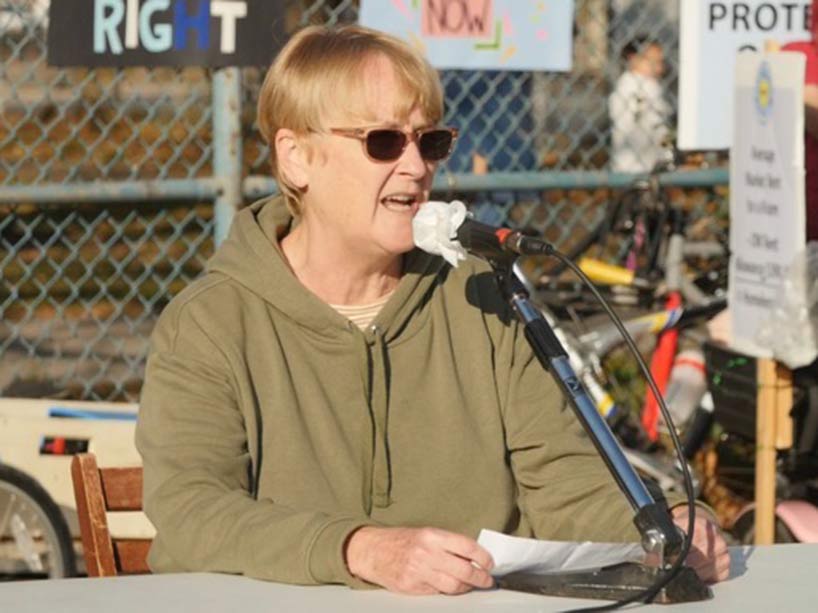 A quick look around makes plain that the COVID-19 pandemic hasn't impacted us all in the same way. Poor communities and those living with homelessness, Indigenous and racialized populations and incarcerated people have been experiencing a double crisis: the marginalization they live with on a daily basis, compounded by a global health emergency that's opened up major economic fissures.
Diving into the considerable injustices – renters have been evicted and encampments around Toronto grow, health care workers are experiencing greater mental health challenges, domestic partner abuse has increased – can have us questioning if caring in society is becoming scarcer. But COVID-19 has also compelled community members to adopt new forms of taking care of one another, whether it's physical distancing, organizing in newly found spare time or establishing mutual aid initiatives. It also has community members considering these large challenges in new ways.
Two Ryerson community members, Cathy Crowe, public affiliate in the Faculty of Arts and a street nurse, and alumna and former Jack Layton Chair administrator Alannah Fricker have both been deeply involved in community care activism. Ryerson Today connected with them to discuss the community care projects they've seen since the pandemic began and what futures they're envisioning, post-pandemic.
Cathy Crowe on homelessness and the Encampment Support Network
Cathy Crowe, a Toronto street nurse, educator and social justice advocate, has been on the frontlines of the pandemic advocating for safer shelter conditions and housing for all.
What was the most urgent issue in your work at the outset of the pandemic?
At the beginning of the pandemic, myself and others were working to address the lack of community space that was suddenly unavailable. The closure of libraries and community centres meant that homeless people lost important places where they could go inside and use the computer or washroom. It took six weeks of constant work to get two portable toilets put up at Sherbourne and Queen near an encampment.
Tell me about your work with the Encampment Support Network (ESN), external link.
When we began to see physical distancing measures in shelters, the encampments began to grow. The ESN is providing basic public health measures to those living in these encampments; initially they were supplying hand sanitizer and masks for people that wanted them as well as water to wash their hands. And then it grew to supplying first aid, medical supplies, clothing, tents and tarps. Everything that they were providing was exactly what was needed, and they were doing it in a really creative way. And I noticed they were clearly very connected to people on the ground that were living in the encampments.
The ESN mandate has changed a lot and their role has been more about moving people out of parks into shelter. They've done their work in a true community development fashion, as if they were all graduates of our social work program. They're primarily artists, musicians and cultural workers that are out of work because of COVID and they're highly skilled in terms of organizing.
Is COVID-19 shining a light on community inequities?
Well, face masks were not mandated in the shelter system for homeless people until September 4, 2020. When you watched the World Health Organization press conferences, it was many weeks before you heard the word refugee or homeless in terms of those two groups being identified as a population at risk.
I think it's a question of discrimination because it is well known that, in congregate settings like shelters, prisons and long term care facilities, the risk of transmission is huge.
What do you think are some of the major changes we might see, coming out of COVID?
Leilani Farha, a Canadian who served as the Special Rapporteur on adequate housing for the UN, said never has there been a time where the right to housing was more evident than amid a pandemic. So I think one of the things I want to see come out of this is the fact that the federal government needs to have a very robust national housing strategy, similar to what we had after the Second World War, where they're building social housing or rent-geared housing in large numbers every year.
The next thing would be the recognition across the country that the new concept for shelters will be one person per room, because we will always need emergency shelters. Putting multiple people in one room can no longer be acceptable. There needs to be funding for existing shelters to do rehabilitation in their buildings to convert big rooms to small rooms.
To donate to ESN, visit their Patreon page, external link.
Alannah Fricker on prisoner support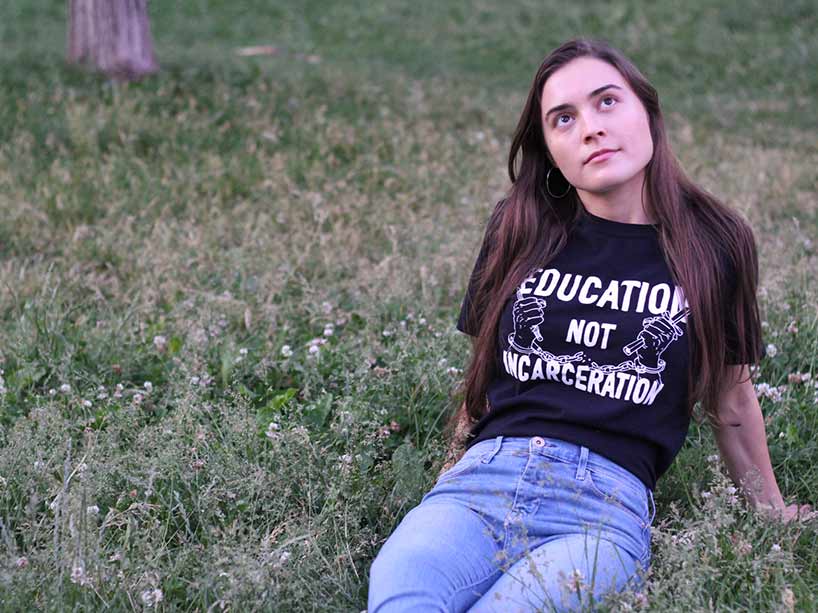 Alumna Alannah Fricker (social work '20) has been involved in community care activism throughout her degree at Ryerson and beyond. Over the pandemic, she has ramped up her advocacy work with the Toronto Prisoner Rights Project (TPRP).
Tell me about TPRP.
I've been working with TPRP since December 2019. We started off with a campaign around access to prisoners' phone lines. After a communication campaign, our group really took off from the small group we started with; we amassed about 130 active members. We have a very large social media following, external link, and we've fundraised almost $300,000 in the last year for various projects and grants to support prisoners in various ways and do different community projects. There's many organizers and I'm just one of them.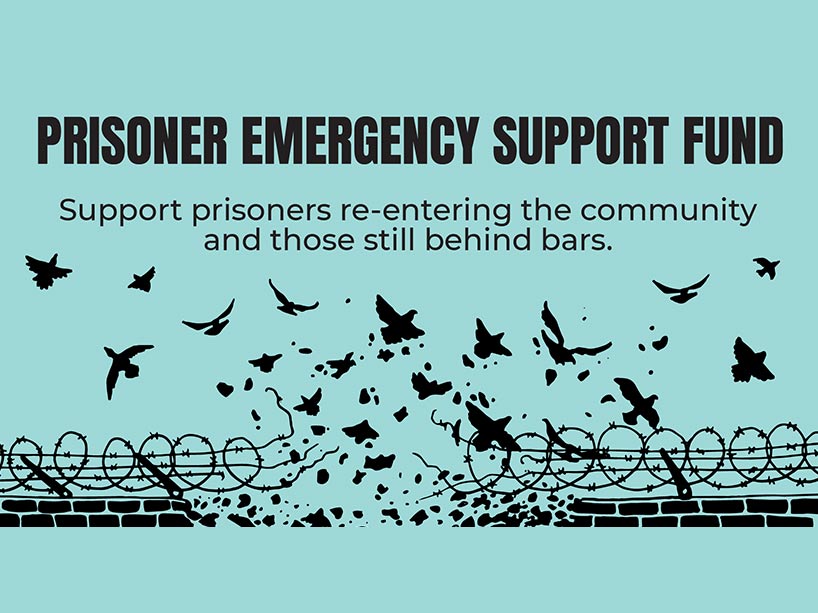 How has the need for prisoner advocacy expanded over the pandemic?
When the pandemic started, we began a prisoner emergency support fund. It was initially imagined as support to have just during COVID-19, because we identified not only so many regular issues with incarceration, but an extraordinarily worse situation where people had even less access to transportation, housing and communication with prolonged lockdowns. Most prisoners don't have access to any sort of PPE - they're not allowed to wear masks or gloves, and they don't have money to buy things like soap. Even any cleaning products they have to buy [at the prison commissary].
What impact has the emergency fund had?
At this point, we've supported over 600 prisoners. We've been doing a lot of online advocacy because of the pandemic, of course. We've been sending emails to our city councillors and members of provincial and federal parliament, and using social media to put pressure on public figures to take action.
Besides the fund, we had a series called Contain COVID, Not People, external link, a bi-weekly webinar series where we educated folks on prison conditions. We're really looking for many different angles on how to support prisoners including all the other things that intersect with criminalization: policing, education and social and community supports.
What motivated you to get involved with TPRP?
My partner and I have done other organizing in the community, so we both got very involved, partially because we've had loved ones who have been incarcerated and carry that very real stigma of criminalization.
A lot of my work focuses on people who are criminalized for drug use and other areas of stigmatization. So the fact that so many people are incarcerated for crimes of poverty and substance use was already really close to my heart.
Do you see a forward momentum in the work?
More and more, we're moving toward a public discourse of police and prison abolition. But there are also people who dig their heels in and stick with the tough on crime thinking that devalues the life of criminalized people. We've heard it said like, 'if they didn't want to be exposed to COVID, they shouldn't have committed a crime and gone to prison' -- this deserving and undeserving discourse where people see prison as a death sentence. The mandate of prisons is supposed to be to provide community safety and to keep people safe and to assist with rehabilitation and community reentry. But we know that once folks are criminalized, it makes it very hard for them to live a law-abiding life because people can't even get housing, food or jobs. So it really just creates the whole problem that it says it's trying to solve.
What ways are you seeing the community come together to take care of one another?
We're advocating for the government and institutions to make changes, but we're also trying to create the systems that we wish to see. If prisoners need support money or resources, we're going to fundraise that money and create those resources ourselves. It's a way to connect with people and bring people into the work.
So many of the people that are now working with our group are folks who were supported by the fund or former prisoners who were really moved by the show of solidarity and support and wanted to get involved.
Why do you think some people are becoming more involved in advocacy work when they're staring down hardships of their own?
I think the pandemic provided some people with time they didn't otherwise have to engage with more advocacy work and to connect with themselves, their loved ones and their communities and think about how they can show up for each other.
I also think it's just created so many disparities, it's really laid bare the inequality in our society and the need for things like affordable housing and decarceration. It's become very clear to a lot of people that something needs to be done.
To donate to the Prisoner Emergency Support Fund, visit the Toronto Prisoner Rights Project website, external link, or to get involved or connect with the project, check out their Instagram, external link.