Ryerson Awards recognize outstanding pandemic response efforts
President's Blue and Gold Award recipients credit team collaboration for swift, effective response to COVID-19 crisis
February 23, 2021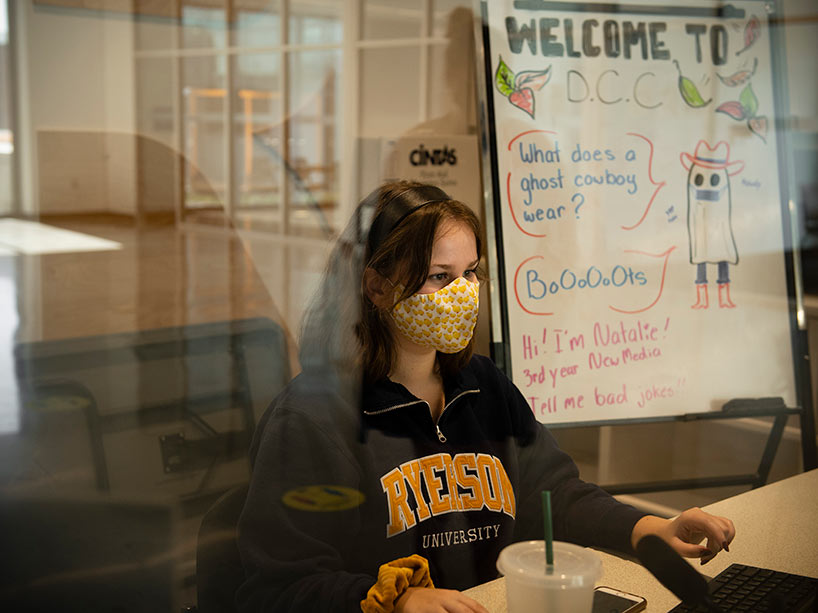 The challenges faced by Ryerson – and the rest of the world – during the COVID-19 pandemic have been unprecedented. But so have the extraordinary response efforts of these three President's Blue and Gold Award recipients.
The Centre for Excellence in Learning and Teaching, the Student Housing COVID Response and Student Experience Team, and Tanya Vlaskalin, manager, Environmental Health and Safety (EHS), biological, chemical and radiological risk, are being recognized for their team and individual accomplishments in helping Ryerson not only survive – but thrive – during this crisis.
"The past 12 months have brought a range of life-changing hurdles to individuals and organizations around the world and Ryerson was no exception," said President Mohamed Lachemi. "The dedication of these award recipients, however, helped support the Ryerson community throughout this period of unparalleled uncertainty."
Exceptional transition to remote studies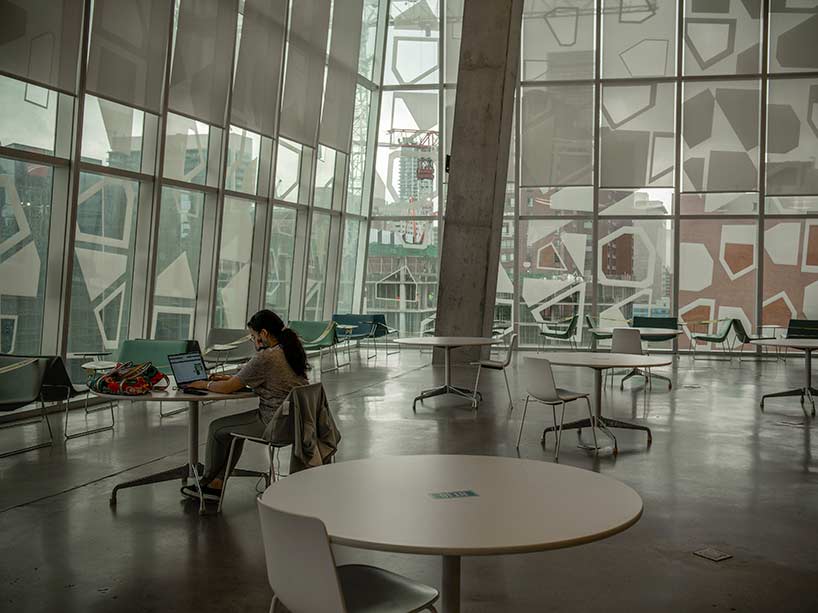 Despite the inauspicious date, when the pandemic closed down the Ryerson campus on Friday, March 13, 2020, Wendy Freeman, executive director of the Centre for Excellence in Learning and Teaching, knew the university was in good hands.
"I logged into my email around 7:30 a.m. on Saturday and my team was already busy creating resources and working together, talking about best practices they could offer and formulating a plan for workshops," recalled Freeman. "They jumped right in and got going remotely, it was really incredible."
The centre is receiving the President's Blue and Gold Award for its exceptional guidance and support of Ryerson's transition to remote teaching and learning. The centre, which opened in January 2020, brings together six teaching support units: Teaching Development, eLearning, Curriculum Quality, Experiential Learning, Academic Integrity, and Digital Media Projects. This award recognizes the speed and dedication with which the centre team responded to the COVID-19 crisis.
The key to this cross-functional team's outstanding response has been two-fold, says Freeman: one, that the expertise needed already existed within the team, and two, that everyone worked collaboratively to support Ryerson faculty, instructors and students in adapting to remote teaching and learning through workshops, resources, consultations, policy revisions and operational ingenuity.
"Everyone contributed to the whole," said Freeman. "Even though we had to continually revise our understanding of what was needed to reflect what was happening at that time."
Throughout this demanding period, Freeman saw some positive results of the centre team pulling together to meet the challenges of the past year.
"It was heartening to see the trust established in the centre by the Ryerson community in terms of us being considered a reliable, knowledgeable resource with expertise in learning and teaching," she said. "Also, strong partnerships have been developed within each faculty, and all the units will continue to further develop the centre – to build the services and resources we provide to Ryerson."
'Safety first' for student housing
Amidst a pandemic, members of the Student Housing, Facilities Management and Development, Environmental Health and Safety, Food Services, and the Community Safety and Security teams came together to create a safe community for residence students – both those who were able to move elsewhere in March 2020, and those who weren't. The multi-disciplinary team's commitment to supporting students, resilience and operational excellence has garnered the Student Housing COVID Response and Student Experience Team a President's Blue and Gold Award.
"We wanted to provide some sort of residence life component to students in a way that was safe and could connect them with community and academic resources," said Marcelle Mullings, director, student housing and community care. "So our campus partners, who we work with every day, had a very coordinated approach."
Over the past year, this work of the collective team led to many pages of safety protocols. After the crisis response, this team continued to work together to create a safe community for students who remained in residence until the end of the 2019/2020 year, and planned ahead for the safe arrival of the incoming class of 2020 in the fall semester.
It helped that these teams are used to working together. "We're longstanding campus partners, we work together in so many ways," said Mullings.
Frontline staff – from housing and residence life, community safety and security and food services – overcame unprecedented challenges over the past year. "It's been a really intense time for our frontline teams and they've really stepped up to the plate."
One of the biggest challenges was giving students the residence life experience they'd come to expect.
"Students come to residence wanting a very social, communal kind of experience. This year, we did that virtually to try to build that community, but it's not quite the same," explained Mullings. "Managing those expectations, and a sense of loss, was challenging for the frontline staff because they're also used to doing tons of activities and giving students a very vibrant residence life experience. We've tried to replace that connectedness in different ways."
For Mullings and her team, student well-being remained a priority throughout.
"We're grateful that we've been able to maintain a safe community, in terms of our students, that's really important for us. We just want to maintain that reality and offer that 24/7 support for the various aspects of a student's personal life and personal growth," said Mullings. "It's important to ensure safety and wellness from the pandemic perspective, but also to support all student needs so they can enjoy living in residence."
Biosafety officer considered 'source of truth'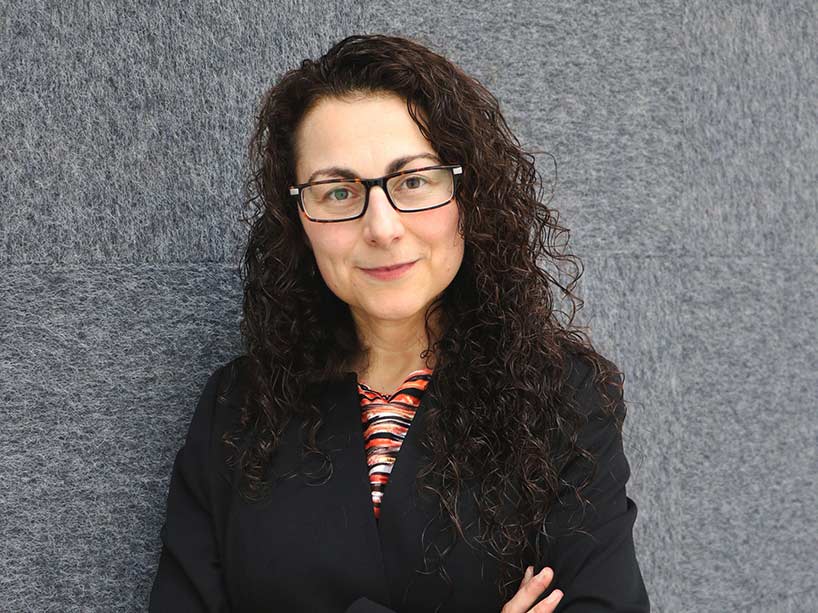 Tanya Vlaskalin, manager, Environmental Health and Safety (EHS), biological, chemical and radiological risk, received the 2021 President's Blue and Gold individual award for her outstanding achievement as the university's communicable disease case management lead during the COVID-19 pandemic.
"I was given the opportunity to be the main point of contact early on for all incoming concerns during those early days of the pandemic," said Vlaskalin, the primary liaison between Toronto Public Health, Ryerson's Public Health Threats Committee, and the rest of the university.
"I was able to use my role as biosafety officer – in collaboration with my EHS team, within Facilities Management and Development (FMD) – to provide recommendations and guidance based on the latest public health information."
Vlaskalin has also been considered the "source of truth" for COVID-19, keeping communication channels up to date with current, science-based public health information to educate and reassure the Ryerson community – a challenge that required her to be responsive and accessible around the clock.
"Work days and work nights blended into one at a certain point," said Vlaskalin. "We would prepare a communication or guideline, ready to launch, and the information would change the next day. So it was a matter of responding quickly, and making sure we were keeping up with the most accurate, science-based information, which was changing day to day."
One of the things Vlaskalin is most proud of accomplishing is becoming a "resource of comfort" for Ryerson community members who needed help understanding the risks, and reassurance of our safety processes and procedures.
"COVID-19 is going to be around for 2021, so we can only continue to learn about it and do our best to guide Ryerson back to a state of activity on campus where it's safe for everyone."
Vlaskalin credits her team – and the wider Ryerson community – for supporting her in achieving timely response planning, COVID case management, and process development designed to keep the Ryerson community safe and well.
"When I reflect on the work over the year – and that includes everyone in the university who had to adjust to new ways of working, teaching, learning – everyone is really deserving of this award," said Vlaskalin. "The entire university stepped up."
Ryerson Awards is part of the larger Ryerson employee recognition program co-ordinated by Human Resources and celebrates the achievements of faculty and staff in teaching, research, administration, service and leadership. Plans are underway for a virtual celebration of this year's award recipients and details will be available soon.
This year, 141 recipients are being honoured, including 66 individuals and seven teams. There were a total of 337 employees nominated for an award this year. Congratulations to all nominees and recipients!
To learn more about all the award winners, visit Recognition and Awards.