The value of a liberal arts degree
The marketable skills gained by arts students open many doors for rewarding careers
January 12, 2021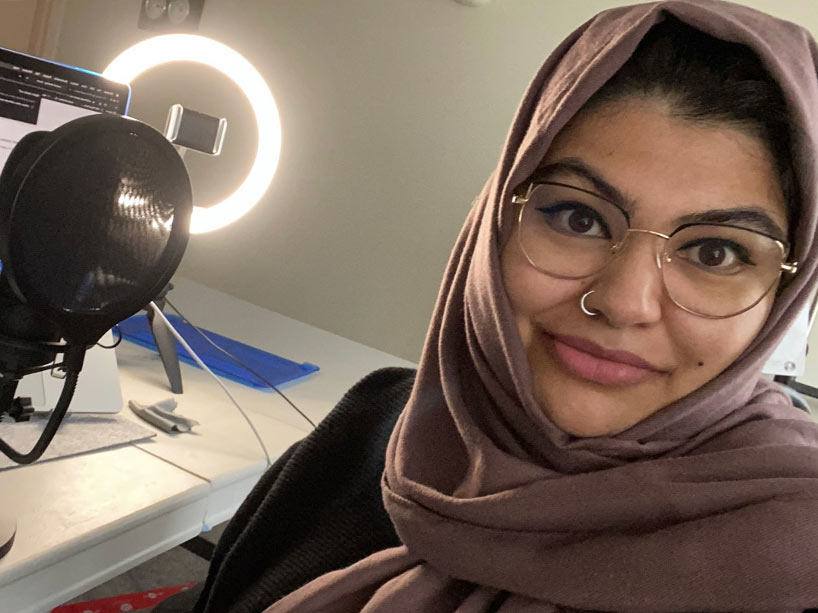 Last year, we were all forced to adapt to new working and learning environments with lightning speed. But even before that, the rapid growth of technology was raising questions about the future of work, types of jobs and the top skills employers value.

Ryerson experts and alumni believe that liberal arts students are well positioned to succeed in these turbulent times, with skills like communication, empathy and leadership becoming even more desirable.
At an event hosted by Ryerson's Faculty of Arts last fall, Jim Stanford, economist and director of the Centre For Future Work, external link, explained how surveys of employers found that while recruiting, "they're not just looking for narrow, technical skills. They actually look for a broader set of skills and capacities, including the ability to solve problems and adapt to change, and skills like communication, leadership and teamwork."

He also noted that "frankly, those are all things an arts degree does better than others."
Understanding society and human relationships
How do arts students develop skills that significantly enhance their employability?

"Learning in the arts requires accepting challenges to personal beliefs, and it emphasizes personal choice and responsibility for decisions," says Ryerson philosophy professor Elizabeth Trott. Students learn how to question, challenge, compare, refute, analyze and alter concepts or ideas – developing critical thinking, flexibility, agility and leadership skills.
Ryerson alumnus Maxwell Irwin (psychology '20) found his degree to be an asset in management consulting, a career commonly pursued by business students.
"Businesses are run by people, and psychology is about understanding people better – how they make decisions and why they make those decisions," Irwin said. "I can apply my knowledge in psychology to different business functions, how companies are running, what they can do better, and how they can motivate their employees."
Mubashira Farooqi (arts and contemporary studies '18) chose a program that allowed her to broadly study social science and humanities, with the option to pick a specialization. She considers her specialization in diversity and equity as her strength, lending her a deep understanding of human issues.

"My degree allowed me to study a whole bunch of different subject matters, from social work to history and English," Farooqi said. "I was interested in the struggles Canadians face due to a lack of equity and inclusion, so I chose that as my specialization and worked to advance equity in the health sector."
With the various career options available to her, she remembers being questioned for her decision to pursue a degree in a seemingly vague and generic topic like diversity.
"It's always been an important topic, but people are just beginning to recognize the value of that kind of education. I think Ryerson has been really forefront in making that available before others saw the importance of it," she said.
Now working in public relations, Farooqi also started the Colour Me PR, external link podcast to recognize diverse and inspiring women in communications.
Unique skills and experiences
Farooqi considers her research, writing and critical thinking skills to be the most essential. "As a communicator, I have to be able to look at a process and critically understand every aspect of a communications plan, or analyze a client's problem and provide solutions. It's also crucial to constantly research and understand a client's business and audience," she said.
Irwin agreed, recognizing that a lot of jobs in the business world require a research background as they involve synthesizing information, writing reports and presentations. "An arts degree trains you for that by helping you develop great writing and public speaking skills, and the ability to work with others in large teams," he added.
Identifying certain skills that arts students bring to the table, Irwin noted that "many consulting and advisory firms specifically look for professionals with degrees in humanities and social sciences. They are also interested in hiring musicians or students of classical music, because of their creativity, ability to understand intricate systems and focus on the big picture while working on smaller moving parts."
Trott pointed out that arts graduates have the ability to recognize standard ideas operating in multiple dimensions, as most arts assignments require analyzing concepts and applying them in new ways.
Finally, Irwin emphasized that an arts education truly helps you understand human interactions and how to connect with others.
"In the coming years, it'll be very helpful to be able to empathize and engage with people, because nobody knows what to expect or what our new normal will look like," he said.