Two Ryerson grads, a COVID-19 challenge and a way to support the food insecure
The Esch 20/20 Challenge at Ryerson helps local non-profit improve service and expand
November 03, 2020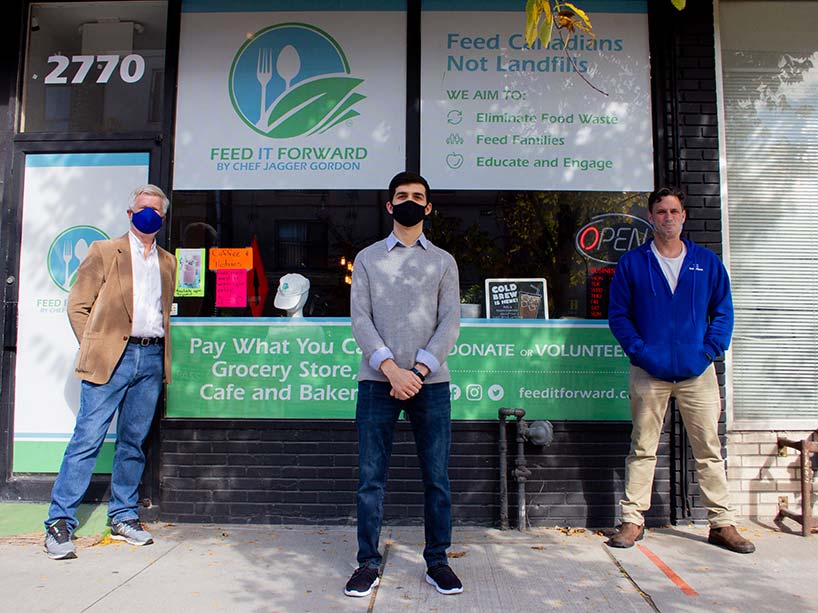 As society faces the challenges posed by COVID-19, the Ryerson community has stepped up and supported each other in incredible ways. Whether it is through donations or innovative research, we've seen impressive effort from across the university.
The Esch 20/20 Challenge was created in the same vein. Generously funded by the Norman Esch Awards, the Center for Engineering Innovation and Entrepreneurship (CEIE) at Ryerson called on students for innovative and entrepreneurial ideas that would help local organizations solve problems they were facing due to COVID-19.
"The Esch 20/20 Challenge is a great example of how quickly the CEIE adapted their program to address a precarious situation like COVID-19," said Tom Duever, dean of Ryerson's Faculty of Engineering and Architectural Science (FEAS). "We are fortunate to have funders and partners, like the Norman Esch Foundation, who are both engaged and supportive of the student experience at Ryerson."
There were three Esch 20/20 Challenge winners in total, each receiving $8,000 from the Esch Foundation toward the development of a COVID-19 solution. The Esch Foundation, via the Norman Esch Awards, offers a financial boost to Ryerson engineering and architectural science students with inventions, technologies, and startups. Since 2009, the foundation has given more than $2.7 million to support student entrepreneurship at FEAS, furthering the research, development and commercialization of ideas for more than 280 students and counting.
Here's the story of one of the Esch 20/20 Challenge winners:
The challenge
Feed it Forward, external link is Canada's first-ever pay-what-you-can grocery store. Founded in 2018, it diverts unused food to its store and makes it available to customers. Feed it Forward not only eliminates food waste, but helps support the one-in-five Canadian families who identify as food insecure. Through this model, Feed it Forward has served nearly 800,000 meals and saved more than 1.3 million pounds of food.
When COVID-19 hit, the not-for-profit organization was challenged in many ways: they needed to modernize to accommodate safe interactions; they needed to communicate with their front-line volunteers; and they needed to scale-up quickly to meet the increased demand from those in need of food assistance.
Wes Leewis - a Ryerson grad (MEIE '18), former Norman Esch Award winner and volunteer consultant at Feed it Forward - along with his colleague and Feed it Forward volunteer, Yoram Shalmon, presented these issues to the Esch 20/20 Challenge participants. They were introduced to Nathan Battersby (MEIE '20), who came up with the winning proposal.
"All of the proposals we received were excellent," said Leewis. "But [Battersby's] went above and beyond."
The solution
Battersby visited Feed It Forward's Junction location and spent time in the store to better understand the problems they were facing.
"Based on my experience there, I made my own entrepreneurial diagnosis and pitched a solution to upgrade the technology they have in-store," he said.
Prior to COVID-19, Feed it Forward was operating with very little technology and didn't have a way of communicating with its members outside of the store. Battersby came up with a simple solution that would not only improve grocery services during the pandemic, but also improve membership management to a point where the Feed it Forward model can expand across Canada and globally.
Using tablets installed in-store, Battersby created software that can manage and record customer visits. Each customer is given a profile and a virtual wallet to hold in-store credits.
According to Leewis, it was this "customer discovery" program that set Battersby's proposal apart from the others in the challenge. The software accommodates all customers (those shopping based on need, and those making donations and shopping to eliminate food waste). It acts as a point of sale, keeps track of contributions, distributes donations to those in need and even alerts customers when food shipments have come in.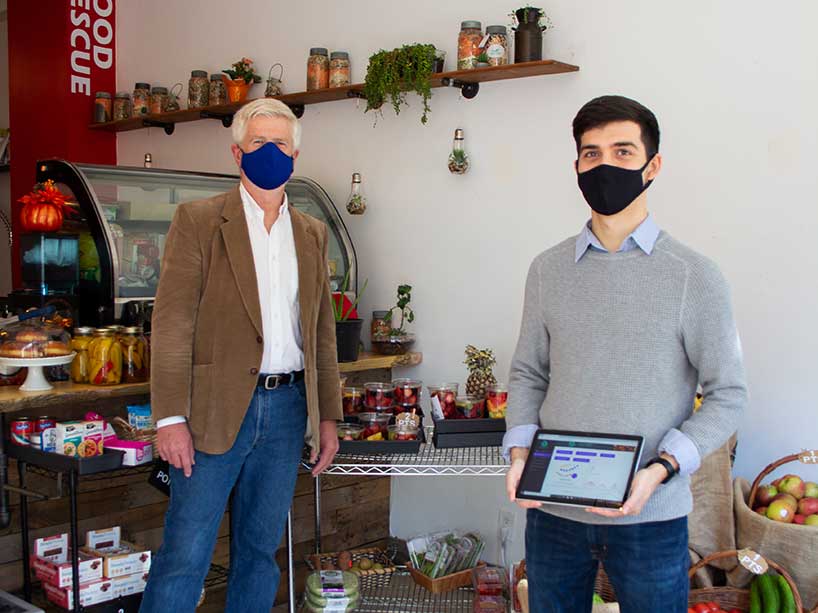 The results
The software for Feed it Forward is undergoing testing and will be formally implemented into the store this month, but it is clear that it offers sweeping advancements for pay-what-you-can organizations.
"Part of what we do at Feed It Forward is provide solutions, for free, to anyone that wants to emulate our business case anywhere in Canada. [This] solution will be made available to other organizations and their communities," said Leewis, who added there is already interest from an organization in Calgary.
The team has grown since the challenge started. Feed it Forward was able to hire two Ryerson undergraduate Software Engineering students, Fatima Rahman and Naureen Kaur, to support their technology overhaul through the Canada Student Service Grant. A third student, Omar Patel of U of T, is also working on the project.
For Battersby, he is thankful for the opportunity to flex his entrepreneurial muscles with support from the Norman Esch Awards. "Early-stage not-for-profit organizations don't typically have the finances to be able to support the integration of technology like this, so it was a win-win scenario," he said. "I get to build innovative technology and they get to have work done for them without having to break the bank."
Visit the Feed it Forward website, external link to learn more.
Related stories: