Ryerson adapts to bring research spaces back safely
How a continuity plan allows students and faculty to carry on their scholarly, research and creative projects
November 13, 2020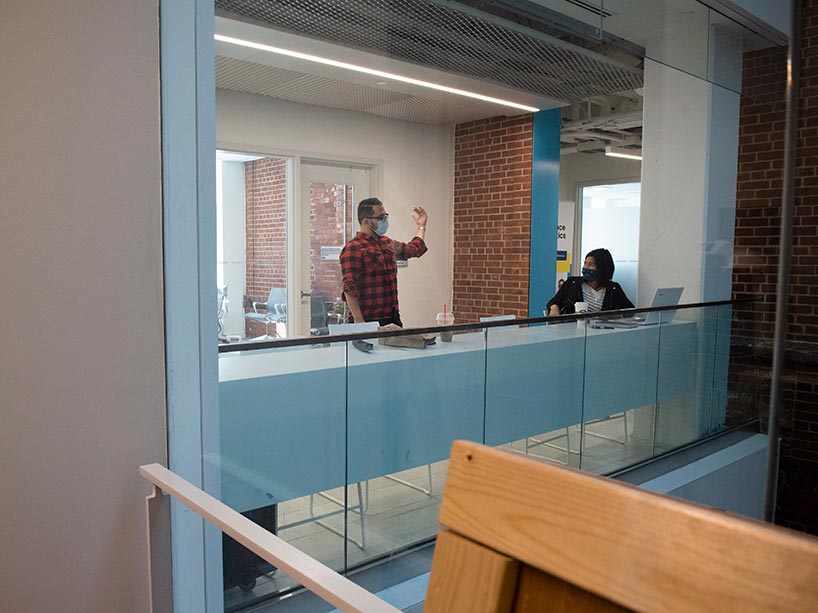 Back in March, Ryerson halted nearly all on-campus activity to help stop the spread of COVID-19 – including many scholarly, research and creative (SRC) activities. While most research teams continued some activities from their homes, including virtual meetings with collaborators and grant application writing, a small selection of essential lab work was able to continue on campus.
The Office of the Vice-President, Research and Innovation (OVPRI) worked quickly to establish the processes and guidelines for research spaces to ensure the safety of all faculty, students and staff on-site. Ensuring that scholarly, research and creative activity could continue safely was a priority for the university because it is a core pillar of Ryerson's academic plan, says Steven Liss, vice-president, research and innovation. "Our research programs are very relevant, they speak to many pressing issues like climate change, health-related research, advances in science and technologies, as well as the economy, and some also address the problems of the pandemic."
"Of course we also looked at it from a student perspective," says Liss. "If students were within a very short period of time of completing experimental work to maintain their trajectory to completion of the degree, then that was allowed to continue with a whole host of criteria."
Switching gears, addressing the pandemic
Before the pandemic hit, Sarah McColman, a PhD candidate in Molecular Science, had been working with Faculty of Science dean David Cramb for two years in his lab. But when Cramb suggested that they switch gears to address some of the challenges posed by the pandemic, McColman's involvement in the research deepened. As a research associate, she is now leading the team in creating a synthetic, non-hazardous virus model that can be used for a wide range of critical research purposes, including drug testing, vaccine development and studies into the virus's persistence in environments, such as wastewater. Their research has been funded through the OVPRI's COVID-19 SRC Response Fund and they were one of the first core SRC activities to return to campus.
Despite the challenges that the pandemic has posed, including shutting down their in-person access to their lab for a month, it has provided the team with some opportunity as well. "From a logistical standpoint, there have been a lot of funding opportunities as a result of the need for more research in this pandemic," McColman says. "There has also been a lot of great collaboration, including internationally, that has come about as well. I think the urgency with which everybody is viewing the research that we're doing now really incentivizes us to work together. It's very exciting to be at the forefront of what the world's really concerned about right now."
Planning the reopening
The reopening of SRC activities has been a coordinated, phased-in process, says Liss, and was not without a significant increase in workload this summer. "We were very mindful of the challenges the pandemic has posed for individuals, but we did see an acceleration of activity, and our workload has actually increased due to the scenario planning and developing the research guides," he says.
A small working group of representatives from various universities was established so that they could share ideas and information. "We were looking at WHO guidelines and the framework of the Canadian authorities, as well as regional public health authorities," says Liss. "We also worked closely with Facilities Management and Development, Environmental Health and Safety, and Human Resources, so this was a collaborative effort."
Among those that were able to maintain near continuity were about 30 experimental labs with significant sophisticated equipment that required maintenance or that couldn't be shut down, or that were for research that was deemed relevant to COVID-19. This core lab work became the foundation in which OVPRI was able to begin thinking about reopening additional SRC spaces as the spring and summer months unfolded.
Getting creative from afar
Linda Zhang, professor in FCAD's School of Interior Design, hasn't let the pandemic stop her or her research team – despite the fact that her work involves robots and cross-border collaboration. Before the pandemic hit, Zhang and her team, including research students from Ryerson, intended to take their work to the Architectural Ceramics Assemblies Workshop (ACAW) in Buffalo in August. When the border was closed and labs became inaccessible, the team had to rethink the way they were working in order to deliver by the deadline.
"Our project team is very interdisciplinary and is located around North America. We were ramping up to do several in-person intensives over the summer that would lead to the final research and prototypes that we would bring to this workshop," says Zhang. "We were looking at how to integrate robotics into the ceramic industrial manufacturing process and researching what advantages that could bring, in terms of design or craft, to their existing processes … and then COVID hit."
Zhang says her team was lucky because, just prior to the shut down, they'd been to visit the Boston Valley Terracotta, their industry partner located in Buffalo, NY, which is a global leader in the manufacturing of custom architectural terracotta for restoration, and had collected two tonnes of terracotta facade panels that had been extruded from the factory. Normally, the team used the terracotta panels to experiment with robotic post-extrusion processes in Ryerson's Creative Technologies Lab to see how it could be used to advance architectural ceramic manufacturing.
"The lab was very supportive and loaned everyone on the team 3D printers, and we sent everyone home with some of the clay," says Zhang. "So we were experimenting with 3D printing to try to mimic what the robot could do and using it to test other questions as best as we could on Zoom. FCAD was also very supportive, and provided all student researchers with laptops and software, which allowed them to program and simulate robotic movements virtually at home."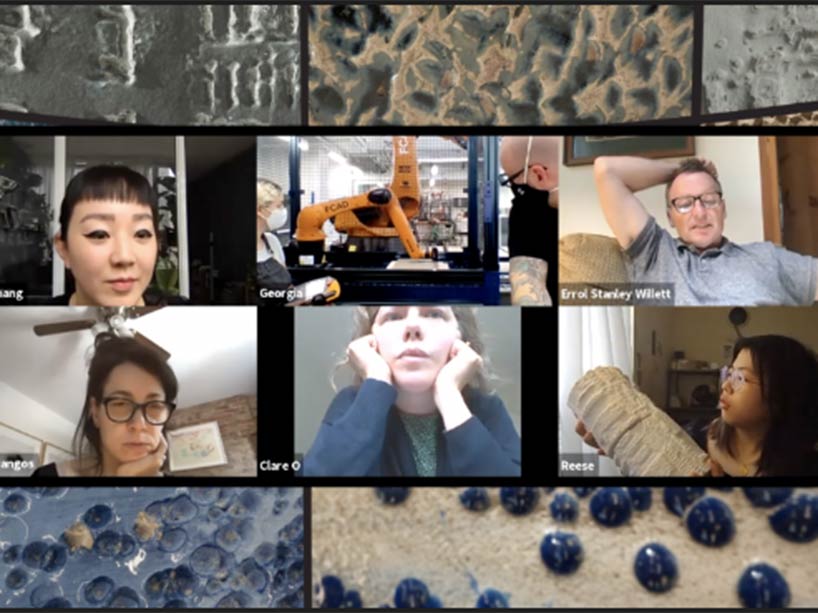 The team was approved to get back into the Creative Technology Lab in mid-June. When everyone wasn't able to come in person due to border closures, they continued to use Zoom with a laptop set up just for the robot. This continued research meant the team was able to participate in the conference workshop as scheduled. "It was a cluster of people making things in different cities, which was kind of hilarious and amazing," says Zhang.
Zhang and her team also set up a series of presentations with a VR gallery exhibit space. "We did a presentation where there was a discussion. Then everyone's work was presented in this virtual space (external link) where you could have the virtual experience of walking closer to the piece and seeing it at a distance." Zhang says though she has done many physical exhibitions in the past, putting together a parallel VR of a physical exhibition was new to her, but it's something she would like to incorporate into every show post-COVID.
What's ahead
Currently, Ryerson has approximately 150 active SRC splaces operating on campus, with more than 700 authorized faculty, students and staff that are able to access these spaces, says Liss. "This has really been a collaborative effort and we have taken a phased approach. We continue to monitor public health guidance to ensure that our SRC activity is able to continue in a manner that is safe and puts the health of our faculty, students and staff first."
To view the safe SRC plan and other planning and reporting documents, visit the OVPRI website.