Q&A with Denise O'Neil Green on the journey of transformational change
Vice-President, Equity and Community Inclusion shares what is valuable and effective in advancing equity on campus
November 27, 2020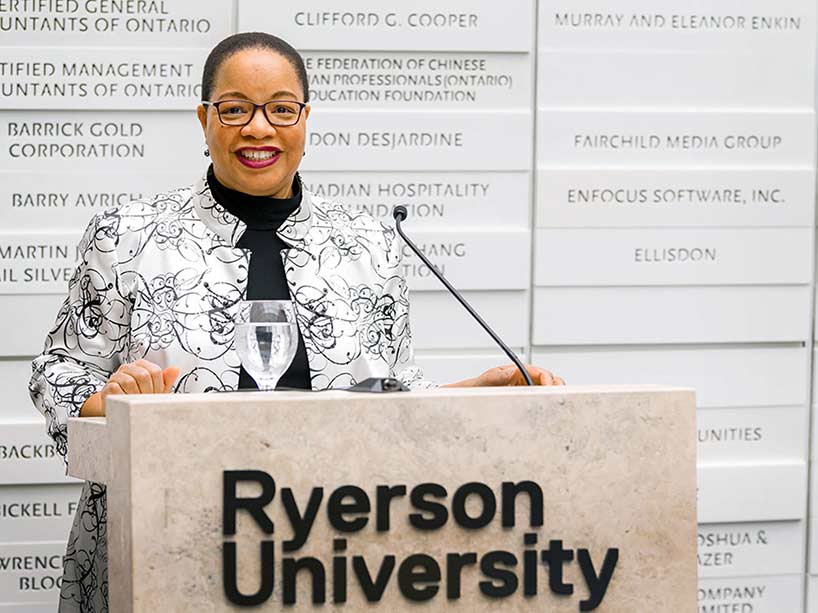 Vice-President, Equity and Community Inclusion Denise O'Neil Green understands all too well the winding road to creating long-lasting change.
An equity, diversity and inclusion professional who has dedicated her career to advancing human rights, anti-racism and systemic change, Green hasn't wavered from her goals to create an inclusive and equitable campus at Ryerson. While the journey has ebbed and flowed, Green is rooted in her foundation that partnership with and feedback from community members are what inform action on campus.
Green spoke to Ryerson Today about the lessons she's learned in advocating for change, how students are a valuable voice on campus and what's next for Ryerson when it comes to equity, diversity and inclusion.
This interview has been edited and condensed for clarity.
Looking at your experience in the equity field, what works when it comes to tackling issues that are specific to certain communities, like anti-Black racism?
As a leader with 30 years of experience in both the United States and Canada, I understand what it means to swim upstream against the current and in the face of the challenges associated with the responsibility to create long-lasting transformational change. Transformational change is a long game. Oftentimes, the future state isn't entirely known from the beginning, and while overarching values and strategies guide you, there often is not a clear roadmap.
But what I found is that you need three key ingredients: You need to have the senior leadership engaged and involved, including presidential support. You also need engagement from the community and greater transparency to make sure the community understands where you're going. And then thirdly, it's important to have the data so that you know where you're going with metrics that can help to measure your progress. Otherwise, how do you know if you've gone about creating the sort of change that is needed?
So when it comes to confronting—and ultimately eradicating—anti-Black racism, we're going to need to implement actions, and in a few years from now, return and see if we have effectively created the change that we have set for ourselves.
What is the university doing to keep track of the effectiveness of EDI strategies?
One key initiative that has been increasingly instrumental to support equity, diversity and inclusion work at Ryerson is Diversity Self-ID data that my department pulls together. The data from Diversity Self-ID surveys help the university to disaggregate employee and student diversity data. Oftentimes, when it comes to collecting data around diverse groups, everyone is lumped all together. But we believe it's very important to disaggregate this data in order to better understand how employees from equity-deserving groups are distributed throughout various units, departments, faculties. We've collected and reported on employee data since 2014, and we're looking to release the first report on student data this year.
This data is effectively a snapshot to help us begin to understand where our students are in the different programs, and how they are faring in terms of recruitment, retention and persistence. It's also about being able to look at who is receiving financial support and scholarships, and how they are engaged across the different programs.
University campuses are often the originators of movements and conversations about social issues. So, how else would you like to see students meaningfully engage with these issues as part of that campus community?
One of my key aims is to move away from the top-down structure in which students are only seen as learners. My years of experience have led me to know that students are very valuable partners. We need to consider students as teachers in and of themselves, and create very deliberate strategies to engage students in our decision-making processes from the start.
At a recent conference, someone shared that we need to create opportunities for student mentorship led by university leaders who can help them navigate post-secondary institutions that are highly bureaucratic, political, and sometimes have protocols that are not very transparent. Students, who by the very fact may not have a lot of working experience, need support to navigate these complex institutions of education.
My office is very open to partnering with various student groups and consulting with them. When we launched the Student Diversity Self-ID, we heard from different groups across campus that our students would be hesitant to engage. Given that feedback, we consulted with different student groups on campus, to hear directly from the students what their impression of us doing this was, and discuss their concerns. In the end, the response rate from students was very high and we know they are eager for the Student Diversity Self-ID data to be released later this year.
In turn, students offer viewpoints and experiences that many times the administration is not aware of. So, it's very critical to have that collaboration and engagement.
And the Presidential Implementation Committee to Confront Anti-Black Racism? What role is it going to play in this process?
President Lachemi decided to form a Presidential Implementation Committee to Confront Anti-Black Racism that will be responsible for developing strategies and proposing solutions to implement 14 recommendations that came out of the Anti-Black Racism Campus Climate Review Report. The committee is co-chaired by myself as well as my colleagues, Deborah Brown, vice-president, administration and operations, and Anver Saloojee, assistant vice-president, Ryerson International. We are focusing on different pieces of that report; I'm focusing on the student recommendations, Deborah Brown is focusing on the staff recommendations and Anver Saloojee is focusing on the faculty recommendations.
We are in the beginning stages and updates will come as the work progresses.
Any final thoughts?
I started at Ryerson in 2012, and it was important to me that equity, diversity and inclusion was not an afterthought, or seen as a department that took up space in a small corner of the institution. Within the context of Toronto's rich diversity, I knew that Ryerson owned this idea that equity, diversity and inclusion needs to be embedded into all facets of the organization. But we know that's easier said than done. My aim is to ensure that we are working towards transformational change rather than merely transactional change.
Since being promoted to the university's first vice-president of equity and community inclusion in 2017, my team and I have been focused on more robust change in terms of equity, diversity and inclusion being embedded in all of the areas of university life. That's the vision. So besides dealing with transactional issues like taking and addressing complaints, addressing hiring and promotions, we are also on the long road of transformational change to address systemic issues and barriers to inclusion.
Related: