Fashion Zone startup makes braille, inclusivity fashion forward
Aille Design aims to change the way we see fashion, one bead at a time
November 19, 2020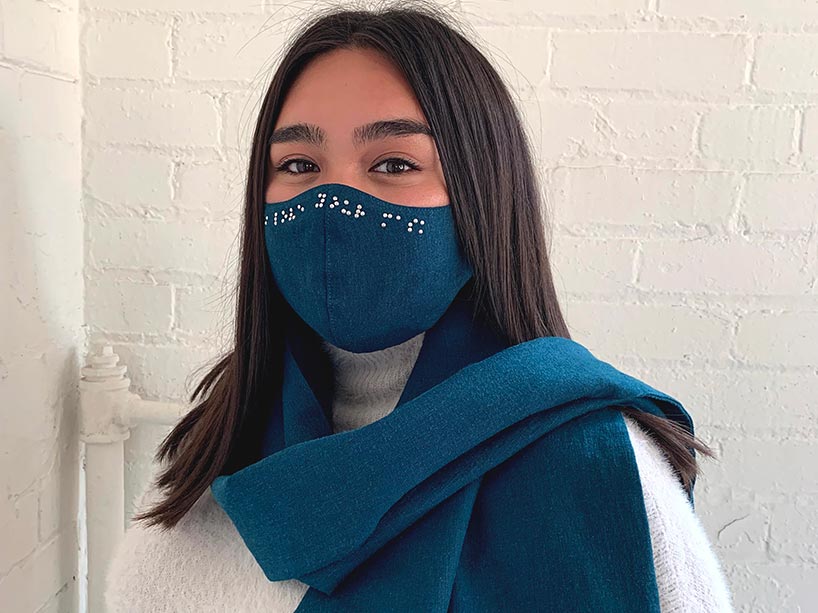 When Alexa Jovanovic was brainstorming her final research project in Fashion Communications at Ryerson, one thing was certain: she wanted to make a difference.
"I knew I wanted to create something that would have a social impact, but I didn't know exactly what," she said, noting that she'd been inspired by Prof. Ben Barry in the School of Fashion.
"He made me realize that fashion isn't just a frivolous thing - but that real change is possible," said Jovanovic, who graduated in the spring of 2016.
Having always been drawn to beaded clothing, and with a flair for coming up with innovative design solutions - an idea struck.
"I sort of had this 'aha' moment," she said, explaining that she began thinking about braille as being similar to the size of small beads.
"I just questioned why garments couldn't have a function beyond their aesthetic value," she said. "Why couldn't we use beads to create phrases that were actually legible and could completely empower a community of people?"
In January 2020, Aille Design was born. And today, what began as Jovanovic's research project is a startup in Ryerson's Fashion Zone - which she says has been an invaluable source of support.
"Being immersed in the creative FCAD community provided access to incredible resources and mentorship," she said, also crediting The Creative Innovation Studio and its "incredible advisory network".
"In just one year Aille Design went from having two research prototypes to effectively launching a thought-provoking fashion brand that is receiving international media coverage and recognition from large corporations and trailblazers," she continued. "I gained a better understanding of the business side of retail and how to build an impactful brand."
Name stands for empowerment
Aille Design, external link, which has Canadian and American design patents, is an inclusive clothing line that offers products which are fully legible for braille readers. The company name is pronounced both "I" and "eye", and alludes to both meanings.
The former speaks to the fact that the garments increase independence and empowerment, since, through touch, the braille reader can identify the clothing and can do so without assistance.
The two dots in the company logo also represent the braille character for the letter "i". The French name pays tribute to creator Louis Braille.
It's not just the company name that is unique.
"We're aiming to disrupt fashion industry norms and completely change the way that society thinks about inclusive design," said Jovanovic, who now also works as design lead in the office of Ryerson's Faculty of Communication and Design (FCAD).
"For the sighted end user, it's still a beautiful, intricately beaded garment, but to someone with vision loss, it's life-changing," Jovanovic said.
Co-design process
Unlike most other beaded garments, what's special about Aille Design products is that they go beyond aesthetic value. The beads are arranged in braille to either provide practical information or feature creative or meaningful phrases - while still being en vogue.

The garments are created in a co-design process with both braille readers and sighted individuals.
"This way, all of the functional elements will come from those with vision loss, but we maintain that connection with the sighted world, so that the final product ends up being something that could be desirable to any market," Jovanovic said.
Braille messaging can feature the information typically included on a regular clothing tag - including colour, style, material, and washing instructions. Instead of being displayed discreetly, such details are part of the design.
Standing in a denim jacket for our video call, Jovanovic motions to beading in the jacket and says, "For example, this says it's an oversized blue jean jacket, and the braille explains how it's supposed to fit - that it's supposed to hit you below the hip, and that it's going to be a bit looser," she said, noting that otherwise, a person with vision loss may not know if the jacket was too big or too small.
"It goes on to tell you the washing instructions, and that it's a medium Indigo fade. And here it tells you that all of the beading is made with Swarovski crystal pearls," she said.
"Obviously, including all of this information can take up a ton of space so you kind of have to pick and choose what information is most important, which is why the co-design process comes into play," she said.
In addition to practical information, other garments feature phrases, such as t-shirts that read, "Fashion is for everyone" and "My plain white T" in braille.
"It's figuring out what the end user finds most valuable and then integrating that into the design. Certain pieces will have more real estate to provide more of a story," Jovanovic explained, adding that the clothing is also gender neutral.
One-of-a-kind
How the clothes are made is also important. Aille Design garments are all sustainable and ethically created in North America.
'We want to make sure that everyone that we work with and that we're partnered with shares the same values as we do," she said.
To her knowledge, Aille is the only garment company of its kind in the world.
Other companies have included braille, but in a more subtle way.
"For example, there is a company that would add a small amount of braille into the bottom corner of their shirt, almost hiding the fact that it's there, whereas we're front and centre," she explained.
"It almost becomes advocacy work as well. It says so much about who you are when you're actively supporting a marginalized group," she added.
That support comes in many ways: In addition to the co-design process, people with vision loss are also involved in the creation of Aille Design's marketing and communications materials, including being featured in the photography.
Jovanovic is also working to ensure that they're involved in the manufacturing too.
"We're truly the first company to actually include the community within product creation," she said.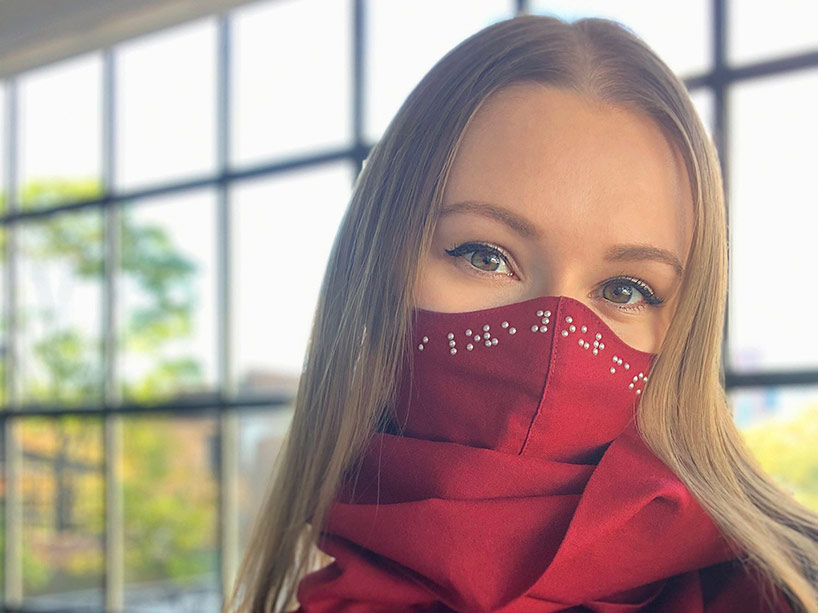 Inclusive representation
Jovanovic hopes that the values enshrined in Aille Design will help destigmatize disability and help educate about the importance of inclusive representation in the fashion industry.
"Creating the garments in a fashion forward way, using luxury materials like Swarovski crystal pearls, it normalizes the appearance of braille and helps destigmatize it," she said.
Her efforts give hope to those who haven't felt included in fashion.
To illustrate, Jovanovic described what happened when a woman with vision loss came to meet her as part of the co-design process.
"To my surprise, she brought four of her sighted friends from her yoga class to come view a prototype. I had no idea that they were coming, but she was so excited to have them see what she was involved in," she said.
Expanding globally
Aille Design's online store launched this past July, shipping initially to Canada, the U.S. and the U.K. With requests coming in from all over the world - including Japan, Brazil, Europe, Australia, India and Saudi Arabia, the company has now expanded further internationally. Jovanovic is also now partnered with the American Foundation for the Blind.
What's next? With the holiday season approaching, Jovanovic has launched a series of new face masks with matching scarves.
Motioning to the braille on one of the masks, she says, "This one says, 'Chin up, mask on' to sort of say, "We're going to get through this, stay strong."
Learn more about Aille Design or shop Jovanovic's products, external link or view @ailledesign, external link on Instagram.
---
About Global Entrepreneurship Week

Global Entrepreneurship Week (GEW), external link is a collection of events, activities and competitions each November that celebrates entrepreneurs, inspires future business owners, and fosters connections and collaborations.
GEW strives to be inclusive of those who traditionally face barriers to entrepreneurship, whether minority groups, traditional institutions or those pushed aside by strong competition.
Related