Peer-enabled platform challenges outmoded idea of what it means to be a man
A new startup within the Social Ventures Zone, tethr connects men to one another to build support
October 13, 2020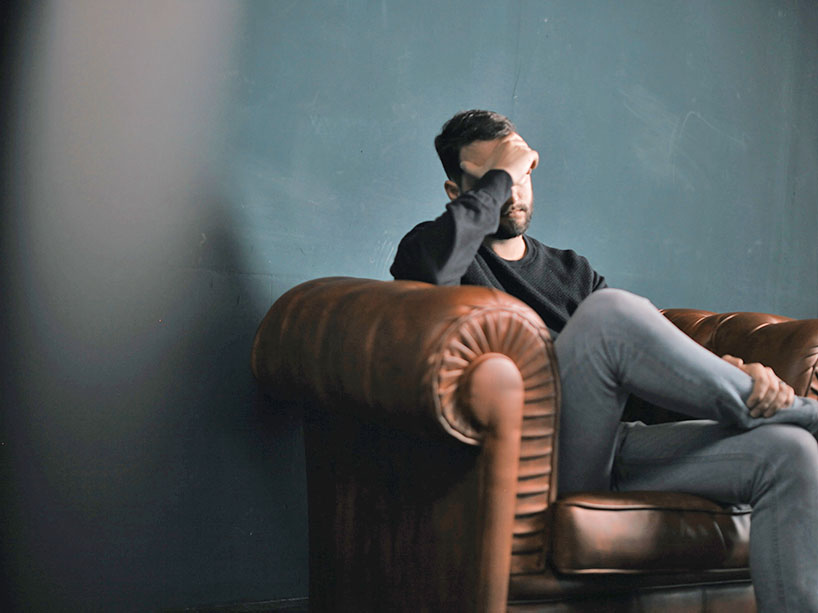 Though it may seem that discussions around mental health are becoming more prevalent, the crisis is still staggering for men. In fact, 77 per cent of men say they suffer from anxiety, stress or depression, and 40 per cent of men say it would take thoughts of suicide or self-harm in order for them to get any help. This has dangerous consequences, as PDF file4,000 individuals commit suicide per year in Canada, and of those, 77% involve men, external link. Most men never reach out until they are at a point of crisis and some men never get the chance to reach out at all.
tethr, external link, which recently joined Ryerson's Social Ventures Zone, is looking to change this. tethr functions as a peer-enabled mental health and well-being platform where any person identifying as a man regardless of race, sexual orientation or economic status can find a safe, barrier free space where they can connect with other men, speak openly and receive support.
"We started tethr to challenge the unemotional, outdated masculine structure that's socialized in us," says Matt Zerker, founder and CEO. "Continuing to see men go without talking about these issues and not having a space where they can freely discuss their issues with other men further entrenches this unfortunate stereotype."
Trevor Hart, Ryerson professor in the Department of Psychology, says that, in many cultures, men are socialized to be independent and to avoid disclosing that they're vulnerable. "Anything that could benefit men would also benefit the loved ones of men. If men have a place where they can communicate their feelings, they'll be able to be better friends, partners, relatives, and potentially learn how to communicate better with their loved ones."
Zerker and his friend Addison Brasil, tethr's vice-president, brand and strategy, knew personally that something like tethr was needed: Zerker lost his best friend very suddenly and Brasil lost his brother to cancer, his father to suicide and was in a car accident that killed one of his friends and left him relearning how to walk.
"For a year and a half before tethr was born, Matt and I supported each other through peer-to-peer coaching. We were our own beta test," says Brasil. "Many people are yearning for a platform like this, and we've learned that it only takes one person to say 'hey I'm struggling.'"
Launching the platform
tether allows users to create a profile that shows what they're struggling with, start threads about specific topics, and form one-on-one relationships on the app by clicking on someone's profile and sending them a direct message. Hart says he likes the idea of tethr, because it provides low barrier support to men. "And when it's an all-male space, it's a space where users can avoid concerns about being stigmatized. Some people do prefer a same gender space when it comes to dealing with mental health."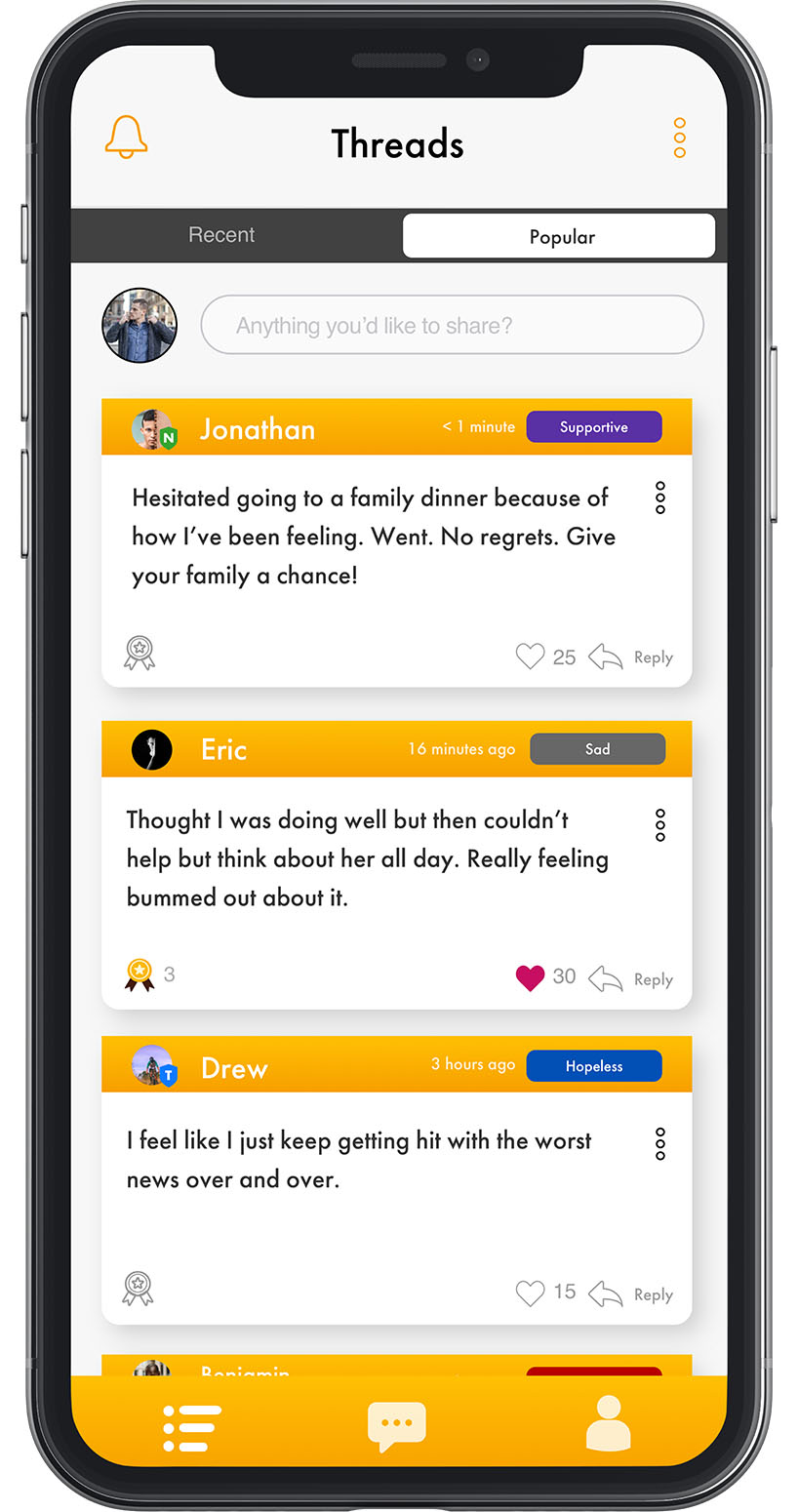 To launch tethr, the team created a Kickstarter campaign that made half of its $25,000 goal in one day, a true testament to the necessity of the platform. They have since raised the remaining money. And especially as the second wave of COVID-19 worsens, Zerker and his team see tethr as a way to make an impact on depression and anxiety rates among men. The site currently has 1300 users and their numbers are growing daily.
"I'm so glad I accepted the invite to join this group. It has helped me so much to talk about how I'm doing and what I'm feeling with these guys. It has given me a tribe to bond with which has been a huge booster to my mental health during self-isolation. Hearing them share not only makes me feel like I'm not alone in dealing with my anxiety, but also inspires me to accept all parts of myself, to be my best self." - Luis R.
As far as next steps go for the tethr team, they'd like to integrate the ability to access coaches, therapists and other wellness practitioners right into the platform to make it easy to build a holistic mental health plan for users.
Interested individuals are now welcome to sign up for the app through the app store, external link and begin getting the support they need.
Ryerson's Social Ventures Zone is an incubation space within the university that works with students, alumni, faculty and people from the broader community to build social ventures that create real impact. Ventures at the SVZ have focused on issues as diverse as the environment, urban poverty, food security, gender-based violence, conscious consumption and accessibility.